While the transition to college is exciting, it can also be filled with stress and confusion. Students may benefit from a better understanding of stress, coping, health and exploring what truly brings meaning to life. To address these issues, Christina Wagner, associate professor of global health, designed a first-year seminar course: Courageous Conversations: Scientific Explorations of Well-Being.
The course explores what science can tell us about how to manage stress and live a whole-hearted, values-driven, meaningful life. Psychological research pinpoints specific behaviors, thought patterns and ways to work with emotions that lead to greater satisfaction in life. Professor Wagner shares with students how to investigate these evidence-based practices and incorporate them into their daily life as they develop a work-life balance at DePauw.
Not only do students learn about the science of happiness, they are also introduced to college writing and analysis of text. Some class periods are devoted to academic resilience and discussions focus on how to manage the conflicting demands of their day and also care for self. Students learn effective methods for studying and notetaking and how to navigate the DePauw scheduling system. 
Field trips to spaces on campus are part of the course to introduce students to resources that can aid them academically, in career planning and stress management. 
On the day the class visited the DePauw Nature Park and Bartlett Reflection Center, they were covering a unit related to mindfulness.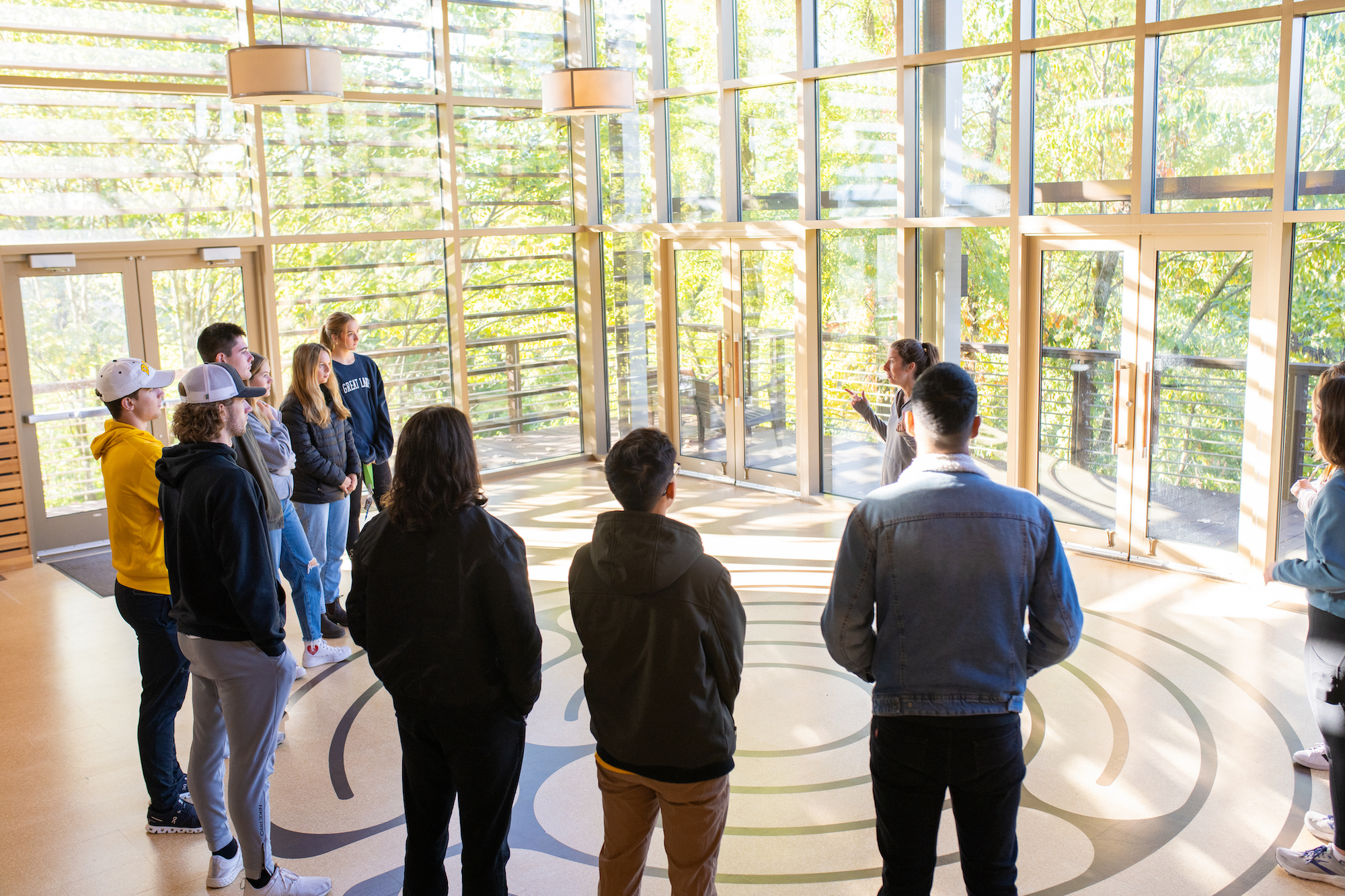 Students visited the Bartlett Reflection Center for a mindful walk in nature, engaging all five senses and hopefully savoring the experience on what turned out to be a beautiful morning.
Whether we are writing about the intellectual challenge of our classrooms, a campus life that builds leadership, incredible faculty achievements or the seemingly endless stories of alumni success, we think DePauw has some fun stories to tell.

News media: For help with a story, contact:

Sarah Steinkamp, Vice President for Communications and Marketing and Chief of Staff.
sarahsteinkamp@depauw.edu.