Faculty members honored for teaching, community contribution and scholarly work.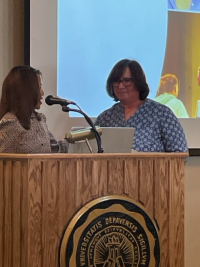 Four distinguished faculty members were recently honored for their contributions to teaching, DePauw University and the community.
The Fred C. Tucker Jr. Distinguished Career Award was established by the late Fred C. "Bud" Tucker Jr. and his wife Ermajean to recognize a senior faculty member who has made notable contributions to DePauw through a commitment to students, teaching excellence, one's chosen discipline and university service. It is considered by many in our community to be a lifetime achievement award. The award was presented to Michele Villinski, Professor of Economics and Management. Of Michele, the praises were many. One nominator said, "Michele is a service dynamo, with service unmatched by anyone, having devoted countless hours of committee work over the years and filled several administrative roles. She possesses strong interdisciplinary interests and is deeply committed to environmental, social and governance issues in her field." The G. Bromley Oxnam Award for Service recognizes a mid-career faculty member who has made significant contributions to the university, the academic or professional world, the Greencastle community or the wider arena of civic contributions through social outreach or social justice. The award was created by a 2009 gift of Neal Abraham and his wife, Donna L. Wiley. Neal served DePauw as executive vice president, vice president of academic affairs and professor of physics. This year's award was given to Karin Wimbley, Associate Professor of English. In supporting Karin's nomination, a colleague wrote, "I have been personally challenged, transformed, inspired, and pushed into deep interrogation of my own praxis by Karin. Karin has been a brilliant collaborator and source of inspiration on an array of projects, courses, and spaces. The moments Karin has challenged me, brought nuances to my attention I did not see, and demanded more from me have all been gifts." 
The Edwin L. Minar Jr. Scholarship Award recognizes an exceptional record of scholarly and creative work suggestive of the achievements of its namesake, a professor of classical studies who taught at DePauw 1951-80 and wrote almost 50 reviews of major works in Greek philosophy and published 10 articles on the same subject. This year, Pedar Foss, Professor of Classical Studies and Chair of the Classical Studies Department, was recognized. A nominating colleague said of one of Foss's work, "he has been extraordinarily creative and has developed a unique multidisciplinary approach. Professor Foss reached out to Brian Hanson, our retired colleague in chemistry, and worked with Brian to develop a way to perform a computer analysis on textual data to help determine statistically the provenance of various manuscripts. So, yeah, he also taught himself some digital humanities along the way." 
The United Methodist Exemplary Teaching Award, presented jointly by DePauw University and the General Board of Higher Education of the United Methodist Church, supported by a gift from 1942 DePauw University graduates George and Virginia Crane. The award recognizes faculty members who exemplify excellence in teaching; civility and concern for students and colleagues; commitment to value-centered education; and service to students, the institution and the community. The award's recipient was Leigh-Anne Goins, Assistant Professor of Women's, Gender, and Sexuality Studies. One nomination said, in part, "Dr. Goins and I share so many students, and there is not a week that goes by that one of them brings the work they are doing in her courses into our class discussions. The joy of seeing students apply the knowledge they gain under her tutelage is exciting…I am deeply grateful for these powerful moments of intellectual cross-pollination."
Whether we are writing about the intellectual challenge of our classrooms, a campus life that builds leadership, incredible faculty achievements or the seemingly endless stories of alumni success, we think DePauw has some fun stories to tell.

News media: For help with a story, contact:

Bob Weaver, Senior Director of Communications.
bobweaver@depauw.edu.