This is one in a series of essays by DePauw faculty members as they reflect on teaching and learning DePauw-style. Joe Heithaus is an English professor who has taught literature and writing at DePauw since 1996. He has published two collections of poems. 
As faculty members at commencement, we play a small part in the pomp amidst the more important circumstance – the graduation of our seniors. This year, thanks to COVID-19, the faculty numbered only about 30.  Still, one of our colleagues, Jen Adams, professor of communication and theatre, had the honor of carrying the doctoral robes of Geoffrey Klinger into the ceremony. DePauw tragically lost Geoff, a communication professor, to a heart attack a few weeks ago. He was a DePauw grad and a passionate teacher, so it was fitting that he was represented. Our robes carry our credentials. Our colorful hoods bespeak our graduate schools and specialties and have symbolic power, but the faculty's stories serve only to frame the central focus of the day, our students.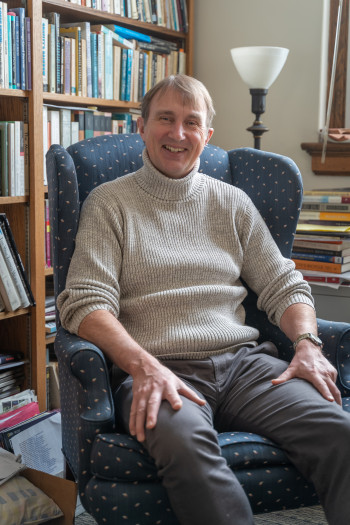 As I sat in the back row on Sunday, I thought about the details of the stories I have the pleasure and sometimes the burden of knowing. Sitting in front of me were students who have lost parents or siblings, have suffered sexual assault, have had or are having bouts with cancer, depression or addiction. While the ceremony wore on, I thought particularly about my students of color who've given me glimpses of the pain of racism that they and their families have endured. The statistics bear out that, when a Black or brown student gave a fist pump to President Lori White, they had beaten odds significantly different from the white majority. There's a reason why the cheers are sometimes loudest for them. 
But there was plenty of joy all around. Occasionally, I looked around me at beaming families cheering or running up to snap a photo of their graduates. I teach creative writing, and my students' poems and stories have allowed me glimpses of families and friends, of particular seconds stuck in a memory or of long nights so packed with significance and drama that they bleed into a morning. We English writing professors know some of the seniors' secrets. This makes meeting parents after commencement occasionally awkward, but often deeply emotional. I think I can safely write that professors and staff members are sometimes second only to parents and family in our admiration and pride in these students, particularly those we've watched overcome the traumas and trials that life has dealt them.
So on Sunday, when I saw Heaven Jackson-Lattimore walking out with her class, I dashed over to give her a hug. She had been fully remote the whole of her senior year. I'd had her in class when she was a sophomore, taught her on Zoom when she was a junior and now saw her in the flesh with that smile of hers. After "Pomp and Circumstance" had stopped and we were walking up toward Hamilton Park, I got to see Connor Burns and meet eyes with his mom, whom I'd "met" this year through his writing. They'd been through a lot together so it was difficult not to get choked up. Then I met Catherine Fisher, who won the Barbara Kingsolver prize we give to a promising senior environmental fellow. I've known her since a winter term to Costa Rica in her sophomore year and watched this quiet young woman gain more and more power as a writer. I got to shake her grandmother's hand and meet Catherine's family, all bearing a striking resemblance to her.
In Hamilton Park, I got to be in photos with Heaven, Emma Rees, Nick Williams, Area Guede Ramos and others. I shook hands with family members and I had a moving moment when I met Natalie Betances's kid sister, mother and abuelita – three generations of Latina women supporting their graduate. The fingers of her grandmother's hands were curled in slightly, not quite fists, but strong, fuerte. Natalie had written poems in senior seminar that made palpable her appreciation and regard for these incredible women, including her little sis. I could feel the vibrations of their pride in Natalie and their joy in what she had accomplished. I thanked her mother and grandmother for fighting so hard for Natalie as she grew up in a world sometimes pitted against them all. But they turned the tables and thanked me. I said, "but I'm just doing my job." Her abuelita's eyes met mine and she said, "what you have done for her is not your job; it is your joy." By then, I was reminding myself that I have one of the greatest jobs on Earth and graduation is the best part.  Just as she and her family were turning to leave, she looked back and said, "and that joy comes from above," her two hands lifted, fingers pointed at the sky.
Whether we are writing about the intellectual challenge of our classrooms, a campus life that builds leadership, incredible faculty achievements or the seemingly endless stories of alumni success, we think DePauw has some fun stories to tell.

101 E. Seminary St.
Greencastle, IN, 46135-0037
(765) 658-4416

News and Media