First Person
is a regular feature of DePauw Magazine, which is published three times a year.
We asked Spangle, a communications major who played football for three years and then became the team's social media manager, to tell us how to be the tireless multitasker he is.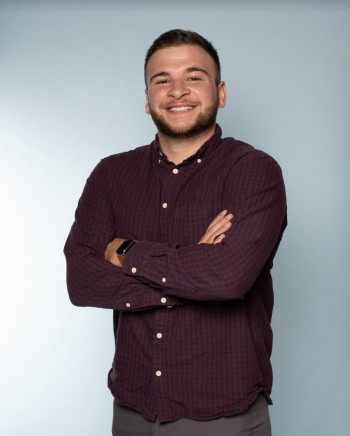 When I toured DePauw's campus in the winter of 2014, my tour guide said, "You can truly be involved in everything." DePauw is a place where you can be on an athletic team, host your own radio show or be the student body president, and still be active in Greek life. That message stuck with me through my four years at DePauw, and it remains an influence on my life two years into my professional career.
Since graduating in 2019, I have been working a full-time job at Apex Benefits in Indianapolis. I got this job through an organization called the Orr Fellowship, which is a two-year program that DePauw alums have been a part of since Angie Hicks '95 helped start it in the early 2000s. In typical DePauw fashion, my activities haven't stopped there. I have invested in a rental property with Zach Williams '19, started a successful e-commerce brand, coached varsity high school wrestling and started a philanthropy to raise thousands of dollars to support local service workers who are struggling due to impacts from COVID-19. A large portion of that – $1,500 – came from a livestream on Instagram that Cole Taylor '19 and I staged. These opportunities may seem completely unrelated, but there is one thing that ties them all together, and that is the influence my DePauw education has had on them.
In my senior year, I sat in the library of Delta Tau Delta with my fraternity brother Matt Labus '19 and talked about starting our own business. We hatched an idea: allow baseball and softball players to show off their personality through their equipment. That's when the idea for our business, Bat Hats, began. Fast forward to July 2020, and that idea turned into a business. Even during a global pandemic, when the number of baseball and softball games was down, we were able to grow our brand and expand to 43 states and several countries.
While I was working my full-time job and growing Bat Hats, there was still something missing. I loved being around athletics my whole life, and the idea of coaching had always been in the back of my mind. My high school coaches made some of the greatest impacts in my life, and I figured it was my time to pass it on. Through a friendship I had cultivated with Graham Wilkerson '12, I began coaching wrestling at Bishop Chatard High School.
All the incredible opportunities I have had the last two years have come from the relationships I cultivated at DePauw. My job, business and even the service work I do start with the friends whom I made in Greencastle. I am inspired by the many esteemed alumni who graduated before me and the effort they put into their professional fields, as well as the passion they put into making their communities better places.
DePauw Magazine
Spring 2021
A GATHERING PLACE FOR STORYTELLING ABOUT DEPAUW UNIVERSITY
Whether we are writing about the intellectual challenge of our classrooms, a campus life that builds leadership, incredible faculty achievements or the seemingly endless stories of alumni success, we think DePauw has some fun stories to tell.

101 E. Seminary St.
Greencastle, IN, 46135-0037
(765) 658-4416

News and Media