Every human has the capacity for evil.
So says philosophy professor Erik Wielenberg, chair of the Philosophy Department, who is teaching a first-year seminar in which new DePauw students are delving into that concept and other notions about the dark side of human nature.
Philosophy 197C: Heart of Darkness is one of 31 seminars offered to first-year students this fall, each in a small, discussion-based and writing-intensive format to foster discussion and encourage students to explore ideas. The seminars are not major-specific, but rather are designed to encourage students to think in new ways.
"I often have my own views on things," Wielenberg said, "but I try to think of myself as almost a tour guide, a tour guide of ideas and arguments. … I want the students to understand the different arguments. But I'm really trying, along with that, to encourage them to reach their own conclusions. …
"I'm not trying to get the whole class to arrive at a shared endpoint, a consensus, necessarily. I want them all to progress in their thinking about the issues."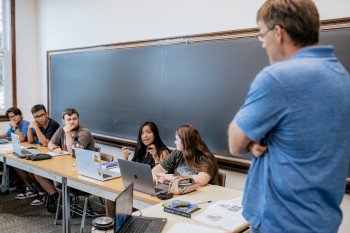 The students will read several texts, including Joseph Conrad's novella, "Heart of Darkness," and draw on philosophy, psychology and literature in their work to understand, as Wielenberg puts it, "our own dark hearts." In a recent class, they discussed evil from a theological perspective (the seven deadly sins) and from a psychological perspective (the "dark triad": narcissism, Machiavellianism and psychopathy). They also are expected to write several papers – some in the form of a letter to Wielenberg and a relative – and make a short video.
"One of the big topics of the class is dehumanization," he said. "Human beings are very cliquish; we naturally divide ourselves into 'us' and 'them.' And that in itself is, I think, fine. But sometimes it gets pushed to the extreme where the out group or certain out groups are seen as really not actually human."
That occurred in Nazi Germany, when average people – not just political leaders – progressively viewed Jews and other groups as less than human and ultimately participated in their persecution. The seminar students will learn about the work of Stanley Milgram, a psychologist who conducted experiments that showed that average people are more susceptible to influence from an authority figure than they think they are, even when they're asked to inflict pain on another person.
That experiment and others "seem to show that ordinary people in the right circumstance can do these things that they beforehand would say 'I would never do that,'" Wielenberg said. "And then even afterward, they were horrified. They were like 'I can't believe I did that.' So it's suggestive of these capacities within us that are lurking."
Two of Wielenberg's students said they accept the premise and already are glad they're taking the course.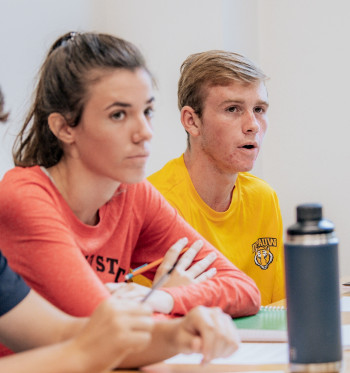 "I like the psychology of it," said Bridget Driscoll '25 (left). "I've read books about it in high school and I've watched documentaries about it. Just the course description sounded really interesting."
Max Morgan '25 (right) agreed. The class topic, he said, "reminded me a little bit of 'Criminal Minds' and how they went through the behavioral aspect and studying the darkness. I thought it sounded kind of cool."
Whether we are writing about the intellectual challenge of our classrooms, a campus life that builds leadership, incredible faculty achievements or the seemingly endless stories of alumni success, we think DePauw has some fun stories to tell.

101 E. Seminary St.
Greencastle, IN, 46135-0037
(765) 658-4416

News and Media