Old Gold
is a regular feature of DePauw Magazine, which is published three times a year.
When Ford Frick, a 1915 graduate of DePauw University, was announced as the new president of the National League of Professional Baseball Clubs in 1934, and again when he was named commissioner of baseball in 1951, newspapers developed and perpetuated two myths about him.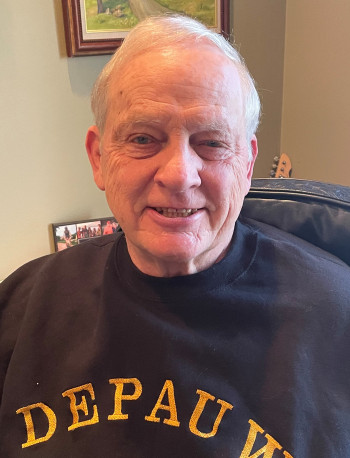 The first referred to him as an Indiana farm boy. Actually, he was born and raised in two small, adjacent, northeast Hoosier towns, Wawaka and Brimfield, where his father was a railroad worker. The second myth was that he had been a baseball standout at DePauw. In fact, he tried out for three seasons, never making the varsity squad. Obviously, one didn't need to be a college baseball star to have a significant impact on the professional sport.
His failure to make the baseball team was not reflective of his overall DePauw experience. He was a solid "B" student, majoring in English. Along with his studies, he was a campus leader. He was an editor, though never editor-in-chief, of The DePauw Daily, the forerunner of today's campus newspaper, from sophomore year on. As a junior, he was editor of The Mirage, the school yearbook. During his two senior-year terms, he was recruitment chair and then president of Phi Kappa Psi fraternity. During his last two years, he also served on two important university committees, one whose mission was to improve varsity athletics (organized after the Tigers football team lost to Wabash College 62-0) and the other to plan the graduation ceremony for the Class of 1915. In many ways, those activities would shape his later careers in journalism and management.
Growing up by a busy railroad and interested in Western Native peoples, Frick decided to head west to Colorado after graduation. He taught journalism in high school and college during his seven years there, mostly in Colorado Springs, and also worked for the local newspaper. He met his wife, Eleanor Cowling, during his first year and their only child, Fred, was born there. In 1921, Frick reported on the great flood in Pueblo, gaining a perspective from flying over the area but not landing (those who did were unable to take off for days) that enabled him to get an early scoop on the story. It led to his being hired in 1922 by The New York American, a Hearst paper. A year later, he was switched to the Evening Journal, where he covered the Yankees and became Babe Ruth's primary ghostwriter. He began doing radio broadcasts for Hearst-owned WOR in 1930, announcing both the New York baseball clubs and college football games, along with hosting the first radio show devoted to sports. He was one of the true radio pioneers, which is why the Baseball Hall of Fame award given yearly to a baseball broadcaster is named after Frick.
His fame in New York and nationally made him a logical choice to direct the National League sports information bureau, a job he began in February 1934. In November, he was named NL president, a post in which he remained 17 years. Had he never been named commissioner, he would still have left a rich baseball legacy. During the Depression and World War II, he helped save four of the eight NL clubs from bankruptcy. He was the driving force in baseball behind the creation of the Hall of Fame in Cooperstown, shaping much of its initial operation and selection process. When the National War Office considered stopping baseball's season in January 1945, Frick persuaded its leaders of the sport's benefits, thus saving the year. Finally, he had a major role in Jackie Robinson breaking baseball's color barrier in 1947.
Frick's impact on baseball continued during his two seven-year terms as commissioner, which ended in late 1965 when he was 71. For more than 50 years, baseball had been played in the same 10 cities until Frick implemented a reform that made it easier for a club to move. Cities such as Baltimore, Los Angeles and San Francisco gained major league ball teams as a result. His behind-the-scenes efforts facilitated the game adding two new clubs in each league in the early 1960s and laid the groundwork for adding four more by the end of that decade. As a result, cities such as Houston and San Diego experienced major league ball. During his tenure, many minor league clubs and leagues suffered severe financial difficulties. His efforts helped to consolidate and stabilize their operations, which was essential for developing players. Finally, his diligence achieved agreement on the creation of the player draft system that is still used today. Its establishment brought parity between the large and small market clubs, making for a more competitive game.
During his tenure in baseball, Frick remained committed to DePauw. He sent son Fred there, even visiting him in May 1935 before heading to Cincinnati for the first night game in the majors. He was responsible for Fred's close friend, Buzzie Bavasi, attending DePauw. Bavasi would later have a distinguished career as an executive with the Dodgers and two other clubs. Frick also served as a trustee for more than 20 years and made numerous campus visits, including one as the keynote speaker at the 100th anniversary of Phi Kappa Psi on the campus in 1965, 50 years after his graduation.
His impact on professional baseball was significant, clearly shaped by his DePauw experience, even though he never played a game for the varsity team. He was inducted into the baseball Hall of Fame in 1970, the only DePauw alum in any of the professional sports halls of fame, and into DePauw's Athletic Hall of Fame in 1989.  
(Top photo: Ford Frick, left, and his son Fred '38. Second photo: Dave Bohmer '69, who was director of the Eugene Pulliam Center for Contemporary Media from 1994 until his retirement in 2014. He taught a DePauw course on baseball history, has published three articles about Frick and baseball and is writing a book about Frick's impact on baseball.
DePauw Magazine
Summer 2021
A GATHERING PLACE FOR STORYTELLING ABOUT DEPAUW UNIVERSITY
Whether we are writing about the intellectual challenge of our classrooms, a campus life that builds leadership, incredible faculty achievements or the seemingly endless stories of alumni success, we think DePauw has some fun stories to tell.

News media: For help with a story, contact:

Bob Weaver, Senior Director of Communications.
bobweaver@depauw.edu.