Sometimes a single incident can influence a career. That's what happened for four DePauw University alumni and former athletes who, as medical professionals, practice in the sports world.
Treating a single patient led to Nancy Gritter '88, a kidney doctor, becoming the first female lead internist for a National Football League team.
Erin Andrade '08's moment came much earlier in life; as a youth she won an award through which she discovered a passion for working with wheelchair athletes and treating people with neurological conditions.
Michael Akinbola '09 and Michael Stuart '79 both saw medical practitioners in action when they sustained football injuries at DePauw, causing both to go into sports medicine – though along different paths.
All four alums say that their own athletic participation also influenced their work in sports. Here are their stories:
NANCY GRITTER '88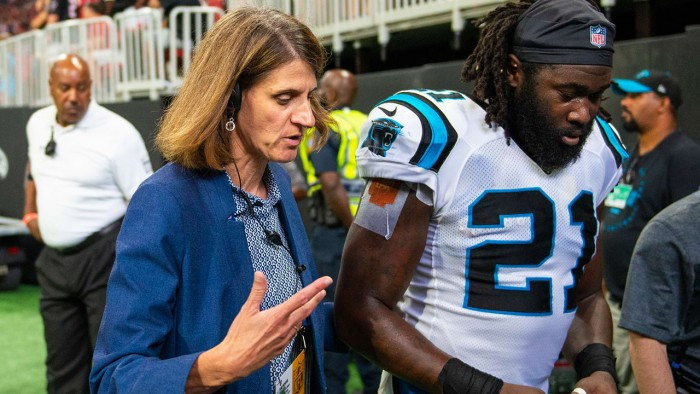 Even as an undergraduate at DePauw, Nancy Gritter had the makings of success in two worlds – medicine and athletics.
She was a four-year All-American freestyle swimmer who was inducted into the Athletics Hall of Fame in 2000 in honor of the five individual school records she set and the five additional records her relay team set. She is the only DePauw athlete to be named a first-team Academic All-American three times. She was elected to Phi Beta Kappa; won the Walker Cup; and was awarded a prestigious NCAA postgraduate scholarship.
While Gritter was in medical school, she wanted to bridge her avocation of athletics with her profession, but the path many similarly inclined people take – orthopaedic surgery – "wasn't for me." She settled on nephrology and was practicing in Charlotte, North Carolina, when the team physician for the Carolina Panthers NFL team consulted her about a player's kidney condition.
She got to know the Panthers' medical team and was "transported back into that time where you have teammates, people who have athletic goals," she said. She began assisting the team on other internal medicine matters and, about seven years ago, the team primary care physician asked her if she might want to succeed him when he retired five years hence.
"I thought that was the right timing, and I said, 'yeah, I'll do that,'" she said. As the transition loomed, a new NFL collective bargaining agreement required team physicians – except those grandfathered in, "and it was all grandfathers because there were no females at that time on the medicine side" – to be certified in sports medicine.
So, 23 years after graduating from Indiana University School of Medicine, Gritter undertook a two-year fellowship and passed a certifying examination that enabled her in 2018 to become the first woman to be the lead internist of an NFL team.
She continues her private practice and teaches medical residents while attending preseason camps to prevent or treat illness and dehydration; all games, home and away; Monday post-game training rooms; and at least one practice a week. Her phone stays on after hours and on weekends.
"I missed being part of a team. Physical fitness and wellness can be practiced solo, but there is nothing like being part of a team," she said.
"This position with the Panthers and being a member of the medical team within the team gives that sense of belonging, rewarding and long-lasting relationships and the camaraderie reminiscent of being part of 'Team DePauw.'"
(Photo: Melissa Melvin-Rodrigues, Carolina Panthers)
MICHAEL AKINBOLA '09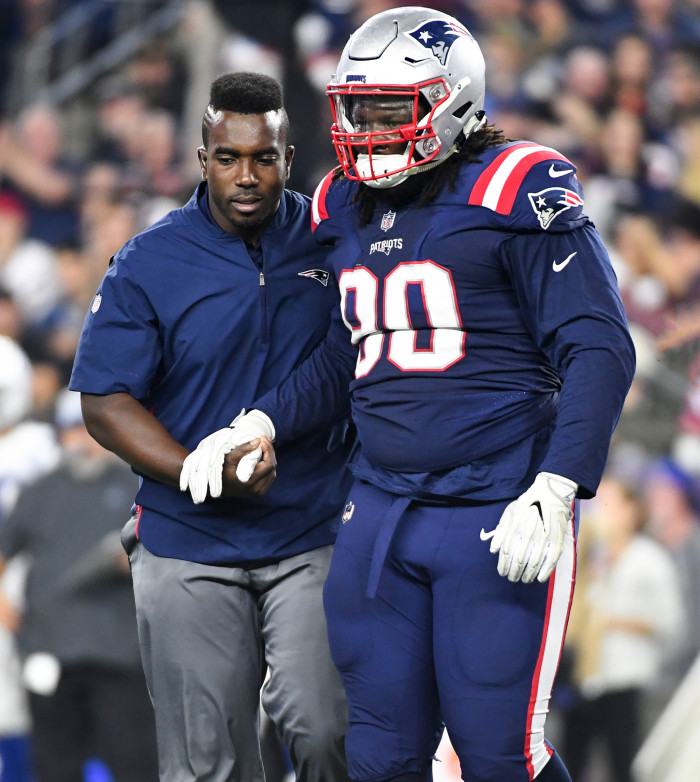 Excited to be a starter on DePauw's football team, Michael Akinbola "got a little carried away during my lifting tests" during training camp before his junior year and tore his right pectoralis muscle.
That left him a "miserable kid whose identify was getting shaken up because it was all about academics and football." But the experience also exposed him to the staff physical therapist and athletic trainers, "who were the ones who worked with me day in and day out" over his six-month rehabilitation.
It wasn't lost on Akinbola, a Rector and honor scholar, that he saw the surgeon who repaired his muscle only a few times. For a young man choosing between careers in medicine and physical therapy, the difference was stark.
"I figured I might like doing the rehab side of things more and work more intimately with the athletes," he said. He liked "the culture of being a part of a team, the environment of being with the athletes, collaborating with other health care professionals."
And so began the career journey that took Akinbola to the NFL's New England Patriots in 2016 as a physical therapist and assistant athletic trainer.
From DePauw, Akinbola went to the University of Delaware, where he earned a doctorate in physical therapy in 2012. The field had been professionalized in the mid-1990s, when the first doctorate-trained physical therapists were graduated. As Akinbola studied, physical therapy was being used more and more in professional sports and in 2011 the NFL's collective bargaining agreement required every team to have at least at least one physical therapist on staff.
His residency, in which he worked with athletes in a variety of sports, solidified his desire to work specifically in football. When no job opportunities came along, his friends urged him to try another sport but "I just couldn't see myself doing anything else.
"I loved the sport and loved what it represented," he said. "I loved the team mentality, the qualitative aspect of somebody having to try to win at their position, a collective group of these 11 folks on each side of the ball, trying to get something done."
Football injuries also offered the most interesting challenges, he said. "To work in an environment where there are going to be a lot of complex things but there also are going to be a lot of high-stakes rehab incidents or cases was also attractive."
He volunteered for the Indianapolis Colts in 2014 and then, to make himself a more attractive job candidate, started a master's degree program in athletic training at Bridgewater State University in Massachusetts. The university recently had established a clinical relationship with the Patriots, and Akinbola was assigned to the team.
The Patriots hired him soon after he graduated and, in his first three years, the team played in three Super Bowls, winning two of them. 
"Occasionally I have to sit back and remind myself I am blessed beyond measure," he said. "I am living my dream in so many different ways." Recently, the team has been in rebuilding mode, so while "it's not always banners and Lombardi trophies," his work has been satisfying in other ways. 
"It's rewarding to be able to give back to people, to be able to see your effort and your labor be manifested out on the field in a way that's incredibly meaningful in several different, measurable ways, both by the smile on the kid who's watching their favorite player back doing what they want (or) one of these players' wives, who knows that their husband's back doing what they want to do and they earn again and provide for the family. Or the player themselves. …
"To see that light go back on, where they realize, 'oh, I'm back and really I'm even better,' is very, very rewarding."
(Photo: New England Patriots)
ERIN ANDRADE '08
Link by link, Erin Andrade has, from her youth through her present, lived a life like a chain forged from interconnected interests and events.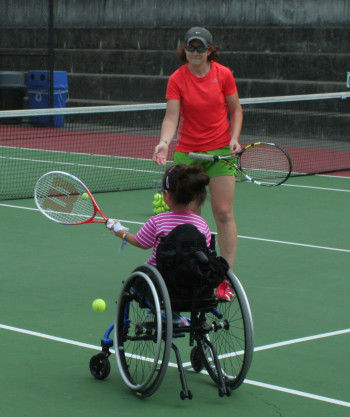 As a high school tennis star and an instructor in a community program, she won an award that enabled her to attend a Las Vegas workshop where she learned to coach wheelchair tennis. Then she started a wheelchair tennis program in the Indianapolis area.
She had been planning a career in research – and chose to attend DePauw in part to participate in the science research fellows program – but working with wheelchair athletes "got me thinking a little bit more about medicine," she said.
At DePauw, she was a biochemistry major and Spanish minor, a Rector scholar and a two-time All-American tennis player who was ranked with her doubles partner Kayla Smith Treat '10 as high as fourth in the nation among Division III schools. She also was named an Academic All-American and elected to Phi Beta Kappa. While participating in a summer research program at Harvard University, she connected with a gastroenterologist and DePauw grad who persuaded her that she could practice medicine and still conduct research.
So Andrade headed to medical school and, as she considered the area in which she would specialize, "I was thinking it would be so cool if, down the road, I could use my knowledge of wheelchair tennis and somehow apply that as a physician, either by providing care, doing research or helping those athletes." 
She did just that, becoming a neurological rehabilitation physiatrist, who works to improve the lives of patients with spinal cord injury, traumatic brain injury, stroke, amputation, multiple sclerosis, cerebral palsy or other debilitating conditions. She is the vice chief of staff of a health care system that includes two hospitals, and medical director of its inpatient rehabilitation facility in Wenatchee, Washington. As such, Andrade treats patients immediately after their injury and oversees their physical and occupational therapies during two- or three-week stays. She also practices in an outpatient setting.
She continues to coach wheelchair tennis; instructs Nordic skiing for children and adults with disabilities; and provides guidance to the U.S. Tennis Association about medical care for able-bodied athletes and athletes who use wheelchairs. The latter involvement led to an invitation to be a neutral physician at a qualifying round for the Billie Jean King Cup, the premier international team competition in women's tennis, that was held in February 2020 in Everett, Washington. And she travels internationally to evaluate wheelchair tennis athletes' mobility, strength and coordination and classify them for the Paralympics and the competitive circuit.
"I manage the care of people who have had really devastating things happen to them and some of whom do not have a treatment or a cure or something to improve their condition," she said. "So I have to do everything I can to make them as functional as they can be with whatever function they do have.
"That can definitely be really tough. But it's rejuvenating when I'm able to get out and go to these events and see people out doing what they most enjoy doing and knowing that you can have a high quality of life regardless of what ultimately happens to you in life."
MICHAEL STUART '79
A knee injury ended Michael Stuart's football career at DePauw before it got started, but it also inspired his professional trajectory.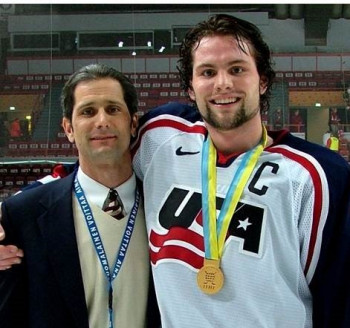 The preseason injury, incurred in Stuart's first year, required surgery. When he tried to come back his sophomore year, he needed surgery again. While he had hoped to play sports at DePauw – he had played football, baseball and basketball in high school – "my priority was my academics (and) my quest to become a physician."
Stuart, a Rector scholar and zoology major, followed through with that quest, becoming an orthopaedic surgeon and sports medicine specialist, focusing on complex knee problems in his practice at the Mayo Clinic in Minnesota. He spent his residency there and, except for a fellowship in sports medicine in Ontario, has worked there ever since.
And that knee? He has had three more surgeries on it over the years, as well as surgery on his wrist, shoulder and elbow.
"I got the experience firsthand of orthopaedic surgery and sports medicine," he said. "… I think it makes you a better doctor, a better surgeon, if you've had those kind of experiences."
He juggles his medical practice with a long list of professional and volunteer activities, most involving hockey: He is the chief medical officer, overseeing health and safety and medical issues, for USA Hockey, the national governing body for the sport of ice hockey. Through that role, has been the team physician at numerous international competitions, including the World Championships, the World Cup and the Olympic Games. He is a consultant for the National Hockey League Players' Association, providing second opinions for injured professionals.
He is a member of the International Ice Hockey Federation's medical committee and, as such, has participated in establishing COVID-19 protocols throughout the world and supervising emergency action plans and drug testing at international competitions.
Since beginning his residency in 1983, Stuart has volunteered as the team physician for high school football and amateur and high school hockey. "As a resident, I was covering football and hockey and different events. Marathons. Then I became the team physician of the Rochester Mustangs … and I ended up being their team physician for 17 years." 
He encourages Mayo residents and fellows to do the same. "It's a way to give back to the community," he said. "It's a way to learn an aspect of medicine or sports medicine that is different from being in the office with X rays and MRI and colleagues, where you have to think on your feet and you have to make a diagnosis and make a clinical decision without a lot of sophisticated imagery or information."
 Hockey, Stuart said, "has really consumed a lot of time and energy, but it's a passion and I love it very much." To ensure he spent plenty of time with his family, he used to take his three sons and one daughter to hockey games.
"I would take them down in the locker room in between periods and, after the game, they would watch me stitch up facial lacerations."
Those experiences – stitches and all – combined with the kids' exposure to one or two young hockey players, ages 17 to 20, who lived with the Stuarts for six or eight months of the year – sufficiently influenced the Stuart kids so that all four played hockey on scholarship at Division I schools, and the boys all played professional hockey.
"My involvement probably did play a role" in their interest, he said, "but certainly their involvement kept me interested."
(Photo: Stuart with son Mark)
DePauw Magazine
Summer 2021
A GATHERING PLACE FOR STORYTELLING ABOUT DEPAUW UNIVERSITY
Whether we are writing about the intellectual challenge of our classrooms, a campus life that builds leadership, incredible faculty achievements or the seemingly endless stories of alumni success, we think DePauw has some fun stories to tell.

News media: For help with a story, contact:

Bob Weaver, Senior Director of Communications.
bobweaver@depauw.edu.