For all their entertainment value, sports can be big business.
Austin Brown '07, a sports agent who has helped negotiate more than $2.6 billion in free-agent deals, can tell you that. So can Bill Rasmussen '54, founder of ESPN.
Sports also can be a labor of love. So says Dianna Minnick Boyce '88, an uber-volunteer who occasionally gets paid for her work. Or, as in the case of Watchen Nyanue '05, a marketer for the WNBA team Chicago Sky, they can grow on you.
Here are the stories of these four DePauw alumni, who made sports their business:
DIANNA MINNICK BOYCE '88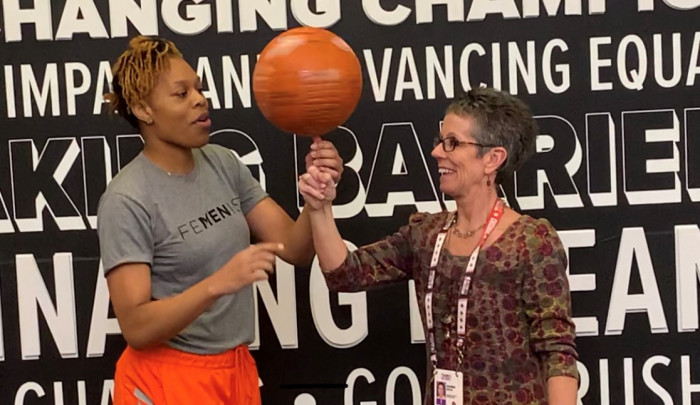 For winter term in January 1987, DePauw junior Dianna Minnick Boyce worked for the committee organizing the Pan Am Games, which would take place in Indianapolis the following August.
As it turned out, "my first dipping-my-toe-into-the-water for an event like that just opened a can of worms that has been ongoing since then."
Not only did her winter-term job let her see if such work appealed to her, but it began a long-time connection with leaders of the Indianapolis Sports Corp. Since then, she has been a frequent volunteer with the civic organization, which seeks to advance Indianapolis through sports, and "then a few times in my life I've been able to combine the passion that I enjoy as a volunteer with my daytime job."
While working in the mayor's office under Stephen Goldsmith, Boyce worked on the organizing committees for the 1997 and 2000 NCAA Final Four events. Several years later – during which Boyce continued volunteering – Indianapolis was chosen to host the 2012 Super Bowl. "Of course I was intrigued," she said. "I said all along, I am all in to serve in any volunteer capacity you want."
In early 2010, the organizing committee was having trouble finding a communications director, and the its head leaned on Boyce. She agreed to take the job if she was given flexibility for a while, "with a full understanding that in the last six months I am in the office, sleeping there, whatever it takes."
In 2019, she was working as senior director of corporate communication for The Finish Line Inc. and volunteering for the 2021 NBA All-Star game when the corporation organizing it tapped her to be its vice president. The game, set to take place in February, was cancelled last November because of the COVID-19 pandemic, then moved to Atlanta to minimize travel for its production crews.
Indianapolis was awarded the 2024 game, and Boyce will again be involved in organizing it. Meanwhile, Pacers Sports and Entertainment named her its associate vice president for digital, and she worked on the recent March Madness events as part of her day job and as a volunteer.  
"I'm not an athlete; I'm a wannabee athlete," she said. "I was never good on the court or on the field, but I was always good on the sidelines or behind the scenes (doing) the elements that help bring off those events, but not necessarily the ones in the spotlight. I didn't need the spotlight."
(Photo: Boyce, right, learns to spin a basketball at the NBA All-Star Chicago Equality Lounge in February 2020.) 
WATCHEN NYANUE '05
Most people who work in sports, Watchen Nyanue will tell you, "have wanted to work in sports their entire careers. They've always worked toward that.
"I'm not that person."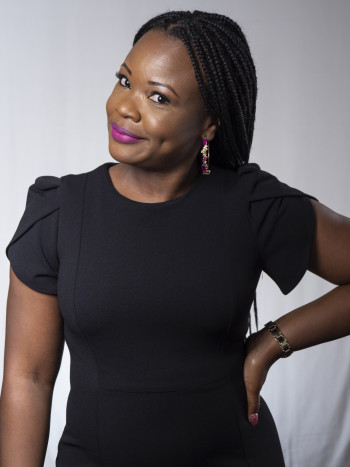 As a marketing consultant to an organization that partnered with the Chicago Sky, she had gotten to know some high-ranking folks with the Windy City's Women's National Basketball Association team, and they had come to know her skills. So when, right before the 2017 season began two business-side employees left, they asked her to help out for a season.
"I literally thought I would help them get through the season and then I would be back to doing whatever it was that I wanted to do," she said. " … Fortunately for me, I didn't have to have a deep understanding of the game. I had to have a deep understanding of the business, which I had."
She came to realize that "women's sports are amazing" but that marketing a WNBA team is tough. For one thing, "most people have opinions about women's sports but they haven't actually sampled the product," she said. " … Once somebody has been to a WNBA game, it's hard to kick them out of the arena."
For another, shortly after the season ends, WNBA players scatter to play in other countries, making it impossible to tap them to do interviews and participate in marketing events.
Still, the work is invigorating, Nyanue said. "I am someone who gets bored very easily and so, if I don't have something that is continuously challenging me, I check out." The WNBA, founded in 1996, is still in its infancy, she said, so "there are so many problems to solve or challenges to solve, and that keeps the job interesting.
"I've worked for a bunch of other, well-known companies, but they're all well-oiled machines … whereas with this, to me, it's an opportunity to be part of the foundation of something."
Nyanue's path has been anything but ordinary. She was eight when her family emigrated from war-torn Liberia. Her parents "knew nothing about navigating America and so, if I was going to be successful, it would take the intellectual capital and the resources of other people who were not my blood," she said. 
She came to DePauw via the Posse Foundation and, "if that's not an example of mentorship and reaching back, I don't know what else is." She majored in communications, secretly hoping to be the next Oprah Winfrey but "too chicken to say it out loud." She interned on the soap opera "Days of Our Lives," where he met Bill Hayes '57 ("he was so nice") and worked at Comedy Central and Yahoo!
"I remember being like, man, 'did I go to DePauw to become someone's assistant? I've got a degree! Do they know that the liberal arts prepare m for x, y and z?'" she said. "Now looking back, if I didn't have those first few years, I would be in a world of trouble in this leadership role."
Nyanue passes along such advice through her company, I Choose the Ladder, which creates professional development workshops and events for clients' employees. Until recently, she was the Sky's senior vice president for marketing partnerships, but she stepped back to become head of strategy, which requires less of a time commitment. She also is studying for an MBA at the University of Chicago.
"There is no career experience that is wasted," she said. "You don't know how you'll end up using the things you learn in class or the things you learn as an assistant."
(Photos: Amber Del Rio and Conrad Piccirillo) 
BILL RASMUSSEN '54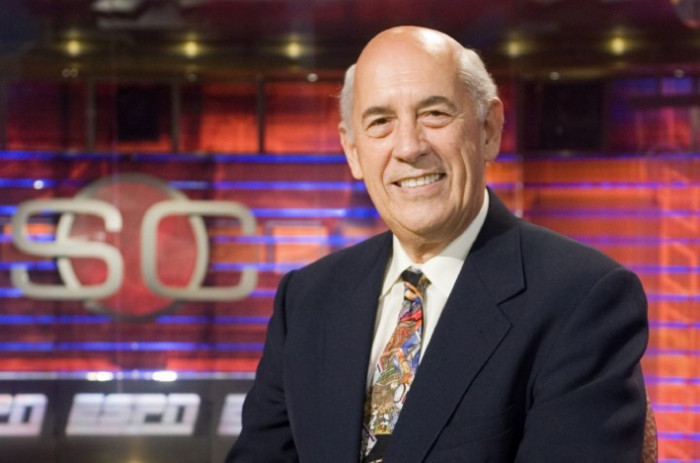 To this day, when he speaks on a campus, Bill Rasmussen tells young people, "don't ever, ever be afraid to ask questions. You should always be curious. Never be complacent; always ask questions."
That's one of the lessons he learned over his years of taking risks and acting on ideas, even when others discouraged him. The other lesson: Be willing to pitch an idea. "They're not going to kill you; we know that. They're probably not going to swing at you. They're probably going to be really gentlemanly and polite about it."
He used those ideas early in his career, when he was working in advertising at Westinghouse Electric Corp. in New Jersey in a job his father-in-law helped him land. After observing that materials often arrived too late for advertising campaigns or meetings, Rasmussen pitched the idea that he'd quit to start a company and guarantee shipments would be on their way within 24 hours.
The plan was a success, but the broadcast bug kept nipping. Even before coming to DePauw in the early 1950s, he envisioned a career in sports – either playing baseball or broadcasting. Having served in the Air Force shortly after his 1954 graduation, he was too old, he said, to try to progress through the minor leagues. So broadcasting it was.
He left the shipping company after three years and landed a series of jobs in broadcasting, often having to cajole the boss into devoting more time to sports – or even allowing Rasmussen, hired as a weatherman at one station, to talk about them at all. In 1974, he went to work as communications director for the Boston Whalers hockey team but was fired four years later – along with everybody else who could be blamed for their miserable season.
Without a job, he got to thinking: If he could persuade owners to let their games be broadcast live on radio or TV, he could create excitement and drive people to want to go to games. He considered a 30-minute sports show but, before long and with involvement of his son Scott '86, thought much bigger: a 24-hour sports station. One by one, he won over team owners, and ESPN went on the air Sept. 7, 1979.
Rasmussen and ESPN have had some family feuds over the years – he was forced out early on – but they've made up, so much so that ESPN invited him to pump up employees in several cities during celebrations of its 40th anniversary. At 88, "I hope we're doing the same kind of discussion 10 years from now, on my 100th birthday or ESPN's 50th anniversary," he said.
Meanwhile, having been diagnosed with Parkinson's disease in 2014, he is working with the Michael J. Fox Foundation for Parkinson's Research to raise awareness of the disease and encourage people who think they may have it to seek help.
"Go ahead and ask," Rasmussen said. "It's OK."
AUSTIN BROWN '07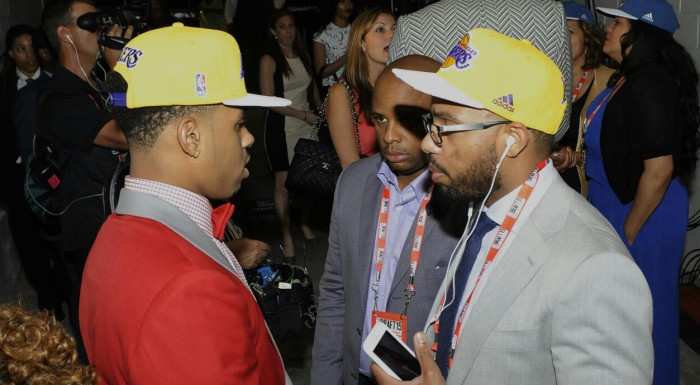 He came to DePauw with a plan to follow his father into finance. He briefly worked at J.P. Morgan as an investment banking analyst and, during law school at Washington and Lee University, handled investment management and mergers and acquisitions for a New York law firm.
But Austin Brown "always found myself getting drawn back to basketball in some way, shape or form since it has given me so much of my life."
Brown had been a standout basketball player at DePauw, a four-year letter winner remembered mostly for his midcourt, game-winning shot that won the Southern Collegiate Athletic Conference championship in 2006, was made ESPN's "Play of the Day" and merited his appearance on SportsCenter. As a senior, he was named to the all-Southern Athletic Conference's first team.
In the summer before he entered law school, Brown, who had majored in communications and minored in economics at DePauw, interned at a sports agency "and that's where I really had sort of a lightbulb moment where I was like, wow, I think this is really something I could do and be really good at."
He was right. After getting his law degree in 2013, Brown joined CAA Sports, where his team has negotiated more than $2.6 billion in deals for free agents and represented 28 first-round picks, including Zion Williamson, the No. 1 pick in 2019. He has been included on Forbes' "30 Under 30" list and Sports Business Journal's "Forty under 40." 
Brown played a variety of sports as he was growing up, but "basketball is truly a team sport and, at least for me, I intersected with so many different people from different walks of life, different backgrounds, different beliefs, and that really, really helped me."
The experience, he said, "directly translates to what I do today."
Before the pandemic grounded him, he traveled 20 to 25 days a month to watch his clients play, keep tabs on their progress and make sure "that they're getting everything they need in their career and they feel like they're on the trajectory they want to be on."
Brown said he tries "to be the agent I would want my agent to be if I were a player. … I have a profound respect and I feel a deep sense of responsibility for my clients, making sure I'm always honest with them. I'm working as hard as I possibly can for them to get them everything they could possible need, so they can take care of their families long after their playing days are over. It's in my DNA. It's what makes being an agent so rewarding. It's tough, but it's rewarding to know that you're playing a piece in helping somebody achieve a dream that very few get to achieve."
(Photo: Brown, right)
DePauw Magazine
Summer 2021
A GATHERING PLACE FOR STORYTELLING ABOUT DEPAUW UNIVERSITY
Whether we are writing about the intellectual challenge of our classrooms, a campus life that builds leadership, incredible faculty achievements or the seemingly endless stories of alumni success, we think DePauw has some fun stories to tell.

News media: For help with a story, contact:

Bob Weaver, Senior Director of Communications.
bobweaver@depauw.edu.