The DePauw provided a laboratory for experimentation and learning for Jon Fortt '98, who continues to try out ideas as a professional journalist focused on technology.
As a student reporter and ultimately editor-in-chief, "I really fell in love with the independent student newspaper, the environment, the laboratory environment of students learning from each other," he said. And though journalism has changed since Fortt started practicing it, "I think it's still important to think about ways that, in a connected, digital society, DePauw and The DePauw and student media can remain that sort of laboratory."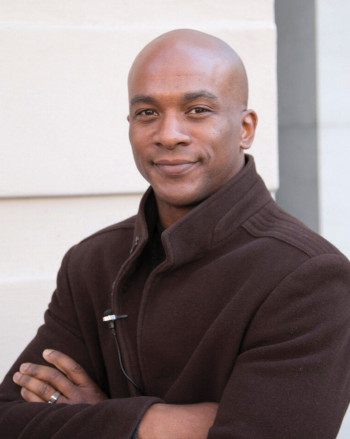 Fortt knows what he's talking about, in more ways than one. Not only has he been a reporter for more than 20 years, but he has covered technology specifically almost from the beginning, having been assigned to do so during his first post-graduation job at the Herald-Leader in Lexington, Kentucky. He moved to Silicon Valley to work at the San Jose Mercury News, where he covered fledgling tech companies, including Apple and Adobe. He switched to broadcast journalism in 2010 when he went to work for CNBC. He became co-anchor of "Squawk Alley" in November 2013 and has held the same role at "TechCheck" for the past year.
His resume speaks to his willingness to experiment: He created, hosts and is executive producer of "Fortt Knox," a five-year-old digital interview program. He created and writes a weekly "Working Lunch" segment, focusing on founders and CEOs, for CNBC's "Power Lunch," and a segment called "On the Other Hand" for "Squawk Box," in which he argues both sides of contentious business issues. After George Floyd was killed, Fortt – wishing to "prepare my young sons for life in America" – created a multi-part online course called "The Black Experience in America." He also is publisher of Cross Cultural Newsletter, a Christian and cultural exploration of the Bible.
The DePauw prepared him to work in the media, he said. He covered two hazing scandals, and "they weren't popular stories with everyone. And I learned to take the heat for those kinds of things." Around the same time, he wrote a feature story about eating disorders, and got a tip from the president of a sorority about which he had just written. "That trust was still there," he said, and she recognized that "I was trying to do the right thing for the community. …
"That's part of the unique laboratory of DePauw. When it's working the right way, you learn that sometimes all the aspects of civil society, including journalism, aren't pleasant going down, but they're good medicine for the body politic."
DePauw Magazine
Spring 2022
A GATHERING PLACE FOR STORYTELLING ABOUT DEPAUW UNIVERSITY
Whether we are writing about the intellectual challenge of our classrooms, a campus life that builds leadership, incredible faculty achievements or the seemingly endless stories of alumni success, we think DePauw has some fun stories to tell.

News media: For help with a story, contact:

Bob Weaver, Senior Director of Communications.
bobweaver@depauw.edu.