When the statue of Confederate Gen. Robert E. Lee was dismantled Sept. 8 in Richmond, Virginia, was that desecration of public art? Or was it justified to remove a monument to a vanquished leader who fought to keep people enslaved?  
Was the removal of the Lee statue akin to the Taliban's demolition last month of a statue of a Shiite militia leader who fought against them in the 1990s? Or their destruction in 2001 of the Buddhas of Bamyan, two 6th-century statues carved into the side of an Afghanistan cliff?
Lyle Dechant, an art and art history instructor, wants the students to ponder the issues and figure out the answers for themselves.
He is teaching "Breaking Images: Iconoclasm and Iconophobia in a Global Context," a first-year seminar in which students examine the ways art is "attacked, erased, dismantled or demolished." Subject matter for the class ranges from Plato's "Republic," in which the philosopher argued that certain images could influence people's behavior and thus shouldn't be widely available, to the Confederate monument debate, deep fakes and video games.
"Obviously, I have my own personal beliefs," Dechant said. "… Then there's the conversation that I like to have in class with the students, where I try to encourage different points of view rather than get my own point of view too much on the table."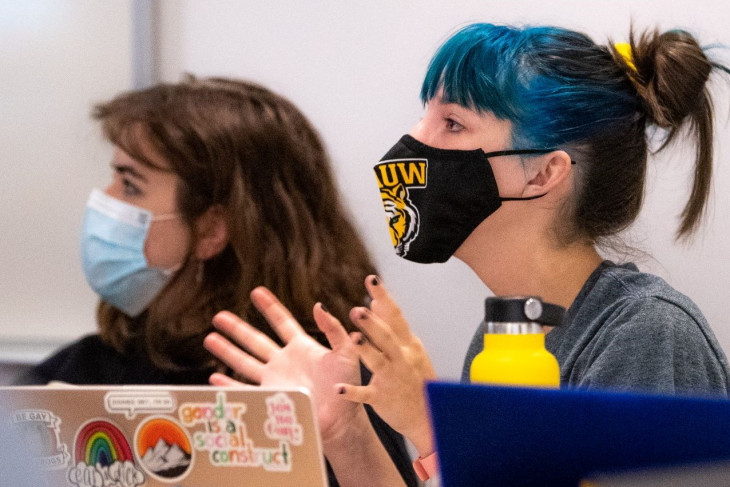 Leah Knipstein (left) and Zoe Kolosci 
"One thing I would hope that the students would walk away with is just to ask that question of themselves rather than have an uncritical attitude where they instinctively say, 'well, I like this art, so it should stay, and this thing I don't like it, so it should go.'"
Dechant maintains that "there's not a person alive who wouldn't gladly dismantle a certain image somewhere that they've seen, that they wish wasn't in the public sphere. … It happens on both sides. It's a constant in human history. Some of the earliest artworks that we have on the planet have signs that they were deliberately attacked."
Ky Nguyen, a likely computer science major from Vietnam, said the course's title intrigued him, so it was one of his top choices among the 31 seminars offered to first-year students this fall. First-year seminars are offered in a small, discussion-based and writing-intensive format to foster discussion and encourage students to explore ideas. The seminars are not major-specific, but rather are designed to encourage students to think in new ways.
The course requires a lot of writing, "and writing is my weakest skill," Nguyen said. "So I really think I made a right choice to take in this course because my professor gave me a lot of feedback on my writing. And it helps me a lot to improve my writing skills."
Zoe Kolosci, who likely will major in communication and Spanish, said she is enjoying the class. "I hadn't really thought about why people break things, like different artworks, whether in a museum or just out in the open," she said. "And so learning a bit more about that really helps to learn more about the cultures and also about the artwork itself and why it was made."
She said the Confederate statue removal demonstrates that the topic "is still very relevant. And I think it has been for forever, basically. But there are multiple sides to every story. Even with these art pieces that we're studying, there's one side that wants some taken down or destroyed and the other side doesn't, and there's usually some sort of deeper message behind it. So I think what the Robert E. Lee statue is technically art, by the definition, but there's a definitely a deeper meaning behind it being taken down."
Leah Knipstein, who plans to major in voice performance, noted that the Lee statue is being put into storage and "possibly will be displayed in a more contextual place, like a museum," not destroyed, as is the case with some artwork the class is studying.
She said she enjoys "looking at why images are so important culturally. And I was surprised that we got into that, but it's really, really interesting."  
Whether we are writing about the intellectual challenge of our classrooms, a campus life that builds leadership, incredible faculty achievements or the seemingly endless stories of alumni success, we think DePauw has some fun stories to tell.

News media: For help with a story, contact:

Sarah Steinkamp, Vice President for Communications and Marketing and Chief of Staff.
sarahsteinkamp@depauw.edu.