It wasn't so long ago that colleges and universities could discriminate against women by denying them the benefits of competing in sports.
Women were too delicate for athletics, the reasoning went. "Many doctors supported the idea" that playing sports would harm a woman's ability to bear children, said Judy George, who came to DePauw in 1965 to teach women's physical education.
Then, 49 years ago last month, on June 23, 1972, Congress passed Title IX, the federal law authored by U.S. Sen. Birch Bayh of Indiana that prohibited sex discrimination in educational programs that received federal funding, including schools' athletic teams.
Neither attitudes nor the situation changed overnight, but they evolved. George, who as a Miami University student had participated in field hockey and basketball, part of the Women's Recreation Association, liked the competition and wanted women at DePauw to experience athletics. 
"I was the only one at the very beginning who felt that way at DePauw," said George, who became the field hockey club adviser in 1966 and, after field hockey became a varsity-level sport, coached for more than 30 years.  "… It kind of blows my mind to think of some of those attitudes when I first came here."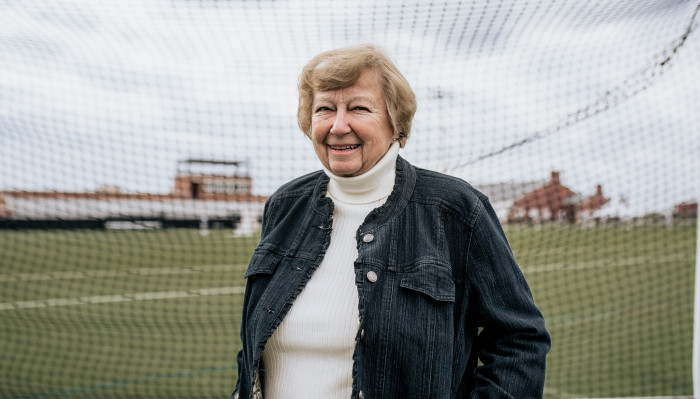 Competitions had been social events rather than sporting events. "When I first came to DePauw, intramurals were a really popular part of women's sports," she said, "and there was great support for those few people who were out there competing so their sorority would be considered more popular."
It took "a few years of transition" and collaboration with the Greek system before women saw athletics as a priority, she said. It also took time for women athletes to recognize the rigor it would take for them to compete.
"I would say, 'Okay, we're going to warm up today by running four times around the hockey field.' They would look at me like, 'you've got to be joking.' They weren't accustomed to vigor except in sports that had been determined socially acceptable – golf, tennis and swimming."
•
Mary Bretscher came to DePauw in 1974 to teach aquatics classes. At the time, DePauw offered four women's sports teams: field hockey, basketball, volleyball and golf. During her job interview, athletic director Tom Mont suggested that she may someday want to start a women's swim team.
The following year, she did.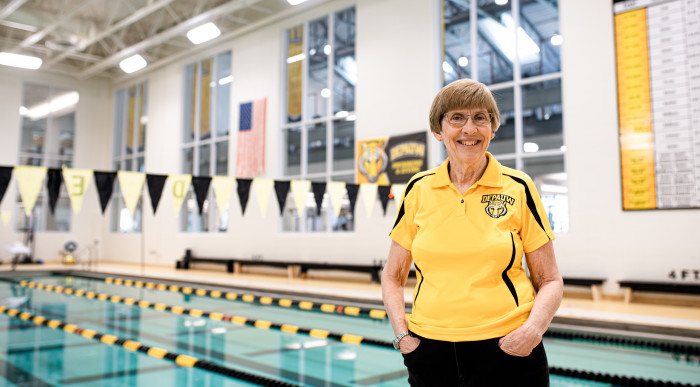 "I was like many other women involved in athletics during that era," Bretscher said. "I was not really out to be a trailblazer or a crusader for women's athletics. I loved my sport and wanted to make it possible for other women to have a similar experience." 
Her efforts at DePauw weren't universally welcomed, even after Title IX became law. Swimmers were fined for missing sorority events, including ice cream socials. When Bretscher planned for her team to participate in a season-ending regional swim meet scheduled for the same weekend as sorority rush, she gave her swimmers the choice to participate in the meet or stay on campus for rush.
Most chose the latter, but a few wanted to swim – until, that is, Bretscher received a call from the dean of women, who told her "in no uncertain terms" that the women did not have an option. "They must," she recalled the dean saying, "participate in rush."
In time, sororities valued their members who were athletes, supported them by attending games and meets and even provided late plates for athletes who missed dinner, Bretscher said. And DePauw, compared to the large university where she previously worked, treated female athletes decently and fairly, she said. Her swimmers received meals and lodging expenses and uniforms and equipment were provided.
George retired in 2000, Bretscher in 2016. Both were troubled that inequities continue to this day, as evidenced recently by the disparity between the well-equipped and expansive weight room provided for men in the NCAA basketball tournament last spring compared to the paltry offerings in the women's weight room.
"I really hope Title IX is going to remain as a protection," George said. "We may think this is the ultimate. But it is not. … Still, there's a struggle with the attention given to women."
Said Bretscher: "We've come a long way, but we still have a long way to go."
 •
Stevie Baker-Watson remembers a 2004 forum on gender equity where she was "introduced to a compliance structure related to gender equity and sport that I didn't realize actually existed."
Good news, right? But then Baker-Watson, who wasn't even alive when Title IX became law, came to realize that not all decisions made in college sports supported gender equity, and no framework existed to make sure that fair decisions were being made. What's more, she saw talented individuals treated unfairly simply because there was a louder voice in the room or someone who had different access to the decision-makers.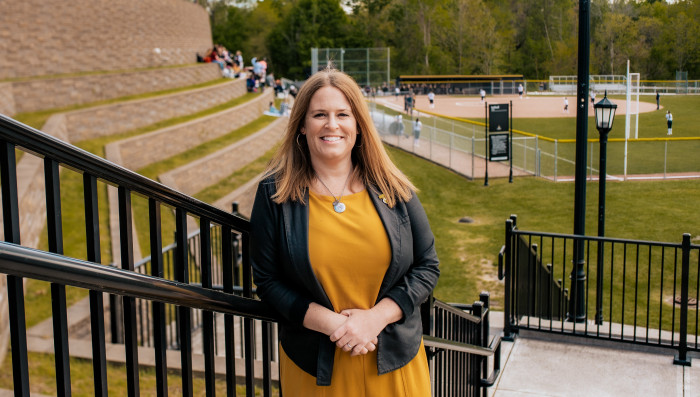 "That's when I started to say, I need to be in my own ship. I need to be the one who's charting the course and steering when I need to," she said. That determination caused her to apply for and become DePauw's Theodore Katula director of athletics and recreational sports in 2012. She later assumed duties of associate vice president for campus wellness as well.
"When I came to DePauw and interviewed, it was clear to me that there was this idea of equality between our men's sports and our women's sports," she said. "And I saw that in terms of how they were funded. If men's soccer got x dollars, then women's soccer got x dollars."
But the issue, to her, was "about allowing each gender to fulfill their potential, which means that you might need to treat people differently in order to treat them equally," Baker-Watson said. " … That's how we get to this modern-day place in terms of how we run our athletics program at DePauw. It's about the experience – the totality of the gender experience."
As a college student-athlete, she saw differences in sports funding and thought they were because some sports make money and others don't.
"And then I got into the business, and realized it's not that simple," she said. "Working in college athletics and trying to guide an athletics program is not about who generates the money. It's about providing opportunities for everybody who's engaged in those programs."
 •
Sydney Kopp '20 grew up playing softball because that's what her older sister did. But basketball "just became my world and, I mean, obviously, it still is today."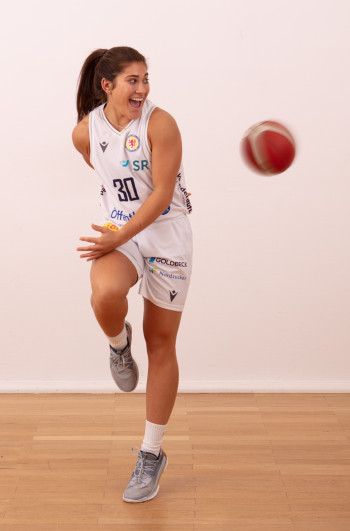 She plays guard for the Eintracht Braunschweig, a German professional women's team, after an outstanding career at DePauw, where she broke a slew of records and garnered a boatload of awards for her athletic prowess and academic accomplishments.
Though she was named an All-American of the Year and an Academic All-American, she particularly prizes the 2020 Jostens Trophy award.
"It incorporates basketball, academics and community service and encapsulates a whole person," Kopp said. "The Jostens award recognized me as more than just an athlete. I feel like a lot of times athletes struggle, especially high-caliber athletes, to be seen as more than just the player of the sport they are."
Kopp definitely is more that her athletic ability. At DePauw, she was a political science major and honor scholar. She also was a court-appointed special advocate who represented children in court.
"I'd hang out with the kids, talk to them, learn what their needs were and what they were going through," she said. "Then I'd go to court on their behalf. The judge would ask me to say what their wishes were."
She was accepted to law school during the spring of her senior year but, when her last basketball game ended, she decided she wasn't ready to leave the sport. She began to look for opportunities to play abroad, and signed a contract to play in Germany. She has loved the experience, despite some of the complications due to COVID-19, and plans another year with the team.
And then she will attend law school, with the goal of becoming a women's sports lawyer "to help women athletes make a change."
Though Title IX has been the law since long before her birth, Kopp is well aware of pervasive inequalities. When she saw the disparity in the NCAA men's and women's weight rooms, "the sad part is that I wasn't surprised."
Yet she remains hopeful. "It just takes people who have a voice to use it, and now they're beginning to, which is huge," she said.
Even after she leaves the professional team, she will continue to play basketball, she said.
"Basketball has been the constant in my life, no matter what. If I thought I had a bad test, I'd go to the gym and shoot. If I was going through something personally with friends or family, I'd go to the gym and shoot. 
"It's just always been there for me, and it has never disappointed me."
(Photos of George, Bretscher and Baker-Watson: Brittney Way. Kopp photo: Michael Eichhorn.) 
DePauw Magazine
Summer 2021
A GATHERING PLACE FOR STORYTELLING ABOUT DEPAUW UNIVERSITY
Whether we are writing about the intellectual challenge of our classrooms, a campus life that builds leadership, incredible faculty achievements or the seemingly endless stories of alumni success, we think DePauw has some fun stories to tell.

News media: For help with a story, contact:

Bob Weaver, Senior Director of Communications.
bobweaver@depauw.edu.