Lauren Clark '11 was doing stand-up comedy and improv on a New York City stage, buoyed nightly by the laughter, when the COVID-19 pandemic ripped her from her moorings.
"My tiny Brooklyn apartment was not going to be pandemic-proof," she said, so she moved in with her mother and stepfather in Charlotte, North Carolina, and began to contemplate how to survive outside the "bubble of comedy" in which she had lived for nearly a decade.
"I was very upset because it was like, I don't know the next time I'll be on the stage again. But that doesn't necessarily mean that I can't create," she said.
Here's how she does it: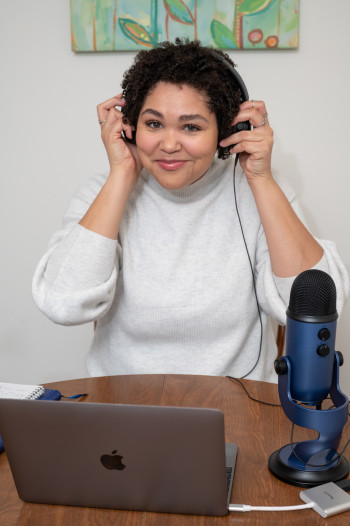 "MAKE DO WITH WHAT WE HAVE": Early in her pandemic-induced quarantine, she said, "the idea of just like, OK, now I have a year ahead of me and all I can do is write; I can't actually take it on stage or turn it into some kind of short film or anything – that was a bummer at first."
But as the quarantine has dragged on, "we all seem to collectively realize we're going to be in this situation, the pandemic, for a little while, so we have to adjust; we have to make do with what we have. That's where I'm at."
ESTABLISH A ROUTINE: Clark, who moved into her own place in August, gets up as early as 4 a.m. and, after getting ready for the day, sits down to write for four hours. (Her remote work as a customer experience representative for a New York-based startup comes later.)
"If I do it based off of my feelings, I'll never write," she said. "I never actually feel like writing. … I've gotten really, really strict with the routine in a way I really haven't before. And I think because of that it has really, really helped my creativity."
TAKE RISKS: After graduating from DePauw, Clark had had the courage not only to move to New York, but to study improvisation and sketch comedy at the Upright Citizens Brigade Theatre and perform stand-up comedy.
"I really had no idea what I was doing but I knew very, very intuitively that you have to start before you're actually ready," she said. "I had so many bad performances when I first began in school but I didn't care because I just had so much fun."
Later,she co-founded a sketch comedy group called My Mama's Biscuits out of frustration that the theatre, which since has folded, did not give Black comedians much stage time.
With the pandemic preventing her from performing on stage, Clark has diverted her creativity to producing the Black Creator Connection podcast, on which she interviews a Black artist each week about his or her work. She also is writing personal essays and a script for the pilot of an autobiographical television show. 
"I had always wanted to do a podcast and truly I always had so many excuses for why I didn't," she said. "My main thing was just perfectionism. Perfectionism truly stopped me, just like oh, I know all of these other people who are podcasting out of a studio, and they have the best equipment and they're booking these guests and giving them incredible snacks. Like, who lets snacks stop them? I did.
"But I realized people are going to be a little more forgiving now, with the pandemic. Everybody is doing the interviews over Zoom, so even if I have the best equipment but something sounds a little off because of Zoom, nobody's going to belittle or come down on me for that. But then, also, if they do, who cares? People are always going to be judging. So you might as well let that be liberating and just do whatever you want."
PURSUE A LARGER PURPOSE: "The work that I'm doing right now, a lot of it feels very mentorship-y," she said. "I'm starting to coach people and help them on a one-on-one basis. And the Black Creator Connection is essentially that as well, where I'm just motivating people and making sure everybody is staying positive and inspired …
"I just genuinely want people to have a space where they can share their experiences and we just have a conversation about the creative journey, the creative life. Hopefully, for whoever is listening, it unlocks something for them too."
DePauw Magazine
Spring 2021
A GATHERING PLACE FOR STORYTELLING ABOUT DEPAUW UNIVERSITY
Whether we are writing about the intellectual challenge of our classrooms, a campus life that builds leadership, incredible faculty achievements or the seemingly endless stories of alumni success, we think DePauw has some fun stories to tell.

101 E. Seminary St.
Greencastle, IN, 46135-0037
(765) 658-4416

News and Media