Two bidding wars. And a headline that says NBC "nabs" his medical drama.
Marqui Jackson '00, it would seem, has reached the pinnacle.
"Nooo," he said, drawing out the Os. "I'm just getting started. … The pinnacle? Not even close. When you have a billion shows on the air, like a David E. Kelley or Shonda Rimes or Ryan Murphy, then you can say you've done something. But I'm still on my way."
His 18-year journey of persistence, resilience and humility – of "a lot of getting lunch and coffee, personal errands and all of that" – has brought him here: Three production companies competed to produce his show, "Family History," the story of a Black family of physicians who buy a hospital. Imagine Entertainment, a company owned by Ron Howard and Brian Glazer, won. And then NBC beat out Fox to be the network where the show, if made, will air.
Jackson, who is co-executive producer on "The Resident" and has worked on other popular television shows such as "House" and "Rosewood," is writing a script and waiting to hear if NBC will make the pilot and, ideally, more episodes. This puts him closer than he's ever been to being an executive producer of his own show, a goal toward which he has worked since, two years out of DePauw, he earned a master's degree from Texas Christian University and "started from scratch" in Los Angeles.
So what lessons do Jackson's experiences teach?
TAKE WHAT YOU CAN GET: Jackson had been working as a temp when he landed a job as a production assistant on "Half and Half," a sitcom. Not his thing.
"I took the comedy jobs just to get into the industry, to get to know people," he said. "And just to find my way. I've got to eat, and so if I'm going to be working at a job that's not what I want to do, at least it's in the industry. And I did learn a lot."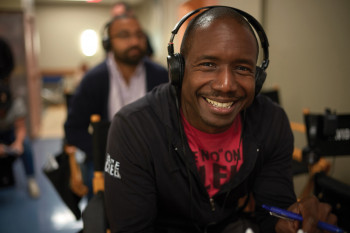 Later, he worked as an assistant to an agent at Creative Artists Agency LLC. Again, it wasn't ideal, but he learned a lot. And his end goal was to demonstrate to folks at CCA that they should take him on as a client, something that is "extremely hard to do, to get an agent," he said. Ultimately, that happened, leading to Jackson's first job as a professional writer for "The Forgotten," a Jerry Bruckheimer procedural.
LEVERAGE CONNECTIONS: About that first comedy job? "One of my professors at TCU had a student who had a husband who was a writer's assistant," Jackson said. "I got my resume to him, he got it to his bosses, they brought me in, they interviewed me and I got the job."
Later, when he was assistant to the executive producer of "Ugly Betty," Jackson applied for a fellowship with the Walt Disney Television Writing Program, a big deal in the television business. His boss made a call to recommend him. A colleague who was already a Disney fellow sent an email to the head of the program, and Jackson got an interview. When Jackson learned that Brian O. Harvey '94 was then working with Disney-connected ABC, he asked Harvey to meet for coffee. They did, and Jackson asked if Harvey would recommend him for the Disney fellowship. "And then he did," Jackson said of Harvey, who now is a development executive with Amazon Studios.
TAKE RISKS: When Jackson became an assistant on "Ugly Betty," he hoped he'd be asked to write an episode, something that happens now and then. But it struck him that "everybody has an assistant; I'm literally assistant No. 8," he said. "And I'm going to have to wait 10 years to get my shot." That's when he decided to leverage his relationships with ABC people and go for the Disney fellowship.
When he hadn't gotten word about the semifinal round of interviews – two friends who also applied had landed interviews and Harvey told him things looked good – "I did something that I ordinarily wouldn't have done," he said. He emailed a high-level executive at ABC, "a guy who helped decide what you guys see on ABC at home. I get coffee and answer phones."
The executive had, at some time, offered what may have seemed a gratuitous line – "if you need anything" – but Jackson took him at his word. The exec responded with news that Jackson was supposed to be interviewed, but someone accidentally failed to call him. Jackson got the interview and the fellowship.
"Had I just accepted my fate, my life today would be completely different," he said. "I always tell that story to up-and-coming writers because, when you're getting close to an immediate goal, when it's so close you can see it – you can almost taste it – sometimes the journey requires that you dig a little deeper."
Years later, Jackson began work on the "Family History" script after learning that Lee Daniels Entertainment wanted a show about Black doctors. The Daniels company ultimately passed on the script, as did 20th Century Studios, producer of "The Resident."
"It was late in the year in terms of developing stuff for broadcast, so I was like, I'll just shelve it and pitch it next year," he said. Then, in 2020, when the COVID-19 pandemic hit and was disproportionately affecting people of color, Jackson revived the concept, and the bidding wars ensued. 
HAVE A PLAN/SET A GOAL: He tells young people who ask his advice, "Don't just have one plan, have multiple plans. Have five. And have them all working at the same time because you just don't know how you're going to break in."
Having worked his own plan, his goal now is "to sell and get my own shows on the air," he said. "I came out here to write my vision, not everyone else's. But there's a process in that. There's a grooming and refining period …
"It's a tough and competitive business, so to sell something, let alone to get something on the air, is like lightning in a bottle."
DePauw Magazine
Spring 2021
A GATHERING PLACE FOR STORYTELLING ABOUT DEPAUW UNIVERSITY
Whether we are writing about the intellectual challenge of our classrooms, a campus life that builds leadership, incredible faculty achievements or the seemingly endless stories of alumni success, we think DePauw has some fun stories to tell.

101 E. Seminary St.
Greencastle, IN, 46135-0037
(765) 658-4416

News and Media