Two years out of DePauw and newly graduated from the Thunderbird School of Management, Jim Alling '83 just wanted a job.
"It's not that I didn't have a curious mind when I came out of DePauw and a desire to learn," he said. "I just don't think 'purpose-driven' and 'profit' landed in the same sentence for me. I have to be honest with you: If I was looking for a purpose-driven job, that meant I didn't feel I could do a job where I could make money. It would just be a getting-by job."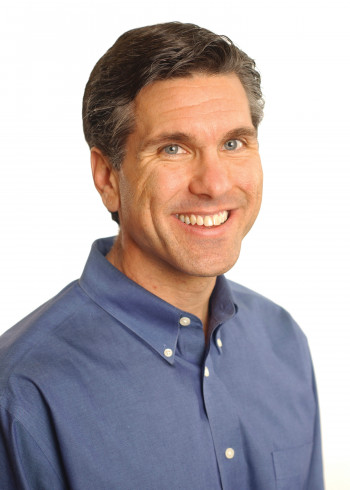 He landed at Nestle, where he worked 12 years and rose to become a vice president, then in 1997 moved to an 11-year stint at Starbucks, a company whose mission is to sell responsibly produced products and invest in educational and community-building causes. It was his first exposure to doing well by doing good, an achievement he ultimately accomplished by:
FINDING THE RIGHT COMPANY: After Starbucks, Alling spent almost six years as chief operating officer at wireless communications company T-Mobile USA and was not looking for a job when he was headhunted by TOMS Shoes. He was reluctant to move from Seattle to Southern California, but after a conversation with TOMS' founder Blake Mycoskie, "I was in, hook, line and sinker."
Mycoskie started TOMS in 2006 with a plan to produce casual footwear and, for every pair sold, give a pair of shoes to a needy child living in a developing country. TOMS has given 97 million pairs of shoes away since.
Alling was drawn by the company's purpose – to improve lives – as well as its leaders, finding that "genuinely good, committed people are drawn to companies with a purpose," he said.
RECOGNIZNG "THERE IS NO MISSION WITHOUT MARGIN": TOMS was struggling financially when the owners, then Mycoskie and Bain Capital, brought Alling in to tighten business operations.
That included some difficult choices, including laying off employees and making other cuts. "Doing that in any company is hard, but in a purpose-driven company, you have to go back to the mission of the company," Alling said. "And if the business aspects of the company aren't working, we have to make sure we do something to make that a sustainable business so that we can continue to fulfill our mission of improving lives."
Alling left TOMS at the end of 2019, when its creditors agreed to take over the company in exchange for restructuring its debt.
KEEPING THE CUSTOMER IN MIND: "It's naïve to think you can only pick your shareholders as your key constituent and do things only to maximize your share price without doing something to endear and engender support from your customers," Alling said. "So by doing good in that broader ecosystem of contact, you should put yourself in a position where you're driving your share price up, where you're driving your business up, because people are loyal to you. Your business partners are loyal. Your customers are more loyal. Your employees are more loyal and more engaged, and they help lift your results."
DOING RIGHT BY YOUR EMPLOYEES TOO: Alling said that, while at Starbucks, he recognized that "if you're doing right by your people, you will do well financially. …
"An executive has a tremendous responsibility to recognize and work for the people on the front line of the organization. … While they may not get the notoriety, if you're set up right, they're set up to be the stars of the show, and they will be engaged and inspired and really believe in your purpose, believe in your mission and help you to continue to drive that forward."
BEING RESPONSIVE: TOMS changed its giving model while Alling worked there, largely in response, he said, to the suggestions of the organizations that helped TOMS give away shoes.
The giving partners wanted the company to expand its largesse to other needed items and services, he said. While the company still gives away shoes, TOMS now dedicates a third of its net profits to provide clean drinking water; pay for sight-saving surgeries and eyeglasses; advocate for measures to end gun violence; support organizations that battle community violence and mental illness; and promote educational opportunities to children in poverty.
In addition, the company, which was criticized for creating dependency on its shoes but failing to create jobs where they were needed, responded by building manufacturing plants in several countries where shoes are distributed.
STAYING COMMITTED: "The last thing you want to do," Alling said, "is create a sustainable model, have giving partners build an infrastructure around that model and then say 'hey, we're bored with this; we're going to step away.'"
Fulfilling the philanthropic mission in a sustainable way means "embracing criticism, seeking feedback and then not getting defensive," he said. It also means maintaining the philanthropic commitment even during financial troubles.
"It would be difficult to do good if you're not willing to stay committed to doing good in the hard times," he said. "… It's not necessarily easy to stay the course in the difficult times, but if you choose not to, it's very hard to get back on that course after having taken a tour off and gone off in a separate direction and then try to come back. It's just really difficult to have trust and credibility when you do that."
DePauw Magazine
Spring 2021
A GATHERING PLACE FOR STORYTELLING ABOUT DEPAUW UNIVERSITY
Whether we are writing about the intellectual challenge of our classrooms, a campus life that builds leadership, incredible faculty achievements or the seemingly endless stories of alumni success, we think DePauw has some fun stories to tell.

News media: For help with a story, contact:

Bob Weaver, Senior Director of Communications.
bobweaver@depauw.edu.