The legend was wrong: Jimmy Hoffa's body wasn't found buried under the end zone when Giants Stadium was demolished in 2010.
Maybe it was cremated in a trash incinerator or crushed in a compacted vehicle sold as scrap. It might be buried in concrete under a skyway in New Jersey. Perhaps it was fed to Everglades alligators. Or maybe two federal agents pushed Hoffa out of an airplane as it flew over the Great Lakes.
For more than 45 years, a lot of people – including the FBI – have devised hypotheses, advanced theories and tried to solve the mystery of what happened to Hoffa, the former Teamsters president, after he disappeared July 30, 1975, from the parking lot of a restaurant outside Detroit.
David Witwer '85, a professor of American studies at Penn State Harrisburg who is writing a book – his fourth – about Hoffa, is less interested in searching for Hoffa's physical remains than he is about searching for who Hoffa really was.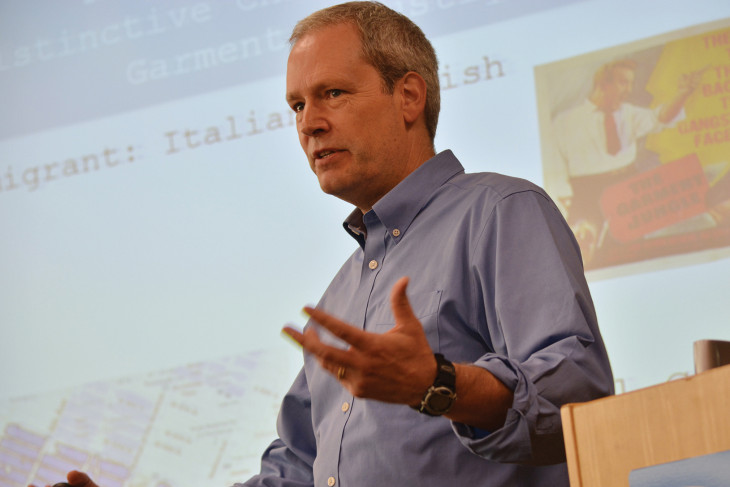 Champion of working people or "corrupt, criminal, ruthless, violent, vile" union leader? Hardworking advocate for the little guy or mob collaborator? Family man with a modest lifestyle or all-powerful organized crime figure? Working-class hero or a symbol of corruption? Unsolvable mystery or mythic figure?
"What the book is about is looking for that Hoffa, that Hoffa who's so hard to pin down," Witwer said.
As the Penn State laureate for 2020-21, Witwer lectures about his research into union corruption, organized crime and labor racketeering, subjects he has pursued since obtaining his doctorate degree.  His first job out of DePauw – investigative analyst for the New York district attorney – sparked those interests.
He has conducted research at the National Archives, poring over eight boxes of reports by investigators pursuing Hoffa at the behest of Robert F. Kennedy, who as a Senate committee counsel and U.S. attorney general, styled Hoffa as "totally corrupt," Witwer said. The union boss, who was born in Brazil, Indiana, in 1913, finally was convicted in 1967 of fraud, conspiracy and jury tampering and sentenced to 13 years in prison. In 1971, however, he won clemency from President Richard Nixon on one condition: He had to resign the Teamsters' presidency, to which he had been re-elected while incarcerated.
After he was released, Hoffa began seeking support to run again anyway. Then he disappeared. Theories – and legends – abound about what happened. Witwer dismisses as nonsensical the suggestion that the mob killed him to stop him from running for the presidency; not only would the Nixon administration likely put Hoffa back in the penitentiary, but the historian can't imagine why organized crime intentionally would invite the public and law enforcement attention that the disappearance precipitated.
Witwer said another theory that "makes some sense" is that, when the mob opposed his candidacy and tried to dissuade him from running, he threatened retribution: Snitching to law enforcement. He thinks the mob planned to intimidate Hoffa, not kill him. But he ended up dead, and after the panicked functionaries did something with the body, their displeased bosses moved it for "a double layer of security."
So will Hoffa be found? "I don't think you do find Hoffa's body," Witwer said, though some are still trying. That includes the FBI, though those who know what happened likely are dead and thus can neither provide information nor be charged with a crime. 
But the mythic figure lives on, primarily because the mystery endures.
"Some people have talked about Hoffa's significance as a folk figure, a mythic figure, … the kind of working class Everyman who defies the authority and the establishment," Witwer said. "Myths matter because they tell us something about how we explain our world."
(Hoffa photo: CSU Archives/Everett Collection)
DePauw Magazine
Spring 2021
A GATHERING PLACE FOR STORYTELLING ABOUT DEPAUW UNIVERSITY
Whether we are writing about the intellectual challenge of our classrooms, a campus life that builds leadership, incredible faculty achievements or the seemingly endless stories of alumni success, we think DePauw has some fun stories to tell.

101 E. Seminary St.
Greencastle, IN, 46135-0037
(765) 658-4416

News and Media