In Memoriam: Remembering the Life of J. David Field
It is with heavy hearts that we share the passing of our esteemed colleague, J. David Field who departed from our academic community on October 5, 2023. The loss of David has left a void that will be felt deeply by all who had the privilege of knowing him. David left an indelible mark on the university.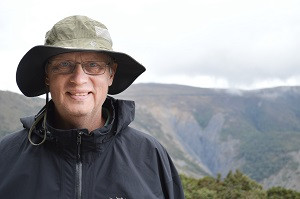 He joined the DePauw faculty in 1982 and retired in 2006, staying active in the classroom for a time beyond retirement. Throughout his distinguished career at DePauw University, including his time as professor emeritus, he was recognized for his positive influence. He was awarded the Exemplary Teaching Award given jointly by DePauw and the General Board of Higher Education of the Methodist Church, and, in 2005, the Mr. and Mrs. Fred C. Tucker, Jr. Distinguished Career Award.
It was in 2007 that David funded the Mary Rogers Field Distinguished University Professorship, a gift that would bring nationally recognized and practicing writers to DePauw as visiting faculty members. The gift was established in memory of his wife, Mary Rogers Field, beloved mother to their children Marion and Jane and active member of the Greencastle community.
In January 2014, the fund's name was changed to the Mary Rogers Field and Marion Field-McKenna Distinguished University Professorship for Creative Writing to honor Mary and the memory of Marion Field-McKenna, David and Mary's daughter, who passed away in January 2014. Marion graduated from DePauw in 2008 with a major in English writing.
"I remember David sitting in his office reading Nabokov before his class, feet up on his desk," says Barbara Bean, Emerita Professor of English. "He met endlessly with students. He taught creative nonfiction and he was an anchor of the creative writing program. He was a scholar and writer of the highest caliber but he was also very humble and funny. He loved pro wrestling, golf, birds and beauty in all forms. Above all, he was loving and kind, as a teacher, husband, father and friend. When his daughters were little, David and Mary's house was magical."
As an English professor at DePauw, David was more than a colleague. He was a mentor, a collaborator, and a friend to so many. His tireless dedication to his vocation, coupled with his unwavering commitment to excellence, made him a pillar of our academic community. "It's hard to put in perspective the profound impact the Field Chair had on so many students - a graduate school-like experience for these young writers," said professor Joe Heithaus. "He was a friend - one who had warmth, humility and a great wonder. David had a terrific mind and was someone I looked up to and someone I would seek advice from."
Professor Christine White said of David, "He was a teaching mentor for me first, when I came to DePauw in 2002, then a dear friend for many years. I loved so much about David: his kindness, gentleness, generosity, humor, grace, and curiosity, his talent as a scholar/thinker/teacher and insightful reader of my own creative work, his love of birds and photography. I've missed him these last few years as he struggled with dementia, and I miss him now."
David exemplified the best of DePauw. Professor Greg Schwipps said, "David supported his literature colleagues and his writing colleagues. It's hard to overstate the influence of David on this department and the university. He was all about DePauw, all about Greencastle, all about community. He wanted no division. He would help with grant-writing for projects wholly unrelated to the English department. He was that type of person. He meant so much to me. My first published piece was because of David. His trust enabled me to go out on a limb. I knew I could put my real self - my work - in his hands. It was life-changing."
As we mourn the loss of David Field we extend our deepest condolences to his family and loved ones. In this challenging time, we encourage our academic community to come together to celebrate his life and the profound influence he had on our institution.
A gathering for the DePauw and Greencastle community to remember David is in the planning stages for the Spring. A memorial service will be held in Monroe, Georgia on November 12, 2023. Details and his obituary can be found here.
Whether we are writing about the intellectual challenge of our classrooms, a campus life that builds leadership, incredible faculty achievements or the seemingly endless stories of alumni success, we think DePauw has some fun stories to tell.

News media: For help with a story, contact:

Bob Weaver, Senior Director of Communications.
bobweaver@depauw.edu.