Franchisees of Subway® restaurants had a problem, and they looked to Jan Risi '81 for help.
Would Risi use her considerable experience in the food business to help them purchase food, packaging, equipment and services for the lowest possible prices? The brand had been functioning in that role, but the 6,000 franchisees that existed at the time, 1996, thought there may be a better way.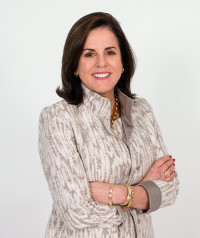 "I realized quickly that, although the name 'Subway' was known, … it was a mom-and-pop organization. And it was a very unique opportunity because, although they had been successful in establishing the brand, which was always the toughest thing to do, they didn't act like a big brand. So there was opportunity to solve business problems in a more traditional manner. And it was implementing processes and controls and being involved in agribusiness and things that they weren't involved in, to really help make them a long-term, competitive player."
Risi formed the Independent Purchasing Cooperative Inc. and has grown the franchisee-owned cooperative to where it now services 42,000 stores around the globe. She is the president and chief executive officer, overseeing services for the 25,000 stores, with about 10,000 franchisees, in North America in what is a $5 billion business.
"Over time what happened is we were so successful that the brand wanted us to do more things outside of the normal things that go into the supply-chain responsibilities for restaurants," she said. "So we started taking over technology and we set up a payments platform and a gift card loyalty program. We built bread plants and we got into construction and a whole host of other things that I think helps you attain success.
"I did not have the vision for any of those things. I worked hard, we were successful, and they came, but (when people say) 'you had this vision,' … that's not really true. I wish I could claim that, but that's not really true. … It's the timing and being at the right place at the right time. And surrounding yourself with the right people is really important."
"I hired people a lot smarter than me – which, by the way, is the true key to success."
Many of her leadership team have worked with her for the cooperative's entire 25-year history. "This is not 'the Jan Risi Show;'" she said. "I hired people a lot smarter than me – which, by the way, is the true key to success. So a lot of things came together to make the model successful."
Gary Lemon, the J. Stanford Smith chair in economics and management, taught Risi and now counts her as a friend. "She's one of the most generous people I have ever met," he said. "… She truly cares about people. In terms of her business, it shows through. … I mean, Subway has had some rough financial times during the pandemic, and she truly cared about her employees and what it meant for them during this particularly trying time."
Risi, an English composition major at DePauw, hadn't planned a career in business. She obtained her teaching certificate and expected to teach. But after an interview during her senior year, Ralston Purina hired her as a trainee in commodities. "There were very few women in commodities at that time," she said, and "I certainly wasn't qualified." Maybe Ralston Purina, she surmises, "had some vision."
The work involved buying grain that would be used to feed livestock. "They sent me to Texas, and I was working in a big, old, dirty feed mill, and I loved it," she said. "I loved this idea of seed in the field to product, and watching all the steps in between, and the manufacturing, and then the business step of it going out to dealers, and then the dealer selling it to consumers. I thought it was fascinating, an eye opener for me of what it took behind the scenes to get things done. …
"I've never looked back; I've just loved being in this field."
Subsequent jobs – all in food – enabled her to learn about manufacturing, operations, sourcing, distribution, marketing and logistics. And prepared her for the monumental task of creating a cooperative from scratch.
Risi is successful because of her ability to communicate, Lemon said. He recalled that, as a student, Risi came to him, worried that she didn't understand financial accounting. Indeed, he gave her a "C," though he teases her that she probably deserved a "D."
But her less-than-stellar performance with accounting concepts didn't faze him, he told her then. And her career has proven him right.
"I said, 'Jan, someday you're going to be very successful. And what you're going to do is you're going to hire some dumb schmo like me to do accounting.' … You do not need to know the nitty gritty to be successful. And Jan, obviously, is very successful."
DePauw Magazine
Fall 2021
A GATHERING PLACE FOR STORYTELLING ABOUT DEPAUW UNIVERSITY
Whether we are writing about the intellectual challenge of our classrooms, a campus life that builds leadership, incredible faculty achievements or the seemingly endless stories of alumni success, we think DePauw has some fun stories to tell.

News media: For help with a story, contact:

Bob Weaver, Senior Director of Communications.
bobweaver@depauw.edu.