Ancient writing characters that date to the first century AD are being taught in a decidedly 21st-century technological programs developed by two DePauw students.
Kanji characters were developed in China and then, since the fifth century AD, used in the Japanese written language. Seniors Christopher Bibat of Chicago and Keisuke Ohtani of Machida, Japan, are using them to entice other DePauw students to study Japanese.
By connecting studies of the Japanese language with technology, their research represents the interdisciplinary nature of academics at DePauw. And by working under the supervision of two professors and the new director of the Tenzer Technology Center, the students are experiencing the curricular and cocurricular opportunities for which DePauw is known.
Each student developed a virtual reality program; Bibat also developed a touch-screen application and Ohtani developed a phone app.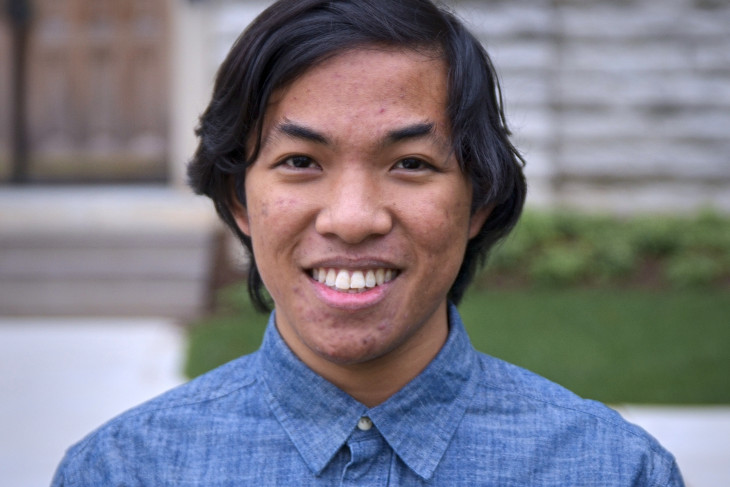 Christopher Bibat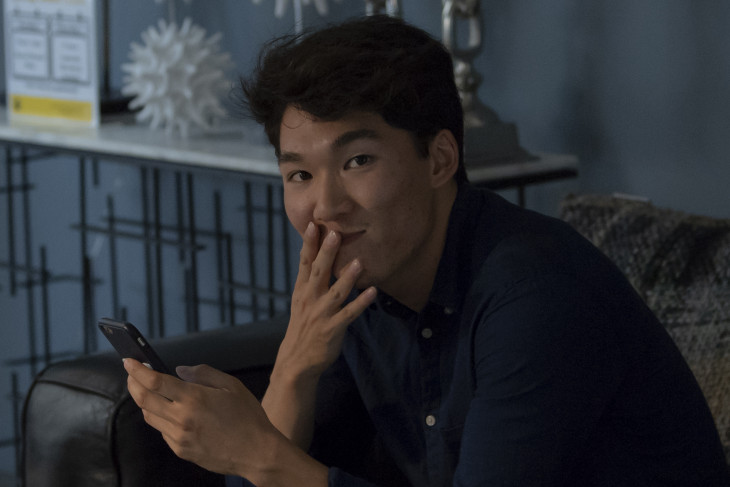 Keisuke Ohtani
They worked under the supervision of Hiroko Chiba, professor of modern languages (Japanese), and David Berque, a computer science professor who also is associate vice president of student academic life, dean of academic life and executive director of the Kathryn F. Hubbard Center for Student Engagement.
Bibat, who is studying in Japan this semester, says via email that his collaboration with the two professors as well as his classmate Ohtani provided "a nice and tight system of checks and balances that guided me well when building these projects.
"One of the decisions I was able to make almost entirely on my own is which Japanese characters to include in the final product, which meant a lot to me. As someone studying Japanese, it was a great feeling to be able to include the characters that stood out the most to me when I started learning Japanese."
According to Berque, a viewer of Bibat's virtual reality program wears headgear with which he/she/they view a virtual museum gallery. Empty frames hang on each of the museum's walls. Kanji characters float from above and the viewer is expected to "grab" one – let's say, the character for "rain" – with a virtual glove and throw it into an empty frame, which erupts into a video of rain. The viewer hears the English word, then the Japanese word, "ame."
"By using a visualization and also the audio and using their own body so they can sense, they can experience Japanese in it," Chiba says.
KoroKoroll, Ohtani's phone app, places the gamer in a castle. Ohtani says he was able to develop the app with available 3D game software, so he did not have to write code from scratch.
The students get a different perspective; they get a little bit of hands-on with tech and then they walk out more comfortable.

– Michael Boyles

, Tenzer Center Director
"The word 'korokoro' is onomatopoeia meaning 'roll' in English," he says. "Players control a cube in a castle and form a Japanese sentence that translates to a prompt. While creating the game environment was not very difficult, the random path generation for the game was very challenging."
Berque and Chiba came up with the original ideas, having been inspired by a museum exhibit on Japanese calligraphy that they saw while attending a conference in Vancouver. They daydreamed about creating such a visualization at DePauw. Then things fell into place: two spots were opened for students to participate in the Information Technology Associates Program last summer and the new Tenzer Technology Center opened.
Tenzer's director Michael Boyles says Bibat and Ohtani were already well on their way when he started at the center July 1. He served as an adviser during the long hours – 40 or so a week – that they spent in the center, located in the basement of Roy O. West Library.
The Tenzer center teaches advanced technology and computing skills to students of any major, not just computer science students, Boyles says. Its goal is to give any DePauw student who has an interest experience with technology programs and thus an advantage over students from other schools with whom they'll be competing for graduate school placement or jobs.
Students who are studying disciplines other than computer science may learn, for example, how to do digital storytelling; create interactive timelines; and produce interactive news stories for class or senior projects, Boyles says. "Everybody benefits. The students get a different perspective; they get a little bit of hands-on with tech and then they walk out more comfortable."
Neither Bibat and Ohtani nor their advisers expect that the Japanese language programs will be used to teach even beginning Japanese; they're just not robust enough, at least not yet. Bibat writes that he "will happily leave any future updates to computer science students looking for some software development experience…
"We realized that this project isn't meant for use in Japanese classes; it's meant to get students into Japanese classes," Bibat says. "This meant that we needed to make the project more immersive and attractive. So we changed the interface, and every major feature after that was dedicated to showcasing the beauty of kanji, which will hopefully interest students to the point that they will look into studying Japanese."
Whether we are writing about the intellectual challenge of our classrooms, a campus life that builds leadership, incredible faculty achievements or the seemingly endless stories of alumni success, we think DePauw has some fun stories to tell.

News media: For help with a story, contact:

Sarah Steinkamp, Vice President for Communications and Strategy and Chief of Staff.
sarahsteinkamp@depauw.edu.