Junior wins scholarship to study abroad
Angelica Glogowski '23 has won a scholarship sponsored by the U.S. State Department to study abroad in the spring term.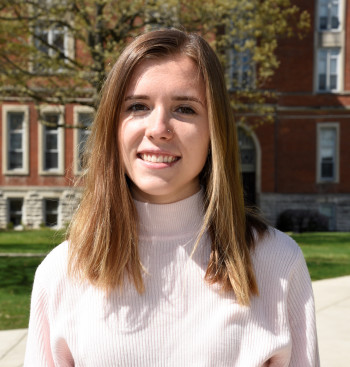 The Benjamin A. Gilman International Scholarship, established in 2001, enables students with financial need to study abroad. Last October, the State Department recognized DePauw for producing 53 Gilman award recipients over the previous 20 years, more than most small institutions in America.
Glogowski's win continues DePauw's streak. The global health and anthropology major plans to enroll in a School for International Training program called International Perspectives on Sexuality and Gender. She will live with a host family in the Netherlands while studying cultural differences in gender and sexuality. An excursion to Bosnia and Serbia will enable her to observe the complexities of gender and sexuality in a different culture.
Toward the end of the program, which runs Jan. 31 through May 13, she will complete an internship; she said she hopes "to work with an organization to tackle health disparities, more specifically sexual and reproductive health issues."
Glogowski, a first-generation college student from a Chicago suburb, said the Gilman award "will change will change my life tremendously. The opportunity to study internationally was one I never thought would be a possibility. It is much easier to know I will not be burdening my parents with having to pay for my study abroad trip and I feel as though I am giving back after all their years of hard work.
"I know I will grow personally, academically and professionally as I will learn from people all over the world as well as having numerous networking opportunities while abroad."
She expects that, after graduation, she'll return to Chicagoland to work at a hospital as a community health worker. She also plans to get a master's degree in public health and, "in the long run, I hope my work contributes to better reproductive and sexual health for all."
Mandy Brookins, associate dean of experiential learning and director of off-campus programs, said that "global education continues to be a priority for DePauw University. Our off-campus study team works hard to support students in achieving their goals.
 "The Gilman Award is one of the key ways in which we are able to expand the profile of who studies abroad at DePauw. As the world slowly reopens, we're excited to see driven DePauw students like Angelica find ways to bring their classroom learning to life by studying abroad. DePauw will continue to develop leaders the world needs through critical learning opportunities such as study abroad."
Whether we are writing about the intellectual challenge of our classrooms, a campus life that builds leadership, incredible faculty achievements or the seemingly endless stories of alumni success, we think DePauw has some fun stories to tell.

101 E. Seminary St.
Greencastle, IN, 46135-0037
(765) 658-4416

News and Media