DePauw nursing degree in hand, Karen Koning AbuZayd '63 headed into a career in which she would care for others.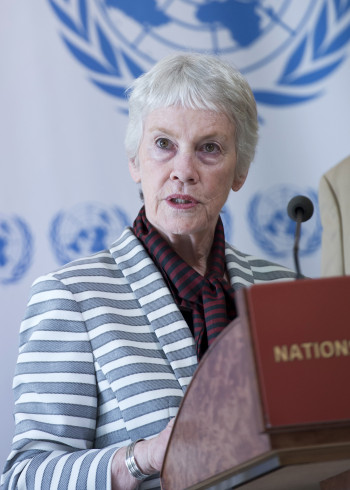 But not in the way that she planned.
"I intended to" work as a nurse, she said, "but I didn't stay with it very long." She worked at a Chicago hospital, but her growing interest in the Middle East and Islamic studies led to a master's degree at McGill University in Montreal and a career that has taken her around the globe in successively higher-ranking positions with the United Nations.
"I think I shall blame DePauw for … getting me interested in all kinds of things," she said. DePauw, she said in her 2007 commencement address, "provided me with the foundation for a life of service. The DePauw environment gave me a thirst for knowledge, along with a penchant to question conventional wisdom with healthy skepticism. It was here on this campus that the universally powerful precept about treating all human beings with genuine respect was confirmed for me."
AbuZayd started her international career as a lecturer in political science and Islamic studies at Makerere Univerity in Uganda and the University of Juba in South Sudan. Then "I fell into refugee work by accident, but have certainly appreciated it almost from the very beginning and more and more as I stay with it."
Over her career, she assisted Ugandan, Chadian and Ethiopian refugees fleeing war and famine; worked to repatriate apartheid-era refugees into South Africa; oversaw the U.N.'s settlement of 100,000 Liberian refugees fleeing civil war and seeking shelter in Sierra Leone; and worked as chief of mission in Sarajevo, where she guided efforts to protect and assist 4 million refugees displaced by the Bosnia war.
She retired in 2010 as commissioner-general of the U.N. Relief and Works Agency, where she had attained the rank of undersecretary general and oversaw the education, health and social services for more than 4 million Palestinian refugees. The next year, she was appointed commissioner of the Independent International Commission of Inquiry on the Syrian Arab Republic, a volunteer post she still holds.
"I think I shall blame DePauw for … getting me interested in all kinds of things."
The multi-sided civil war that has raged in Syria for more than a decade and created 6.5 million refugees prompted her current work. The U.N. Human Rights Council created the three-member commission on which AbuZayd sits to investigate and record violations of international law by the Syrian government. A team of 20 investigators gathers information for the commission, which in turn issues reports – 34 to date – recounting human rights abuses.
The work distresses AbuZayd, who previously admired Syrian President Bashar al-Assad for the kind treatment he extended to Palestinian refugees. But the imprisonment, rape, torture, use of chemical weapons and extermination of numerous dissidents and rebels have caused AbuZayd to reverse her opinion of him.
"It just breaks my heart working on it now, having to record and listen to all the awful things that are going on and no sign of stopping," she said. "It's a horrible situation."
Still, AbuZayd can "instill a positive and calming energy around her even when confronting the toughest and most depressing situations," said Linnea Arvidsson, the head of secretariat for the commission. AbuZayd's "deep understanding of Syria and the region always helps us in navigating the complexities of this protracted and devastating conflict.
"Her commitment and compassion gives her a voice that convinces everyone of the unspeakable suffering of civilians, including refugees and those displaced inside Syria, and that it would be unconscionable to limit the free flow of aid to them."
Working with refugees, AbuZayd said in the commencement address, provides "deep personal satisfaction. To work with refugees is to help restore human dignity to those who have endured traumatic disruption in their sense of self and belonging."
But she allowed in an interview that her work on intractable situations means "we don't have very many successes. … 
"It's difficult, because you don't see the world improving the way you'd like to; you see more difficulties for different types of people or groups of people in different parts of the world. So you might clean up one place and get it going back on its feet. And then the couple more have popped up meanwhile. … It is discouraging, because you can spend a long time doing your best and making some efforts and making some progress and then everything falls apart again."
DePauw Magazine
Fall 2021
A GATHERING PLACE FOR STORYTELLING ABOUT DEPAUW UNIVERSITY
Whether we are writing about the intellectual challenge of our classrooms, a campus life that builds leadership, incredible faculty achievements or the seemingly endless stories of alumni success, we think DePauw has some fun stories to tell.

101 E. Seminary St.
Greencastle, IN, 46135-0037
(765) 658-4416

News and Media