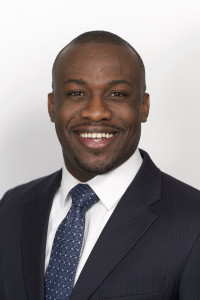 After spending his childhood in the Bahamas, Kortney Cartwright '14 moved to the United States to attend high school. His mom, a teacher, encouraged him to visit DePauw after the football coach sent him handwritten letters. Cartwright was impressed with the opportunities described by the university. "When I visited, I sat in class and watched the students interacting with their professors and peers. I visited the football stadium and saw how the students were enjoying the athletic experience. I fell in love with the institution," he says.
He majored in history and was a member of the football and track teams. He was also a presidential ambassador and a resident assistant. He says working as an RA was beneficial, encouraging him to branch out to interact with members of younger classes and develop his leadership abilities through mentoring first-year RAs. "The RA experience gave me a different perspective and mindset to know there are people coming behind me and we need to help them out – to look behind you and make sure you pull someone up as you go up," he says.
Through a winter-term course, Cartwright became certified as an emergency medical technician and volunteered with Putnam County Operation Life, an experience that led to an internship. He says the experience enabled him to use a different part of his brain and is something he may return to in some capacity in the future.
Cartwright served at DePauw as a global partner, a mentor for international students. "Having a Bahamian background and coming to the United States as a high school student, I understood some of the challenges international students face. To be coming from an environment where your race is a majority, for example, it's a little uncomfortable coming to a place where you're a minority for the first time. The goal of the Global Partners Program was to encourage those students in adjusting to the United States and DePauw, finding a voice to participate and feel included."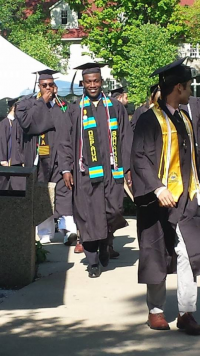 Cartwright believes inclusive excellence is an important and valuable standard for DePauw and DePauw graduates. "Inclusivity needs to be brought to the forefront," Cartwright says, "not only in the university, but also in the corporate sector. When someone comes across a DePauw grad, they should know that's a person who ensures everyone is included."
His professors instilled in him a drive to achieve uncommon success, he says. "It's the idea that there is nothing we can't achieve and that we can succeed at any level." He embodies that philosophy in his professional life and through his philanthropy and community involvements. In his past four years at BCforward, a Global IT consulting and staffing firm, Kortney worked in technical recruitment, then transitioned to business development and is now leading its Minneapolis office as a district branch manager. He volunteers for community organizations such as Goodwill-Easter Seals Minnesota. He says his DePauw experience balancing academics, athletics and RA responsibilities helped him develop a mindset to prioritize and achieve a variety of goals and commitments.
And he's committed to looking out for DePauw and its students. After graduation, he served as the student representative on the Board of Trustees. He is a member of the GOLD Alumni Board and a reunion volunteer. He also contributes financial support to the Inclusive Excellence Initiative, The Fund for DePauw and the GOLD Challenge. "I'm very fortunate to have built some strong relationships with faculty, trustees and alumni," he says. "Last year I was speaker to the freshman class. We had an engaging conversation. I encouraged them to just take on a little more each year and step outside their boundaries to overcome the uneasiness of new environment and benefit from all the opportunities DePauw has to offer."

Whether we are writing about the intellectual challenge of our classrooms, a campus life that builds leadership, incredible faculty achievements or the seemingly endless stories of alumni success, we think DePauw has some fun stories to tell.

101 E. Seminary St.
Greencastle, IN, 46135-0037
(765) 658-4416

News and Media