Lawrence W. "Larry" Clarkson '60, trustee and volunteer, dies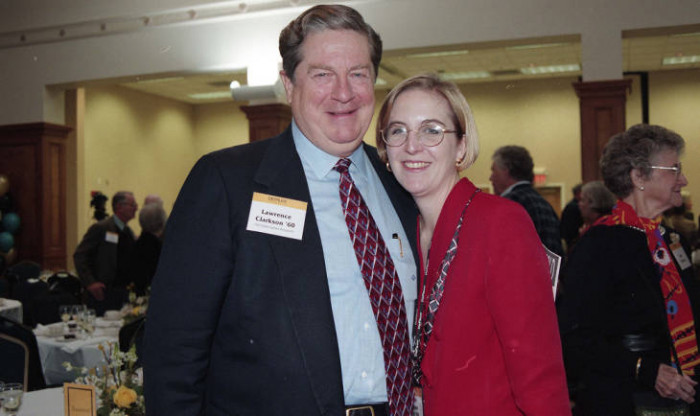 Lawrence W. "Larry" Clarkson '60, who served 15 years on the DePauw Board of Trustees before assuming the role of advisory trustee, died Saturday. He was 82.
Clarkson was a Rector scholar, a history major and a member of Delta Chi and the Collegians during his years at DePauw. He went on to earn a law degree from the University of Florida. In addition to his service as a trustee, he was a member of the Alumni Board of Directors and the Parents' Council; was national chair of the Alumni Fund (now The Fund for DePauw) and volunteered in other capacities. He was awarded an Alumni Citation in 1983 and the Old Gold Goblet in 1998.
Clarkson retired in 1999 from his position as president of Boeing Enterprises, a division created in 1997 to seek out and manage new ventures. In his previous position – senior vice president for planning and international development – he was responsible for the company's global growth strategies, a job that caused the New York Times to write in 1996 that Clarkson was "the closest thing (Boeing) has to a corporate secretary of state."
Survivors include his wife, Barbara Stevenson Clarkson '61; daughter Jennifer Clarkson Soster '88; sister Ann Clarkson Turpin '58; nephew John D. Cooper '86; grandson Frederick L. Soster '17; and great niece Emma Jean Cooper '15.
(Photo: Lawrence Clarkson with daughter Jennifer Clarkson Soster at Old Gold Goblet celebration in 1998.)
Whether we are writing about the intellectual challenge of our classrooms, a campus life that builds leadership, incredible faculty achievements or the seemingly endless stories of alumni success, we think DePauw has some fun stories to tell.

101 E. Seminary St.
Greencastle, IN, 46135-0037
(765) 658-4416

News and Media