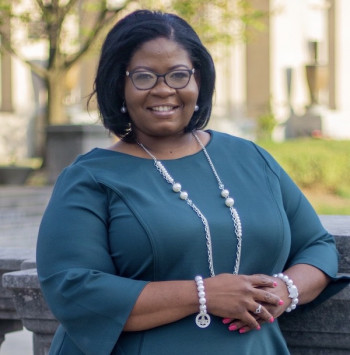 Having been a minority student at DePauw, Miriam Hornbuckle Grays '06 says she understands the need for programs geared to diverse communities. This is one of the many reasons she contributes frequently to support DePauw and specifically earmarks her gifts for the Inclusive Excellence Initiative.
Grays earned a degree in economics and management and was a management fellow. She went on to earn an MBA from Anderson University in 2010. She is the cost/price analyst for the U.S. Department of Defense via the Defense Contract Management Agency at Rolls-Royce Corp.
"My educational and social experiences at DePauw definitely prepared me for my career and for graduate school," she says. "If one can successfully complete the rigorous academic requirements and actively engage in all of the social opportunities that DePauw has to offer, there is no reason why they can't handle any situation that they are placed in outside of DePauw. My DePauw education prepared me to ask the hard questions and know that data always need to be analyzed before they can be taken as fact."  
In addition to participating in the Management Fellows Program, Grays joined Alpha Kappa Alpha sorority at DePauw and became involved with the National Panhellenic Council and the Association of African-American Students. "While I believe I received an amazing education at DePauw," she says, "the relationships that I built along the way have been the most memorable aspect of my DePauw experience. From my AKA sorority sisters to my peers and advisers in NPHC, AAAS, the Economics Department and management fellows, I built lifelong, genuine relationships that have survived the test of time."   
Grays volunteered for her 10-year reunion in 2016; has referred prospective students to the Admission Office; and was treasurer on the Greek Community Board in 2019. Her spirit of community involvement goes beyond DePauw, too. She is the president of Alpha Mu Omega, a graduate chapter of Alpha Kappa Alpha sorority in Indianapolis; it is  the second-largest women's professional organization in the city. "My experiences at DePauw birthed my love of serving the community," she says. "I not only participated in a number of services projects with my sorority and other organizations on campus, but I was also given the opportunity to plan service projects for others. This active involvement in helping the community become the best that it can be is a major part of my life."
In her free time, Grays enjoys spending time with family, traveling, listening to live music and performing community service. She has an eight-year-old son, William Michael Hornbuckle IV, who "loves technology, video editing, gaming, making TikTok videos, practicing taekwondo and making art," Grays says. 
Grays is looking forward to her 15-year DePauw reunion this summer. "This is an exciting time to continue supporting DePauw, and I look forward to celebrating with my class," she says.
Whether we are writing about the intellectual challenge of our classrooms, a campus life that builds leadership, incredible faculty achievements or the seemingly endless stories of alumni success, we think DePauw has some fun stories to tell.

Need to be connected to a faculty expert or have questions about what's happening on campus? Connect with us here.

101 E. Seminary St.

Greencastle, IN, 46135-0037

(765) 658-4286