Old Gold
is a regular feature of DePauw Magazine, which is published three times a year.
A tumultuous world set the stage for the poignant personal relationship of Edward Rector, DePauw's great benefactor, and George Richmond Grose, my grandfather and DePauw's president from 1912 to 1924. World War I, the Spanish flu pandemic and the height of the violent Ku Klux Klan deeply touched the lives of our Indiana world and DePauw.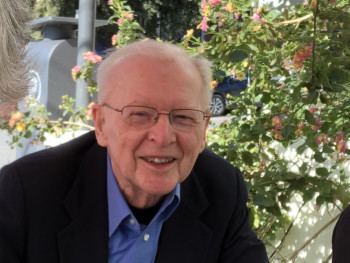 Their warm relationship led to Rector's generous endowment of scholarships that support DePauw students to this day. "It is very seldom that one forms a friendship after 40 as close and intimate as was ours," Grose wrote of Rector in 1925 to H. B. Longden, DePauw vice president and director of the Rector Scholar Fund. "I have no brother in the flesh whom I love a with a deeper devotion than I loved him. I have never known a nobler type of Christian gentleman."
While attending the May 1916 Methodist General Conference in New York, the two men discussed the opportunity of Rector giving to DePauw. Rector asked Grose what was most needed at the university; Grose responded, "A dormitory." Later that month, while Rector and Grose were seated on the long porch of a Saratoga Springs Hotel, Rector promised his gift for Rector Hall, which was erected to honor Isaiah Rector, his father and a university trustee in the late 1800s.
Rector Hall was Edward and Lucy Rector's baby. They had no children and had taken as much interest in Rector Hall as they would a child. They adopted the students, some of whom called them "Daddy and Mommy Rector." Mrs. Rector always wore an engaging smile and was charming and gracious. Mr. Rector had a luminous personality, exhibiting dignity, pride and poise.
In a 1920 speech to the Board of Trustees, Rector said that nothing attracted him so strongly as concrete illustrations, so his desire to invest in DePauw was encouraged by Grose's "telling me appealing instances of some of the finest and worthy DePauw students." In 1919, he told Grose that he wanted to start a scholarship to benefit students – regardless of their race, color, "previous condition of servitude" or religious beliefs. He especially sought to ensure that no student would have to leave campus for financial reasons and "they could have my last dollar."
That spring, Grose wrote to school superintendents across Indiana, telling them about the Rector scholarship, for which the best graduate from each school would be eligible. Beginning that fall, Rector scholarships covered all college fees.
"Mr. Rector and you had a great dream," Longden told Grose.
Whenever on campus, Edward and Lucy Rector visited the chapel, to the delight of students. "President Grose would present Mrs. Rector so that we could properly show our appreciation for what they had done for the students," Winona Welsh wrote in a statement in the DePauw Archives. "In introducing Mrs. Rector, President Grose had her stand and student applause went on for a long, long, long time." 
When Rector died Aug. 1, 1925, my grandfather cabled to Mrs. Rector, "Our prayers and deep sympathy are for you." Burial stones of the Rectors and Groses stand next to each other on a hill at the Greencastle Forest Hill Cemetery. For the Rectors, it was considered as a way to "look out" at the university.
(Top photo: A Rector Scholar Conversation with former U.S. Rep. Lee Hamilton in May 2019.) 
DePauw Magazine
Fall 2020
A GATHERING PLACE FOR STORYTELLING ABOUT DEPAUW UNIVERSITY
Whether we are writing about the intellectual challenge of our classrooms, a campus life that builds leadership, incredible faculty achievements or the seemingly endless stories of alumni success, we think DePauw has some fun stories to tell.

101 E. Seminary St.
Greencastle, IN, 46135-0037
(765) 658-4416

News and Media