Poet, professor and bestselling author Ross Gay to give commencement address
Ross Gay, an acclaimed poet and professor, will deliver the keynote address at DePauw's May 21 commencement ceremony for the Class of 2023.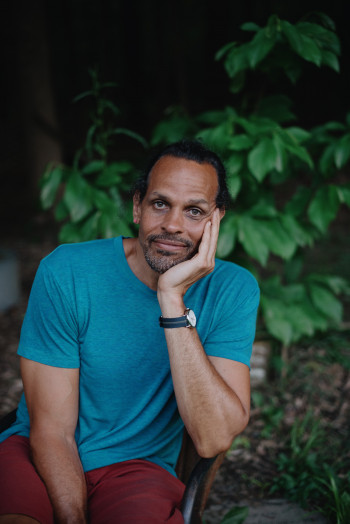 Dr. Gay is originally from Youngstown, Ohio, and has established himself as a prominent figure in the world of poetry. He obtained his B.A. from Lafayette College, an MFA in poetry from Sarah Lawrence College and a Ph.D. from Temple University.
As an acclaimed poet and professor, Dr. Gay has become a highly respected and influential voice in contemporary poetry. His work is celebrated for its lyrical beauty and profound emotional impact, delving into important themes such as race, identity, love and community. With four books of poetry, including the award-winning "Be Holding," which received the PEN American Literary Jean Stein Award, Dr. Gay's poetic talent is widely recognized and admired.
Beyond his accomplishments in poetry, Dr. Gay has ventured into the realm of essays. His first collection, "The Book of Delights," was released in 2019 and became a New York Times bestseller. Recently, he published his latest collection of essays titled, "Inciting Joy," a poignant reminder for us all to embrace the importance of joy in our lives. In addition to his writing endeavors, Dr. Gay holds the esteemed position of Ruth Lilly Professor of English at Indiana University, and he also contributes his expertise to Drew University's low-residency MFA in poetry program, making a significant impact on the education and development of aspiring writers.
DePauw will award five honorary degrees, one was posthumously. Gay will earn an honorary doctor of letters degree.
Jordan Margaret Casteel, an artist who confronts traditional notions of gender and race in portraiture, will be named an honorary doctor of arts.
Joyce Taglauer Green '75, an ardent supporter of the arts at DePauw and a noted businesswoman and visionary who believes the arts unite people – making the world a better place, and her late husband Judson C. Green '74, a successful businessman and for 20 years worked at Walt Disney Co., where he rose to be chief financial officer and then spent 10 years as president of the theme parks, will both be named honorary doctor of arts.
Andrew Williams, the first director of Diversity, Equity and Inclusion at the Hazelden Betty Ford Foundation, will be awarded an honorary doctor of public service degree.
A livestream of the ceremony will be available at www.depauw.edu/stream.
Whether we are writing about the intellectual challenge of our classrooms, a campus life that builds leadership, incredible faculty achievements or the seemingly endless stories of alumni success, we think DePauw has some fun stories to tell.

News media: For help with a story, contact:

Sarah Steinkamp, Vice President for Communications and Strategy and Chief of Staff.
sarahsteinkamp@depauw.edu.