Aaniyah Childs '23 plans a career as a pediatric neurosurgeon who uses Eastern medicine to treat some conditions.
New graduate Tsian DeFour's appreciation for "weird things, … the abstract or the avant garde" will guide him as a producer and director of films, especially romantic and dramatic ones.
Cesar Mendoza, also a member of the Class of '22, will spend two years in an Orr Fellowship, rotating through three health-related experiences at Indiana University Health before beginning his studies to become a dermatologist who treats underserved communities.
And Lauren Lillis '22 wants to become a documentary filmmaker focusing on social justice.
These are the sort of graduates DePauw University sends out into the world. They found their place in the world at DePauw because of the Posse Foundation.
They also found the support they needed to excel at DePauw, the very purpose of the Posse program. The idea is that students will stay in school if they have a support system, a posse, on whom they can rely.
The 10 or so students who make up each Posse – DePauw has accepted 11 from Chicago and 11 from New York for its incoming class – generally don't know one another beforehand. Posse offers a pre-collegiate training program to facilitate the members' relationships and ease their transition to college.
"It's definitely a part of the plan to get us, when we get here, to want to be a part of the community, even though we are, in a way, injected into somewhere totally foreign," DeFour said.
"I definitely wouldn't have made it through without them. We actually haven't always been very close but, no matter what, we've always known that we were there for one another," he said. "… We have these very complicated relationships with one another, and they teach you about like the world and then you learn a lot about yourself, because you figure out how you're going to deal with these people."
Childs said she and her fellow posse members sought other friends on campus, but "to this day, I'm still really close to people in my posse …  and I would definitely go to them first when I need things. I'll go to my community and reach out to them."
One's posse provides "a way to hold each other accountable, to be honest and make sure that we're all doing well," Mendoza said. "Not only do we catch up with each other, but we also check in to make sure that we're all okay. … I see myself in them sometimes in the way we like to go above and beyond to achieve success. And so being in a community with them also helped me grow as a person."
Posse staffers, Lillis said, "tell us when we come here that we're leaders and we're chosen for a reason. And I think that encourages a lot of us to make change on campus and be a leader in different communities, whatever we see fit."
Here's a little more about the three new graduates and the rising senior:
Aaniyah Childs '23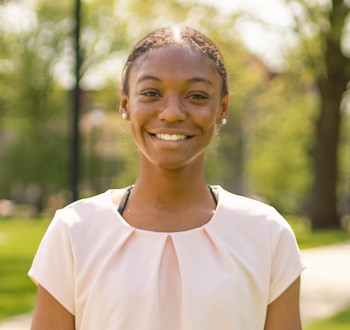 From Chicago. Neuroscience major. Science research fellow who investigated problematic use of social media. Bonner scholar. Cheerleader. Will study in Hong Kong in the fall.
Interesting fact: Her young cousin, who has autism, inspired Childs to pursue medicine with a twist – combining science with Eastern techniques.
Comment from Robert West, psychology professor and chair, with whom she has conducted research during two terms: "Aaniyah embraces every new opportunity with a positive attitude that has been apparent in our work together on research projects and in my course on Cognitive and Social Neuroscience." 
Tsian DeFour '22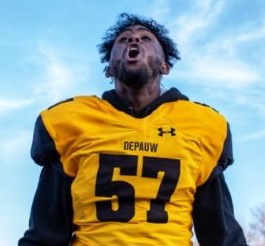 From Brooklyn, New York. Film studies major. Media fellow who landed three internships through the New York Arts Program and even earned a mention on IMDb. Presidential ambassador. Vice president of allocations for DePauw Student Government. Intramural sports social media intern.
Interesting fact: DeFour did not play football in high school but liked the game, so he walked on to DePauw's team and played four years as an outside linebacker. He said he wasn't very good, but "I didn't quit" and "it taught me a lot."
Comment from Jeannette Johnson-Licon, associate dean of student success and his Posse mentor: "'This semester, I only want to work on creative projects,' Tsi tells me at the start of his final spring semester at DePauw. He laughs at my raised eyebrow and rueful look, but he knows that I appreciate his dedication to his filmmaking. I remind him that sometimes we have to work on projects that we are less passionate about, but I think to myself, maybe it's okay that he is so focused. He's going to make beautiful things."
Lauren Lillis '22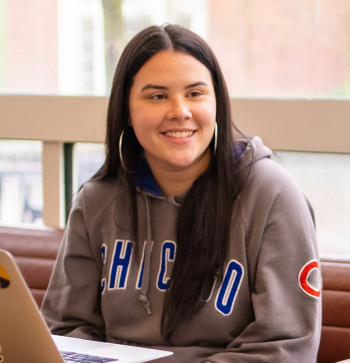 From Queens, New York. Sociology major; film studies minor. First-generation college student. La Fuerza treasurer. Member of DePauw Student Government's Board of Allocations. Vice president and planning committee member of ¡Feminista! Vice president of Enlightened Voices Poetry Club. Planned events as a Posse intern at DePauw Campus Life for two years.
Interesting fact: Lillis's father died, without warning, of a heart attack when she was 16, making her question her plans to go away to college. "The next year," she said, "this opportunity of Posse was presented to me and I just kind of felt like that was a sign in some ways, like that was him telling me that it's going to be okay," she said. Her mother told her "'your dad would want you to do this. And I'm okay with you going.' And I think that was all I needed to be able to come to DePauw and to be able to accept Posse as this opportunity to maybe change my life."
Comment from JC Lopez, dean of student success and Lillis's supervisor when she was a Posse intern: "I have seen her succeed as a Posse scholar and bring her leadership, experiences and knowledge into the DePauw community. Her academic and cocurricular impact has fostered lasting relationships among our community."  
Cesar Mendoza '22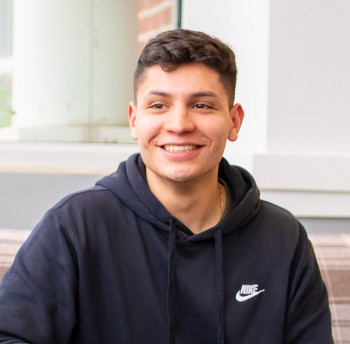 From Berwyn, a Chicago suburb. Biochemistry major; minors in computer science and Hispanic studies. First-generation college student. Science research fellow. STEM guide. Presidential and Admission ambassador. Residential adviser for three years. Vice president of programming for DePauw Student Government. Did eight weeks of cancer research at the University of Chicago, focusing on immunotherapy. Volunteers at Putnam County Hospital.
Interesting fact: Mendoza's high school counselor discouraged him from pursuing a Posse scholarship, saying the program was for extroverts, not a "reserved" student like him. He participated in an enrichment program at the University of Illinois Chicago, Medicina Academy Apprentice Program, for students of color who want to become health professionals, and an instructor there nominated him for Posse.
Comment from Jacqueline Roberts, Howard C. and Mary Ellen Black professor of chemistry and biochemistry and Mendoza's academic adviser: "Cesar is an amazing student, going above and beyond in the classroom. He has served as a STEM guide for the Enzyme Mechanism class in the Department of Chemistry and Biochemistry. Students speak highly of Cesar's ability to help all students navigate this challenging course."
Top photo: A Posse stole worn by a graduate at the commencement ceremony in May.
DePauw Magazine
Summer 2022
A GATHERING PLACE FOR STORYTELLING ABOUT DEPAUW UNIVERSITY
Whether we are writing about the intellectual challenge of our classrooms, a campus life that builds leadership, incredible faculty achievements or the seemingly endless stories of alumni success, we think DePauw has some fun stories to tell.

News media: For help with a story, contact:

Bob Weaver, Senior Director of Communications.
bobweaver@depauw.edu.