A rising DePauw senior was the only undergraduate invited to present research findings this week at The Changing Microbiomes Symposium.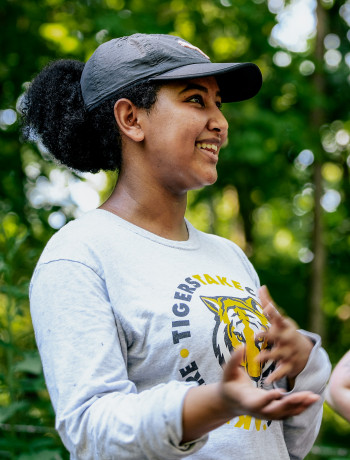 Amerti Guta '23 and her research adviser, assistant biology professor Philips Akinwole, had submitted a poster outlining the findings of research undertaken by Guta and two recent graduates -- Madeline Draper and Mahaila Martin. After receiving their proposal, the symposium, hosted by Pennsylvania State University, invited her to present. All other presenters were graduate or postdoctoral students.
It was the first time Guta has presented her research outside of DePauw. She admitted to some nerves beforehand, "but once I was on the stage, I knew I had to do it. And I knew I was prepared enough and I worked for it. It was a two-and-a-half-year project. So I knew that was the time to be able to communicate what we did."
The students and Akinwole already are authors of a published paper about their research conducted on the Big Walnut Creek in Greencastle. They took water samples to determine the effects of effluent from a wastewater treatment plant, which treats waste with ultraviolet radiation, on the river. The same team later took samples from the Des Plaines River in suburban Chicago, where waste is treated with chlorination, and they are working on a second paper to be published this summer, Guta said.
She covered the work from both locations in her talk. "At first I was like, oh, this is going to be a bit hard. But then once I did the presentation, it was really good," she said. "People were really welcoming. They challenged me in a way that would really help me to think. And the presentation went really well. I'm learning a lot from other people."
Akinwole said a number of other students and professors complimented the talk and the research on which it was based. Penn State's Microbiome Center tweeted about it, saying in part "Congrats @DePauwU on the excellent training and preparation your undergrads receive. Stunning example of undergraduate research. Ready for graduate school!!!" 
Two postdoctoral researchers in attendance tweeted their compliments too. "Anyone looking for a grad student in the next couple of years, this is one impressive candidate," wrote Ella Sieradzki, a postdoctoral researcher at the University of California Davis. "Hands down best undergrad talk I've ever seen."
Geovanni Santiago, a postdoctoral student at Penn State's Eberly College of Science, wrote, "Wonderful talk!"
Guta has been working nonstop with Akinwole since the second semester of her first year at DePauw, when "I barely knew about research. I knew I wanted to do research; I knew I was interested in it. But I didn't know how to do it or like, what are the steps to do it." Akinwole taught her that, she said, providing "a good balance of supervision and also independence."
She said she hasn't firmed up her career path, but she likely will continue research in graduate school after she graduates from DePauw next May.
Akinwole said Guta "goes out of her way to contribute to what we do in the lab, to the work. She's very dedicated to research and I think she does a good quality that will take her very far in her career, being curious, being not satisfied with whatever you have right now, but try to find out more."
Guta is an international student from Ethiopia. She found DePauw online, and liked what she learned about its academics and culture. Once she connected with the school, she found that Loutfi Jirari, DePauw's assistant vice president for international enrollment, "was really helpful and more clear than most of the school counselors were. …
"What stood out the most is people graduating were so connected to the school," she said. "And I don't think you would want to be connected to a place that didn't support you or help you or provide you with what you have today." So I think that was a good time for me to be like, OK, I would get the support I would want."
Martin, who graduated last month, is working for Genezen, a small company looking at viral vectors as a delivery method for medications. She plans to seek a master's degree in virology in a year or so.
"The experience in the research labs at DePauw gave me an understanding of what would be expected in a lab setting and gave me the opportunity to grow," she said in an email. "My research experience seemed to be of interest to many if not all of the employers that I interviewed with as it gave insight of my experience in a lab. Overall, there is a HUGE value to doing research in undergrad."
Draper, who also graduated, said she is taking a gap year to work for a microbiology laboratory. She plans to apply to graduate school to study pathology assistance.
"There is a lot of value in doing research as an undergraduate," she said via email. "It gets you hands-on experience in the field and really helps your resume stand out. It also gives you an insight into what a career in science is like."
(Top photo: Akinwole hands a water sample to Guta on the bank of the Big Walnut Creek.)
Whether we are writing about the intellectual challenge of our classrooms, a campus life that builds leadership, incredible faculty achievements or the seemingly endless stories of alumni success, we think DePauw has some fun stories to tell.

101 E. Seminary St.
Greencastle, IN, 46135-0037
(765) 658-4416

News and Media