Outstanding seniors awarded Murad Medal, Walker Cup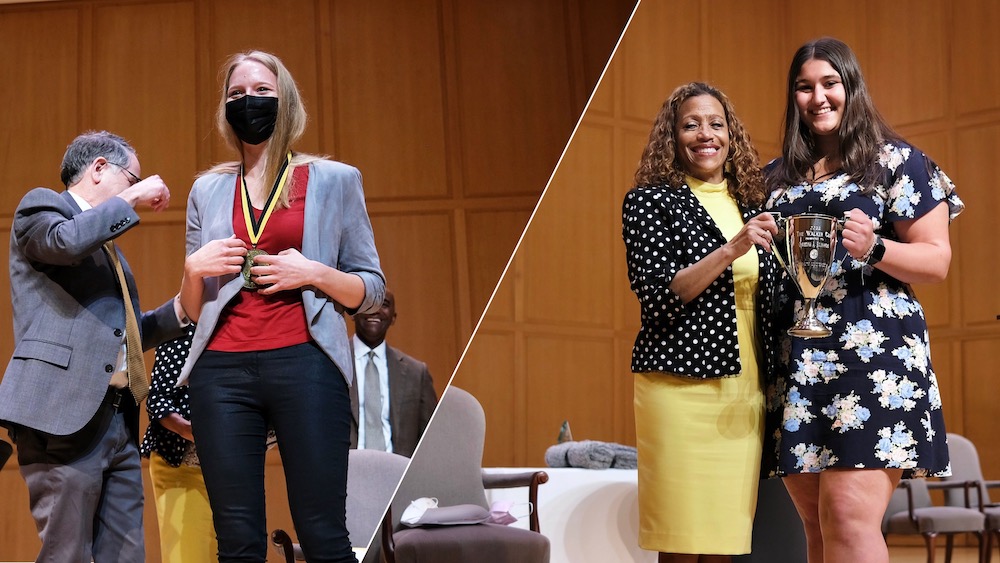 Two outstanding seniors won the most prestigious awards DePauw University makes to its newest graduates.
Nina Štular, an international student from Slovenia, was awarded the Ferid Murad Medal, which is given to the senior with the most scholarly and/or artistic achievements at DePauw.
Christina Bourantas, who hails from Wilmington, Delaware, won the Walker Cup, awarded to the senior who has contributed the most to DePauw over the student's four years.
The awards were announced at a ceremony Monday evening. Last year's announcement was made by video.
Murad Medal:
Each DePauw department or program nominates a senior to win the Murad Medal, and a faculty committee narrows the nominees to three from which Academic Affairs selects the winner. The medal is named for Nobel Prize winner Ferid Murad '58, a physician and Ph.D. pharmacologist whose work has saved the lives of premature babies and cancer and heart patients and inspired 160,000 publications that build on his discoveries.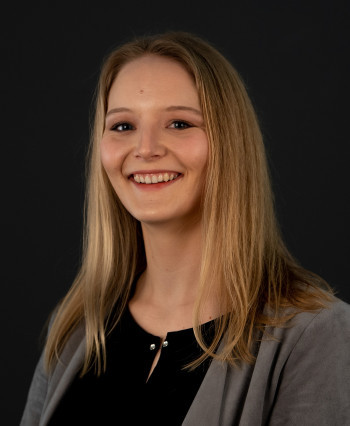 Štular double majors in philosophy and English literature. She has competed in the Ethics Bowl on regional and national levels and tutored writing at the Academic Resource Center. She worked as a research assistant to Amity Reading, the Raymond W. Pence professor and chair of English and director of the German Studies Program, on a project to map the sources of Old English and Anglo-Latin literary culture; that led Štular to write a paper that she presented at the British Conference of Undergraduate Research. She also assisted David Alvarez, associate English professor, in organizing a scholarly conference on Bernard Mandeville and undertook a student-faculty research project under his mentorship that led her to produce the first translation of an 18th-century collection of travel letters from English to Slovenian. As a Hillman intern at Prindle Institute for Ethics, Štular designed and led workshops for local middle and high school children and worked on bringing an exhibit about Anne Frank's life to Greencastle.
In her junior year, Štular represented DePauw as a visiting student at Mansfield College of Oxford University, where she was visiting student officer on the college's government and rowed competitively for Mansfield's rowing team. She also worked as a student consultant for the prestigious Oxford Strategy Group and was a senior editor of Broad Street Humanities Review, Oxford's undergraduate interdisciplinary humanities journal.
Her scholarly work has been published in multiple undergraduate journals, including Broad Street Humanities Review; Criterion: A Journal of Literary Criticism; and Process: Journal of Multidisciplinary Undergraduate Scholarship. As a junior she was awarded the Walker Gilmer Prize for most outstanding junior or senior in literature. She also awards for the best essay from first-year seminars and the best delegate at a model UN conference in New York. She is a presidential ambassador and was inducted into the Phi Sigma Tau, a philosophy honor society, and Phi Beta Kappa, a national honor society.
For her honor scholar thesis, Štular integrated philosophy, psychology and neuroscience to discuss the historical development of freedom of expression, contemporary difficulties in regulating speech and the worrisome state of free expression and free inquiry in Western academia. She was selected as the Nat Hentoff Award for free speech recipient of 2021 for her short essay "A Generation of Violence: How Universities Are Endangering Freedom of Speech."
The finalists for the Murad Medal were Sophia Atkinson of Connorsville, Indiana, who majors in biology and minors in German, and Kate Cowger of Pendleton, Indiana, who double majors in physics and neuroscience and minors in chemistry.
Walker Cup: 
Seniors vote for the Walker Cup recipients, and the names of the three students with the highest number of votes are forwarded to a committee comprising the university president and academic department heads that selects the winner. The award is named after Guy Morrison Walker, an 1890 graduate and a lawyer who proposed it.
Bourantas is a double major in physics and kinesiology who hopes to pursue a Ph.D. in Kinesiology and ultimately teach at the university level, while conducting research. She is a science research fellow who has conducted research on and off campus and is a STEM guide for introductory physics courses, where she enjoys tutoring other students. (Photo: President Lori White, left, presented the Walker Cup to Bourantas.)
She has conducted research in astrophysics and on the varsity swim and dive teams with the Department of Kinesiology. For two summers, Bourantas worked at the Nemours Children's Hospital in Wilmington, Delaware, where she conducted research in the Gait and Motion Analysis Laboratory and her interest in biomechanics and clinical research grew. She has presented her research at many poster sessions, presentations and conferences.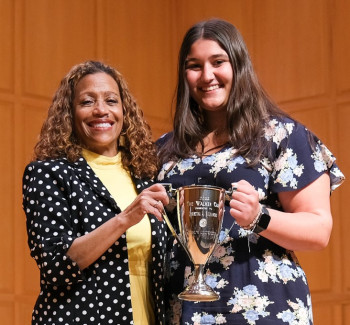 Bourantas is a member of the women's field hockey team and captain in her senior year. She is the team representative for the Student-Athlete Advisory Committee and co-president for two years; that involvement led to her election to the North Coast Athletic Conference SAAC Executive Board as the secretary and vice president. She also interns in the Athletics Department.
She is a presidential ambassador and chief of staff on DePauw Student Government. She is a member of the Indiana Epsilon chapter of Pi Beta Phi and was the president of the Panhellenic Association; co-founder of Orthodox Christian Fellowship; and vice president of the Society of Physics Students. She was inducted into Chi Alpha Sigma, the national college athlete honor society; Order of Omega, a Greek honor society that recognizes leaders; and Sigma Pi Sigma, which recognizes outstanding scholarship in physics.
She won the Randal L. Wilson Union Board Award last year in recognition of her involvement on campus. Bourantas is active in Greencastle, where she reads weekly to students of Ridpath Elementary School and uses athletics to teach other elementary students the importance of kindness and compassion.
The finalists for the Walker Cup were D'Angelo McDade of Chicago, who double majors in education studies and an interdisciplinary major, leadership in development and student affairs, and Jacob Labus of Westfield, Indiana, who majors in economics and minors in philosophy.
Whether we are writing about the intellectual challenge of our classrooms, a campus life that builds leadership, incredible faculty achievements or the seemingly endless stories of alumni success, we think DePauw has some fun stories to tell.

News media: For help with a story, contact:

Sarah Steinkamp, Vice President for Communications and Strategy and Chief of Staff.
sarahsteinkamp@depauw.edu.