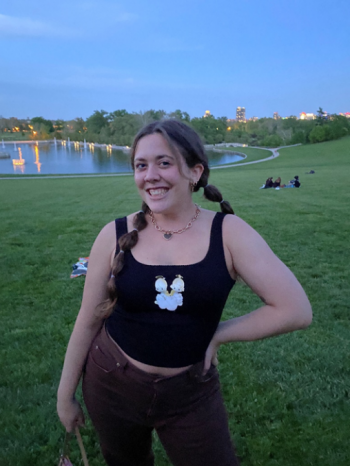 From the moment that then-first year student Alicia Detterman '22 met Pauline Ota, the DePauw senior has felt supported and nurtured in her study of art history.
Ota, an associate professor of art and art history, has "heightened my love and passion for art history," Detterman said of her adviser. "We had an instant connection as student and mentor. Professor Ota took me under her wing and exposed me to so many new ideas and ways of looking at things and has helped me during some really trying times.
"Being able to study and work with her has been life-changing for me, and without her support I wouldn't be where I am today. The DePauw professors, in my experience, have been amazing overall and want nothing more than for their students to grow and succeed."
Detterman is now a senior majoring in art history and anthropology with a minor in museum studies. At DePauw, she has been a beneficiary of the Robert N. and Mary Ellen Guyer Davies Endowed Scholarship, the Luis R. and Debbie White Davila Endowed Fund for Global Engagement, the John T. Jordan Scholarship, the Lancaster Family Scholarship, the Lloyd Fund for DePauw Scholarship, the Roy G. Tobias Scholarship and the Steven Trulaske Endowed International Scholarship.
In addition to her studies, Detterman is a member of Alpha Chi Omega sorority, a writer for the women-run online writing organization Her Campus and a volunteer student friend at a local elementary school. She has completed two off-campus study experiences in Hawaii and Italy.
"Without the scholarship support I've received at DePauw, I wouldn't be able to attend the university, so it's incredibly important to me," she said. "I'm continually humbled and honored to receive the support of scholarships and am so grateful for that support as it has allowed me to chase my dreams and receive the undergrad education I've always wanted. I want to thank my scholarship donors from the very bottom of my heart."
Whether we are writing about the intellectual challenge of our classrooms, a campus life that builds leadership, incredible faculty achievements or the seemingly endless stories of alumni success, we think DePauw has some fun stories to tell.

101 E. Seminary St.
Greencastle, IN, 46135-0037
(765) 658-4416

News and Media