He looked around at other options – being an accountant, or maybe following his father into the ministry. But ultimately Scott Moon '83 came back to the work he has loved since high school.
"I started stage-managing in high school, and did it through college at DePauw," he said. "I ended up stage-managing operas and musicals at DePauw because I was a technician who could read music."
After graduation, he headed to Ohio University to study lighting design. He was assigned to stage-manage a production of "King Lear," enjoyed it and earned kudos from the director. Maybe, Moon thought, stage management was where he belonged after all. He switched his program, igniting an upward trajectory that has taken him to the pinnacle of his profession: the Metropolitan Opera in New York City, where he has been a stage manager for 30 years.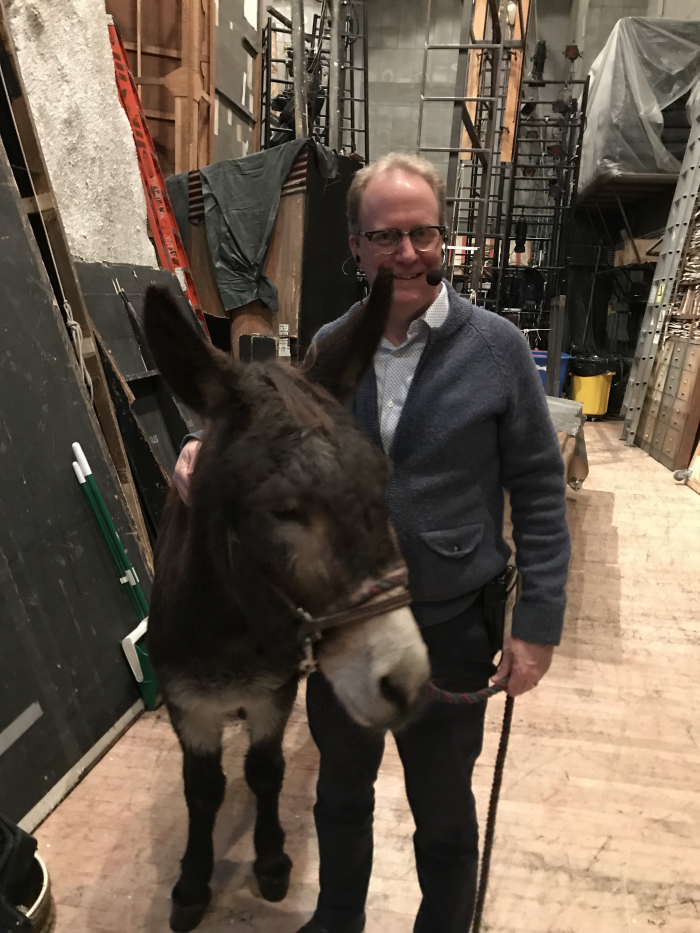 (Above: Moon with Gabriel the donkey, who appears in "La Boheme" and other productions.)
He paid his dues, to be sure. After graduating from DePauw, he worked briefly at the Red Barn Theatre in Frankfort, Indiana. Later, he was a jack-of-all-trades at the Dry Gulch Dinner Theater in suburban Chicago, where he made the set list – who would sing what – every day, operated the lights and the sound, ran rehearsal, carded patrons who might be underage and changed out the beer and wine kegs.  
"Calmness at all costs. The place is burning down? Be calm, you know? That's the thing. Nobody wants a stage manager who's freaking out."
He spent time at the Lyric Opera in Chicago; the Chautauqua Opera in New York; and the Greater Miami Opera before landing at the Met, which puts on more than 200 performances in a non-COVID year, with 800,000 people in attendance. Moon is one of seven stage managers, who rotate four sets of duties that are performed for each show.
"It's nice that way, keeps it fresh, and you're not doing the same thing all the time," he said. He expects he will work on 16 to 18 of the 26 operas the Met will perform this season, which opened in late September and will run until mid-June.
Moon is proudest, he said, of the times when he has helped the production recover when something goes awry, like when the scenery turntable won't budge. Or the time near the end of "Rigoletto," when a restless audience alerted him that a projector was on the fritz, sending a burning odor – but no real danger – throughout the hall.
"There's a line from an opera called 'The Death of Klinghoffer,'" he said. "You remember Klinghoffer and the Achille Lauro? There's a line from the captain that says 'calmness at all costs.' That is the motto. Calmness at all costs. The place is burning down? Be calm, you know? That's the thing. Nobody wants a stage manager who's freaking out."
DePauw Magazine
Fall 2021
A GATHERING PLACE FOR STORYTELLING ABOUT DEPAUW UNIVERSITY
Whether we are writing about the intellectual challenge of our classrooms, a campus life that builds leadership, incredible faculty achievements or the seemingly endless stories of alumni success, we think DePauw has some fun stories to tell.

News media: For help with a story, contact:

Bob Weaver, Senior Director of Communications.
bobweaver@depauw.edu.