Luka Ignac '20 was troubled. Surprised, too, at how little people seemed to know about the Holocaust.
As a high school student in Croatia, he had become interested in one of history's darkest periods and wanted to learn how the systematic extermination of certain European populations – 11 million Jews, Roma, gays and others – could have occurred. But when he arrived in the United States to study at DePauw, he found that others did not necessarily share his interest or understanding.
"For me, it was disturbing. … It's not good for our democracies and our values if we don't work toward enlightening those people about past crimes and how they happened," he said.
During his sophomore year here, he started wondering if he could bring a traveling exhibit about Anne Frank to DePauw. Frank was the Jewish teenager whose diary about two years hiding from Nazi occupiers in the Netherlands was published after she died in Bergen-Belsen concentration camp. Now, two years later, he and other Hillman interns at the Janet Prindle Institute for Ethics have arranged for just that: A photographic exhibit that depicts Frank's life and puts it in the context of Adolph Hitler's rise to power will be displayed March 1-19 at Prindle. The exhibit is produced by the Anne Frank House, a museum in Amsterdam.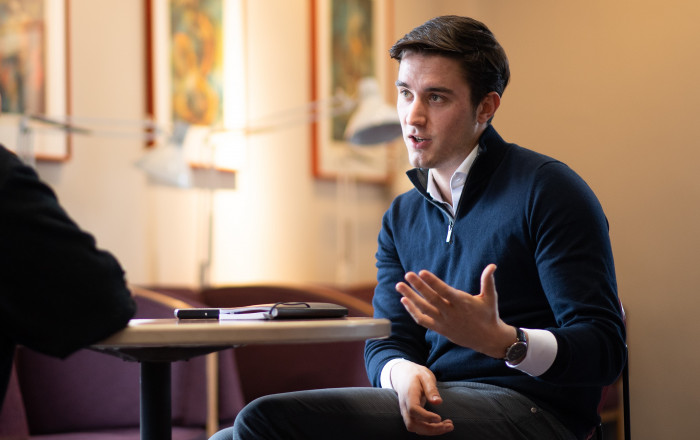 (Photo by Brittney Way)
Meanwhile, a screening of "Eva: A-7063," a documentary about Eva Mozes Kor, a Holocaust survivor who started CANDLES Holocaust Museum and Education Center in Terre Haute, is set for 7 p.m. March 10 in Thompson Recital Hall in the Green Center for the Performing Arts. Ted Green, the documentary's director, will introduce the film, and Alex Kor, a Central Indiana podiatrist and Eva Kor's son, will talk after the screening about his mother.
Eva Kor and her twin sister Miriam were subjected to Josef Mengele's experiments at Auschwitz concentration camp. In 1995, in what she considered to be an act of self-healing, self-liberation and self-empowerment, Kor publicly forgave the Nazis, saying they should no longer have power over her life. Kor, who was awarded an honorary degree by DePauw in 2018, died last summer during a trip to Auschwitz.
Ignac said he's hoping for 1,000 visitors to the exhibit – people from DePauw as well as students from local high schools and middle schools. He and several other DePauw students will be taking the Holocaust story to local schools as well. They created a workshop for youths that "is going to try to force them to think and to engage with different perspectives and understanding different problems," he said. "It's more an abstract workshop that is going to prepare them for their visit to the exhibit. Once the exhibit arrives in March, at that moment we're going to be able to connect to the stories they heard and the exercises they did before."
They'll present the first workshop Monday at Greencastle Middle School.
"It's not good for our democracies and our values if we don't work toward enlightening those people about past crimes and how they happened."
Outreach to local schools has been facilitated by Sheri Roach, a teacher at North Putnam High School who traveled with Kor to Auschwitz and her Romanian homeland. She helped the DePauw students coordinate with the CANDLES museum and has contacted local teachers to encourage them to bring their students to the events.
"I really like Luka," Roach said. "He has taken on a big task here and I think it's going to have a positive impact."
Christiane Wisehart, Prindle's assistant director of academic and digital services, who met Ignac when he interviewed for his Hillman internship, agreed. "He has struck me as one of the most focused, clear-headed and driven students I've ever met at DePauw," she said. "He's truly an incredible student."
Ignac, who double majors in political science and French and minors in peace and conflict studies, has presented at a number of international conferences, including one at the John F. Kennedy School of Government at Harvard University. During a study-abroad experience, he worked as a research assistant at the Université Catholique de Louvain in Belgium and he interned at the Croatian Embassy in Washington D.C.
He is set to graduate in May; he plans to study international relations in a U.S. graduate school, has been accepted to one and and is awaiting word from the other schools to which he applied. After that, he said, he plans a career in politics.
In the U.S. or Croatia? He'll answer that question sometime in the future, he said.
"I'm still very much drawn to my own country and Europe in general. I mean, it's part of me; I can't escape it," he said. "… I feel like I would go back to Croatia if I felt like there was a space for change and there was a space for a new type of leadership and a political alternative that would not necessarily be based on traditional political divisions."
Whether we are writing about the intellectual challenge of our classrooms, a campus life that builds leadership, incredible faculty achievements or the seemingly endless stories of alumni success, we think DePauw has some fun stories to tell.

News media: For help with a story, contact:

Sarah Steinkamp, Vice President for Communications and Strategy and Chief of Staff.
sarahsteinkamp@depauw.edu.