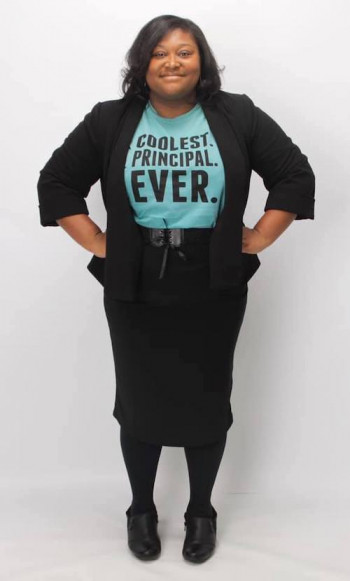 Shavon Mathus '14 has risen in educational administration more quickly than usual, becoming a charter school principal in Chicago at 26.
She credits her success to her DePauw liberal arts education, internships, leadership in Greek life and the support of peers and alumni in the Posse Scholar program.
"At DePauw, I wasn't just learning about how to be a teacher, but about education in broad terms," Mathus said. "I took a lot of classes that helped give me a well-rounded background and shaped how I view education and educational practices. I didn't enter a program that was on one track to become a teacher, and I couldn't be more appreciative of my DePauw experience for giving me the exposure to a variety of academic disciplines."
She singles out Marcelle McVorran, a now-retired professor of educational studies, for helping her "to think outside the box in terms of teaching, education in general and the types of experiences I could have in the world outside of DePauw." McVorran, she said, helped her get an internship with a DePauw alumnus at Tindley Accelerated Schools, college-preparatory public charter schools in Indianapolis. Mathus cited experiences in that internship in her senior thesis, which examined how charter schools work and support students and families and their role in the educational landscape.
The internship and thesis writing solidified Mathus's plan to begin her career in charter schools, she said. She moved to Brooklyn, New York, to teach fourth grade at Uncommon Schools. She grew from the experience, she said, and passed her growth on to DePauw students whom she mentored or hosted on visits.
After earning a master's degree, Mathus became dean of students, then assistant principal and principal at Great Lakes Academy Charter School in Chicago. She is now principal of CICS Avalon with the Regeneration School in Chicago. Of her rise to leadership, she said, "I don't think it would have been possible without the complex and rapid growth that began at DePauw. I love it and see myself continuing in educational leadership."
Mathus recently joined DePauw's GOLD Alumni Board. "Because DePauw poured so much into me, it is important for me to give back as much as I can," she said.
Board members meet regularly with staff members at DePauw's Hubbard Center for Student Engagement and the divisions of Admission and Development and Alumni Engagement "to determine how we can best engage to support DePauw," such as promoting an event, speaking on a panel or writing notes to prospective students, she said.
Mathus also regularly contributes financially to DePauw, designating her support to areas important to her student experience. "Education Studies molded me academically," she said. "And the Justin and Darrianne Christian Center for Diversity and Inclusion brings together many of the organizations that were transformative for me."
Whether we are writing about the intellectual challenge of our classrooms, a campus life that builds leadership, incredible faculty achievements or the seemingly endless stories of alumni success, we think DePauw has some fun stories to tell.

101 E. Seminary St.
Greencastle, IN, 46135-0037
(765) 658-4416

News and Media