A recent DePauw graduate who soon will be pursuing a master's degree in geoscience is adding the Swahili language to his repertoire, thanks to a Critical Language Scholarship awarded him by the U.S. State Department.
Collin Davidson '21 is one of about 700 undergraduate and graduate American students awarded scholarships, which support eight to 10 weeks of study of one of 15 languages the State Department deems critical. Scholars gain language and cultural skills that enable them to contribute to U.S. economic competitiveness and national security.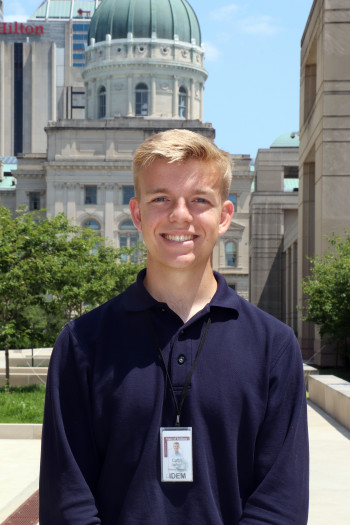 Davidson, who majored in environmental geosciences at DePauw, will study geosciences with a specialty of hydrogeology at the University of Nevada, Las Vegas, in the fall. Meanwhile, he spent all of June and will continue through July in an immersive language program conducted virtually because of the COVID-19 pandemic.
He and other scholars participate daily in a two-hour class being taught in Arusha, Tanzania, by teachers and guest speakers, including local entrepreneurs, a miner and a historian. Twice weekly, he and his language partner practice Swahili one-on-one. The scholars also complete daily written and oral assignments.
Davidson said foreign language "has always been my worst subject," but he enjoys studying it and believes "there's something very special about growing as a speaker and finding new ways to express yourself in a new language, especially when things don't always translate literally."
Learning a new language, he said, "gives you the tools to understand and interact with a whole new part of the world and opens doors for cross-cultural exchange."
Davidson said he has not settled on a career to pursue after he completes his master's degree, so studying Swahili hasn't caused him to change any plans – though it may influence his graduate thesis. He had planned to write it about his research into the impact of climate change on groundwater in Niger (where French is spoken) but said that, with "some Swahili in my back pocket, conducting a thesis based in Tanzania would be really exciting and it's certainly something I'm looking into."
Davidson previously connected his interest in the geosciences and Swahili; he lived with a host family while studying coastal ecology and natural resource management – as well as Swahili – in Zanzibar, Tanzania, for about two months in spring 2020 before COVID-19 sent him home.
(Top photo: Davidson wears traditional formal attire at a farewell ceremony his host family held for him when he left Tanzania. Second photo: Davidson spent a summer interning at the Indiana Department of Environmental Management in Indianapolis.)
Whether we are writing about the intellectual challenge of our classrooms, a campus life that builds leadership, incredible faculty achievements or the seemingly endless stories of alumni success, we think DePauw has some fun stories to tell.

News media: For help with a story, contact:

Sarah Steinkamp, Vice President for Communications and Strategy and Chief of Staff.
sarahsteinkamp@depauw.edu.