Stevie Baker-Watson Selected as a Champion of Diversity and Inclusion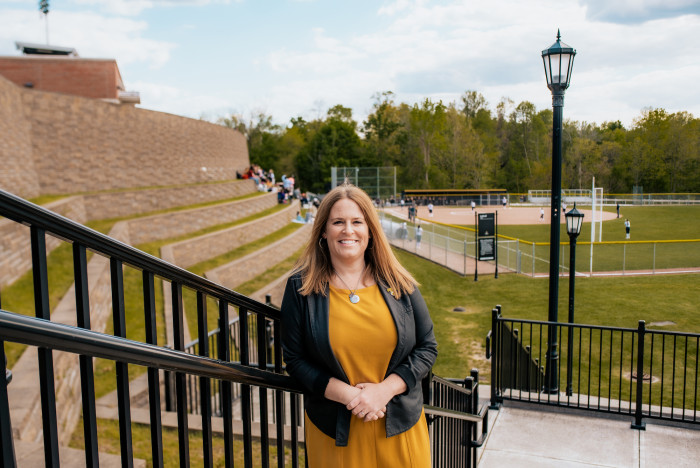 Stevie Baker-Watson, associate vice president for student wellness and Theodore Katula director of athletics and recreational sports at DePauw University, has been recognized as one of the 2023 Champions of Diversity and Inclusion by the NCAA Minority Opportunities and Interests Committee and NCAA Office of Inclusion.
This award celebrates individuals who have made outstanding contributions to supporting ethnic minorities and other underrepresented populations in intercollegiate athletics, both within their campus and the broader community.
Established in 2015 by the MOIC, the recognition honors those who go above and beyond their professional duties to promote diversity, equity, inclusion and belonging. The MOIC, which is an NCAA Association-wide committee that champions causes and topics that involve ethnic minorities in the membership, reviews and selects the honorees.
Baker-Watson came to DePauw in 2012 and oversees 23 varsity sports that compete in Division III. She also oversees student wellness, which includes the DePauw Health Wellness Center, counseling services, prevention and education programs and intramurals. In 2018, her achievements earned her the NCAA Division III Administrator of the Year award given by Women Leaders in College Sports. In 2022, she was named one of four Cushman & Wakefield Division III Athletics Director of the Year by the National Association of Collegiate Directors of Athletics.
Baker-Watson holds several membership and leadership positions in college athletics and has been involved with numerous NCAA programs and initiatives that link to diversity and inclusion. She has been a member of the Minority Opportunities Athletic Association board of directors and is moving to the group's executive committee, where she will serve through 2025. She also serves as an advisory member for the Diversity, Inclusion and Equity Council of Excellence.
Whether we are writing about the intellectual challenge of our classrooms, a campus life that builds leadership, incredible faculty achievements or the seemingly endless stories of alumni success, we think DePauw has some fun stories to tell.

News media: For help with a story, contact:

Bob Weaver, Senior Director of Communications.
bobweaver@depauw.edu.