Carrie Klaus (pictured below) is a professor of global French studies. Her essays have appeared in Feminist Studies, Palimpsestes and L'Esprit Créateur and in volumes published by the University of Chicago, Springer, the Modern Language Association, the Voltaire Foundation and Brill.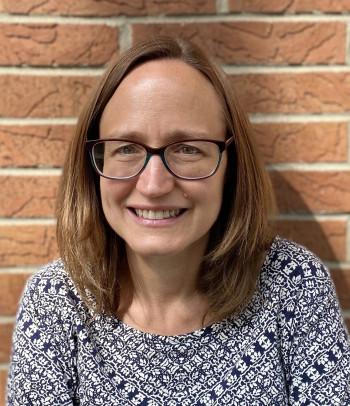 When DePauw suspended in-person learning this spring and much of the nation and world went into "shelter-in-place" mode, there was a flurry of interest in Giovanni Boccaccio's "The Decameron," a collection of 100 stories written in Italian during the Great Plague in the 14th century. In Boccaccio's book, 10 nobles take refuge together in the countryside near Florence – you might say they "quaranteam" – and tell stories to pass the time. There were lots of virtual performances and reading groups involving "The Decameron" this spring, including a reading and discussion project called the 100 Days of Decameron led by Anna Barker for Iowa City UNESCO City of Literature. I joined this project and loved it! Participants read one story in the "The Decameron" each day and then discussed that story on social media (mostly Facebook). Boccaccio's stories are rich and varied – hilarious and upsetting, inspiring and depressing, feminist and misogynist, all at the same time. I even read some to my kids.
In the mid-16th century, a French writer, Marguerite de Navarre, wrote her own collection of stories inspired by "The Decameron." She seems to have died before completing her full project. In any case, we have only 72 stories from her, so her collection was titled "The Heptaméron" (in recognition of seven full days of storytelling) when it was published by her daughter after her death. I am a huge fan of Navarre's writing. I love reading and discussing her stories with students at DePauw in French literature courses and first-year seminars, and I often have students do some role-playing, as they compose and tell stories of their own. (I also have an article on "The Heptaméron" coming out in the journal Romance Notes soon.)
Over the summer, I was talking about the "Decameron" project with some colleagues at other institutions, who are also big fans of Navarre, and we thought it would be lots of fun to put together a 72 Days of Heptaméron project, drawing inspiration from the Boccaccio project just as Navarre drew inspiration from "The Decameron." We worked with the Marguerite de Navarre Society and an international group of scholars and put together a plan for reading a story a day beginning Nov. 1 and discussing these stories online, either on the project website or on a dedicated Facebook group. (Participants may decide where they feel most comfortable and are welcome to contribute in both places.)
Although Navarre's collection is not set during a plague, its storytellers have still come together in search of health (they have visited healing mineral waters in the Pyrenees mountains), and they still tell stories to pass the time (they are stranded by a flood and must wait until a new bridge is built so that they can return home), so the collection still seems relevant to the moment in which we now find ourselves. As we live through a time of continued uncertainty and distance from one another, particularly as the weather turns colder and we may be experiencing more isolation, it seemed like the perfect time to seek connections – to build bridges – with one another by reading and discussing these tales in a virtual format. And the stories are just great fun!
What I love about this project is that it's designed to be broadly accessible to anyone who is interested and who loves to read. It's not limited to scholars or professors but is really just about people coming together to discover and discuss some great stories.
My goals are to bring Navarre to a larger audience and to give us all an opportunity to read or reread her stories, for no other reason than the love of literature and the desire to connect with one another.
Whether we are writing about the intellectual challenge of our classrooms, a campus life that builds leadership, incredible faculty achievements or the seemingly endless stories of alumni success, we think DePauw has some fun stories to tell.

101 E. Seminary St.
Greencastle, IN, 46135-0037
(765) 658-4416

News and Media