When Mark Johnson '88 started writing for The DePauw during his first year on campus, he was fairly certain his professional future would be in newspapers.
But first he experimented a little, working for WGRE student radio and landing internships in radio, TV and the White House before a post-graduation fellowship in newswriting for liberal arts grads brought him full circle. A 22-year career in Virginia and North Carolina newspapers ensued, with Johnson covering beats ranging from the cop shop to state government to the U.S. Supreme Court to the 2003 invasion of Iraq.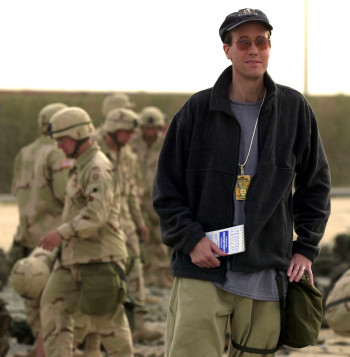 "The DePauw experience gave me a great sense of what it was like to be reporting and publishing stories within a community where you know people, where you have to develop sources, where the stories that you publish have impact and draw reaction," he said. "And, most important, it taught me that what you're trying to do is tell stories that people care about."
In 2010, when the office of North Carolina Gov. Beverly Perdue came headhunting for a deputy communications director, "it was a real wrenching decision," Johnson said. "Journalism felt very much like a calling." But once the decision was made, "it didn't seem so wrenching, because there were so many ways to still tell stories. …
"It was a place where, every once in a great while, you could actually see right in front of you how the work you were doing was helping people. And that's a pretty good feeling."
The governor chose not to seek re-election in 2012, leading Johnson to work 18 months as external affairs director at the North Carolina Museum of Natural Sciences and almost a year as a consultant. Then he moved into higher education, first at Arizona State University and then at Davidson College, where he has been chief communications and marketing officer since late 2016.
"This is where knowledge is created," he said. "There are just constantly great stories to tell."
DePauw Magazine
Spring 2022
A GATHERING PLACE FOR STORYTELLING ABOUT DEPAUW UNIVERSITY
Whether we are writing about the intellectual challenge of our classrooms, a campus life that builds leadership, incredible faculty achievements or the seemingly endless stories of alumni success, we think DePauw has some fun stories to tell.

News media: For help with a story, contact:

Bob Weaver, Senior Director of Communications.
bobweaver@depauw.edu.