With some extra time on her hands thanks to COVID-19, Lexie Manor '22 summoned up some lessons from her 2019 winter term course and has created a podcast that honors the lives of seniors.
The experience, she said, has been so rewarding that the communications major and media fellow is considering veering away from the career she had expected to pursue – sports broadcasting – in favor of podcasting about others' lives.
That is quite a change for the granddaughter of former DePauw football coach Bill Lynch.
"Actually, all of his sons are football coaches as well," Manor said. (Her mom, Kelly Manor, is Bill's daughter and not a football coach.) "So I've grown up around athletics all my life. But as this pandemic has hit and the sports world is all up in the air right now, I don't know. I've been having doubts about whether or not I want to do that ….
"I feel like what I'm doing right now is a little bit more meaningful in that I'm actually talking to people about their lives and stuff that's maybe bigger than sports."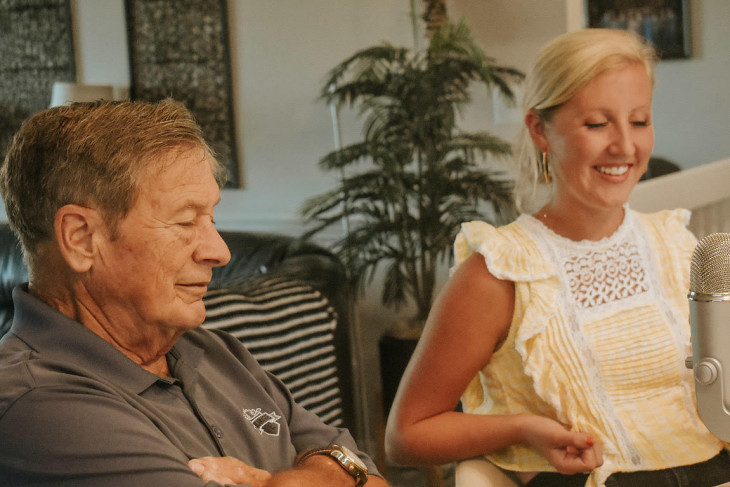 Lexie Manor interviews Steve Miller '64 for her "Words of the Wise" podcast. 
Manor was introduced to podcasting during her January 2019 winter term in a course taught by Jonathan Nichols-Pethick, director of the Media Fellows Program; the John D. Hughes professor in communication and theatre; and director of the Eugene S. Pulliam Center for Contemporary Media.
"I thought it'd be cool," she said. "I was interested in podcasts; he had talked about how they're the fastest-growing media form." So she signed up, learned how to produce a podcast and that was pretty much that. The following summer, "my mom was talking about how we didn't really know how much longer we were going to have with" Lexie's 90-year-old great-grandfather.
"A few days later I was really thinking about it and I thought what if I started this podcast and I interviewed him about his life and maybe asked him some life advice. Things like that," she said. "I've always loved old people. I love talking to them, hearing their stories. As a 20-year-old – at the time I was 19 – who better to seek wisdom from and ask life advance than the people who have experienced way more than I have, lived a lot more life?"
She interviewed him in July 2019 for the first installment of "Words of the Wise." He died in October, and "for us to be able to have that 35 minutes or so of him just talking about his life, just being able to hear his voice, feels like you're really with him. I feel like that's something very special."
DePauw demands, including a job as general manager at D3TV last semester, stalled her work, "but then the quarantine hit. … I thought I feel like I need to get back into that, especially with what's going on with this pandemic right now. The older generation is really taking a hit and I feel like, when an old person dies, you're losing so much wisdom; you're losing someone's story."
She has recorded and posted seven more podcasts and will continue doing so, shifting to remote interviews with subjects who request more social distancing, while working at JDA Worldwide in Indianapolis in the fall semester as a marketing and communications intern.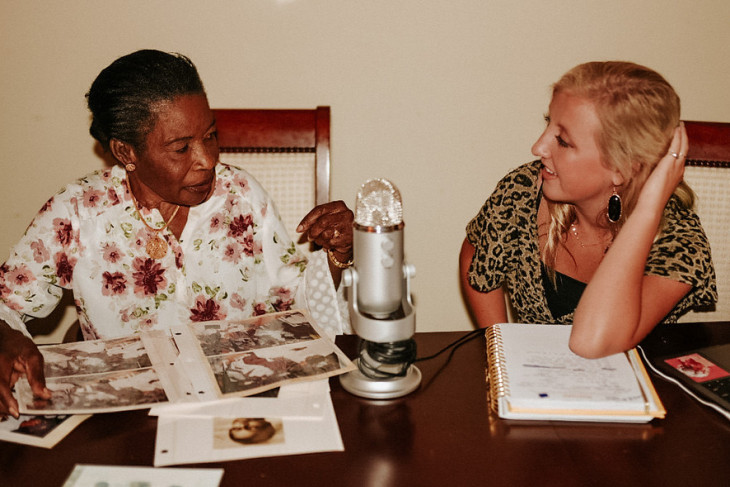 Lexie Manor interviews Katherine Zaku, who was visiting from Nigeria when the pandemic struck, keeping her in the the United States. 
Her grandfather was a recent interviewee. So was Stephen Miller '64, a retired emergency room and urgent care physician in Muncie.
"The response that I have gotten has really been heartwarming," Miller said. " … I've been seeing people I haven't seen for years saying, 'oh, we just loved this. This is the best thing; I've listened to it a couple times.'"
Manor "really did a wonderful job on it," Miller said. "She has a very disarming personality and makes you want to open up. I think she's got a real skill for that." 
Nichols-Pethick said that Manor's "is a great idea for a podcast. I think we all get to a point where we want to hear what older generations have to say about their experiences, and Lexie's idea plays that out in a public way. And she's chosen a format for the podcast that works well for her: She's inquisitive and genuinely interested in these stories, so it makes sense to hear the interview play out. The conversations end up having a charm to them that they might not otherwise. …
"I'm not at all surprised that Lexie would take this on. She has shown over and over again that she's truly interested in growing as a media professional, and that she's willing to put in the extra work."
Whether we are writing about the intellectual challenge of our classrooms, a campus life that builds leadership, incredible faculty achievements or the seemingly endless stories of alumni success, we think DePauw has some fun stories to tell.

101 E. Seminary St.
Greencastle, IN, 46135-0037
(765) 658-4416

News and Media