The Question
All research begins with a question. How does it work? Who does it affect? What does it do? Sometimes research leads to an answer – and it always leads to more questions.
These questions make summer an exciting time to be at DePauw. With no classes to take or teach, dozens of students and faculty members dive into full-time research projects together. And because research is meant to be shared, here's a quick look at the questions they're asking this summer:
What's Under There?

Students: Rebecca Kerns '19, Morgan Stamper '19, Caleb O'Brien '20, Mahayla Roscoe '20, Marissa Sorini '20, Mia Manney '21 and Sarah Hennesey '21 Faculty: Professor Rebecca Schindler and Professor Pedar Foss Department: Classical Studies
Students and faculty members from DePauw have spent the last four summers excavating a Roman villa in the Italian countryside. This June, they finally reached a long-time goal: They revealed the remains of the villa's bath house.
The dig unearthed fragments of history dating back 2,000 years, including pieces of the original mosaic tile floor and a water jug – pristine except for the point where a probing pick pierced it. 
WHAT IF THE COLD NEVER BOTHERED YOU, ANYWAY?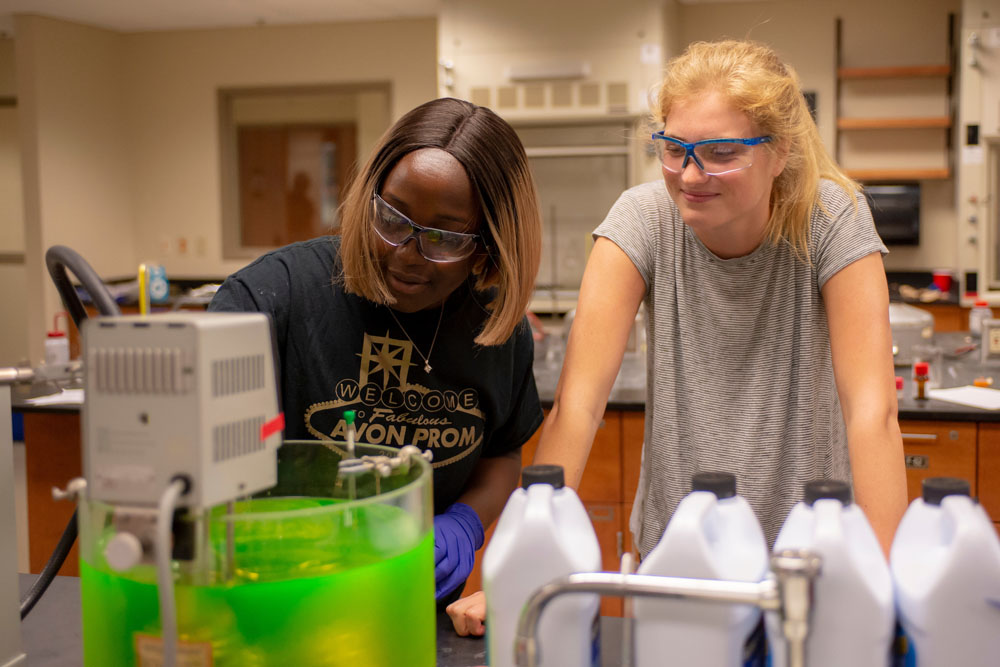 Students:  Sam McCarty '20 and Ayo-Oluwa "Light" Laleye '21 Faculty: Professor Bridget Gourley Department: Chemistry and Biochemistry
Water expands when it freezes. And that's not so good when the water is inside living cells. But a small bug called a pine bark beetle is able to survive freezing temperatures we humans can't tolerate.
With the help of a superconducting magnet, dry ice and antifreeze, Sam and Light are working with Professor Gourley to understand the chemistry behind the pine bark beetle's sub-zero protection. This knowledge could potentially extend the life of frozen meat – and protect your toes from frostbite.
CAN YOU RECYCLE A HOUSE?

Students: Cecilia Slane '20 Faculty: Associate Professor Jennifer Everett Program: Environmental Fellows
Most building materials aren't made to be recycled, so it can be challenging to find a new home for an old home. Cecilia is working with philosophy professor Jen Everett on a project to keep as much of DePauw's old farmhouse out of landfills as possible.
In addition to researching the history of the house and its occupants, Cecilia worked with geosciences professor Jim Mills to remove roof shingles for use in hot-mix asphalt for road construction. By the time students return to DePauw this fall, they may be driving on them.


This SUMMER...
59 students are conducting research with 30 faculty members from 13 departments and programs.
HOW DO YOU GET A FISH TO QUIT SMOKING?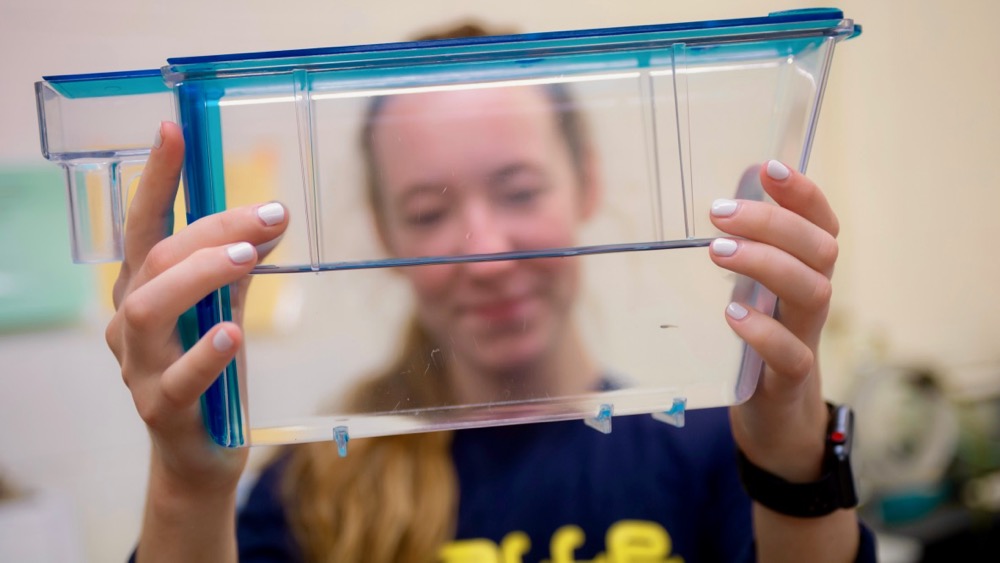 Students: Drew Harris '20 and Anna Pearson '20 Faculty: Professor Henning Schneider Department: Biology
Kicking a nicotine habit is easier said than done. Smoking cessation programs have low success rates, and most smokers who try to quit relapse within 8 days. But with insights provided by a tiny fish, DePauw's "nico-team" may help more people quit for good.
Drew and Anna have been studying when and why zebrafish start to seek nicotine, and so far they've found that zebrafish younger than 47 days don't seem to develop cravings. If they can figure out a way to chemically turn back the clock on older zebrafish, there might be a way to do it for humans, too.
WHAT HAPPENS IN A BLINK?

Students: Le Anh Vuong Quang '21, Goto Momoka '21 and Christian Mulmat '20 Faculty: Associate Professor Jacob Hale Department: Physics
If you could see the world in slow motion, you'd find natural wonders hidden in plain view. Take water, for instance: It flows and splashes, of course, but what if we told you it also bounces and rolls? Recorded by Prof. Hale's students, the below GIF shows a droplet of soapy water doing just that.
Hale's high-speed fluid dynamics lab uses special cameras to capture natural phenomena that vanish in the blink of an eye. By showing the way certain liquids really behave in motion, their research could improve everything from industrial paint to the specialized coatings on your phone screen.
WHEN IS A GENETIC MUTATION A DISEASE?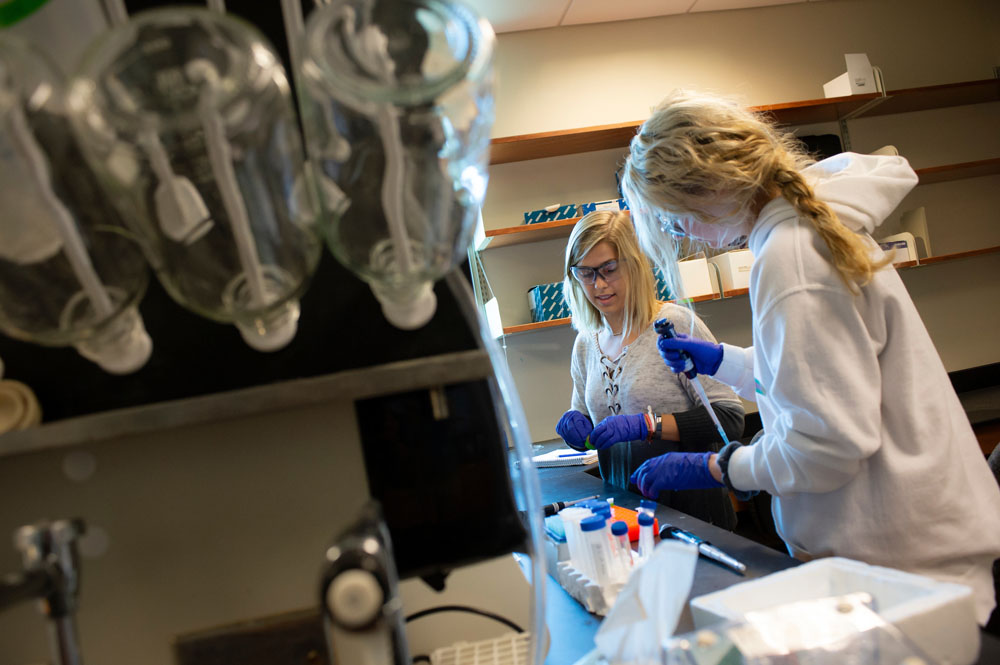 Students: Kassidy Mattson '20 and Morgan Black '20 Faculty: Associate Professor Dan Gurnon Department: Chemistry and Biochemistry
When your blood can't provide enough oxygen to your muscles, a protein called LDH kicks in to produce a short-term energy source called lactic acid. But if those LDH proteins aren't working as intended, even simple exercise can cause serious pain and muscle damage.
Kassidy and Morgan are studying a pair of LDH mutations taken from actual medical cases. There's clearly something different about these LDH proteins, but is the difference enough to cause problems? Working with Professor Gurnon, Kassidy and Morgan hope to report back whether these mutations are benign or harmful.
HOW DO YOU MAKE AN UNBEATABLE AI?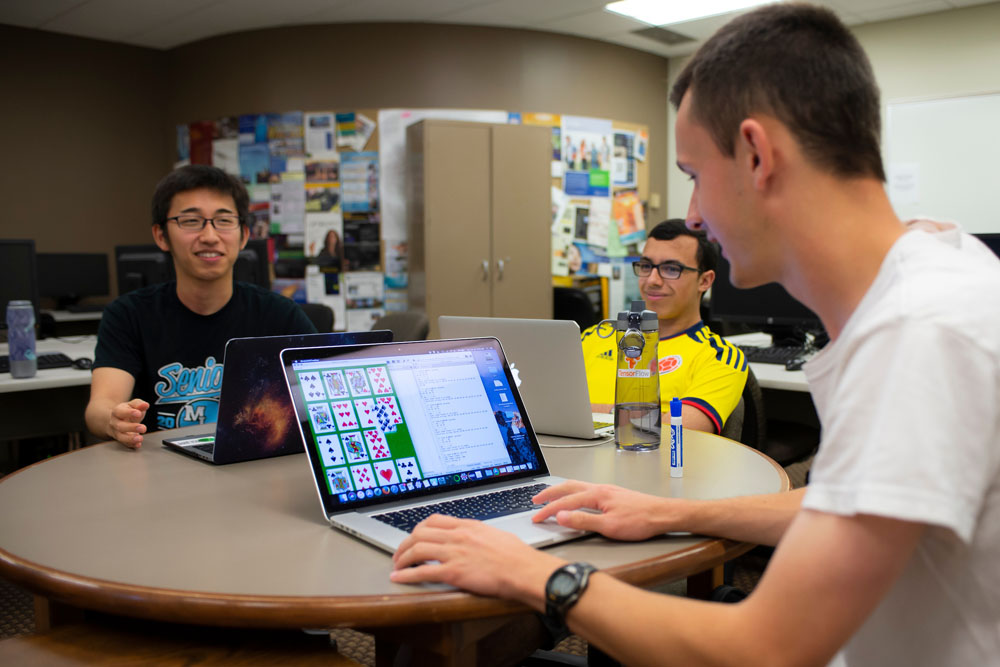 Students: Zachary Wilkerson '20, Araki Shuto '20 and Juan Pablo Arenas '20 Faculty: Associate Professor Steven Bogaerts and Assistant Professor Chad Byers Department: Computer Science
With the World Cup underway in Russia, an international trio of computer science students at DePauw is busy with a competition of their own. Sponsored by the Association for the Advancement of Artificial Intelligence, the competition challenges students to program the best AI player for a solitaire-like card game called Birds of a Feather.
Araki, Juan Pablo and Zach spend their days huddled around laptops writing and re-writing code. Complicating things is the fact that the card game was created solely for the competition. Before the team could create the perfect player, they had to learn to play the game themselves. As the saying goes: practice makes perfect.
Whether we are writing about the intellectual challenge of our classrooms, a campus life that builds leadership, incredible faculty achievements or the seemingly endless stories of alumni success, we think DePauw has some fun stories to tell.

News media: For help with a story, contact:

Sarah Steinkamp, Vice President for Communications and Strategy and Chief of Staff.
sarahsteinkamp@depauw.edu.