Task force: Use 'leadership capital' to ensure free expression
The Academic Leaders Task Force on Campus Free Expression – of which DePauw University President Lori White is a member – calls on colleges and universities to use their "leadership capital to support a culture of free expression."
Institutions of higher education should publicly affirm that "disagreement and viewpoint diversity are healthy in an academic and civic community."
The task force on Tuesday released a report called "A New Roadmap" that said "academic freedom and free expression are under stress, undermining colleges' and universities' ability to fulfill their academic and civic missions, which in turn is eroding public trust in higher education institutions."
But the group concluded that "this may be a period of renewal of academic freedom and free expression" and made several recommendations, including this:  
"At a time when some doubt that commitments to free expression are compatible with commitments to diversity, equity, and inclusion, leaders should make the case that freedom of expression is ultimately a liberalizing and inclusive force. At the same time, university leaders must remember that students need to feel fully included in the campus community before they feel safe to confront ideas with which they disagree. A free expression culture depends on trust and a respectful learning environment for all."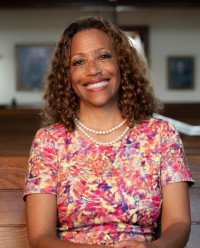 White expressed a similar sentiment when she joined the task force a year ago. At the time she said, "institutions of higher education have the critical role of creating leaders the world needs. To do so, we must foster two important values: Freedom of speech and expression and a commitment to diversity and inclusion. Some say these values are antithetical, but they should not be.
"Our campuses and our world are enriched, our communities become more equitable and we develop open-minded leaders when we explore and are open to discussing and debating a range of ideas and perspectives, freely expressed, while understanding these ideals within the context of the historical experiences of diverse communities."
During the conference, White said that, during her 40 years in higher education, "I have noticed this moving away from intellectualism on our college campuses, driven, I think, in large part by students and parents now looking at a college education as a means to employment and not necessarily as a means to spark one's intellect."
Students make arguments based on their "lived experiences," not data or research, and institutions of higher education "take young people who've grown up primarily in homogeneous environments, throw them into a college campus setting and then expect for them to figure out how it is they're supposed to debate difference," White said. "… We need to be able to think about how we introduce these concepts to our students, and then how we give them the actual tools to engage in the kind of intellectual conversation that we would like to see happen on our college campuses."
The task force is co-chaired by former Vermont Gov. Jim Douglas and former Washington Gov. Christine Gregoire. It plans to provide individual and regional briefings for school presidents and their leadership teams, present at national conferences, interact with student organizations and provide support for schools interested in implementing its recommendations.  
Whether we are writing about the intellectual challenge of our classrooms, a campus life that builds leadership, incredible faculty achievements or the seemingly endless stories of alumni success, we think DePauw has some fun stories to tell.

News media: For help with a story, contact:

Sarah Steinkamp, Vice President for Communications and Strategy and Chief of Staff.
sarahsteinkamp@depauw.edu.