The May 25 death of George Floyd, a Black man in police custody, set off international protests, community conversations and, perhaps, individual examination of conscience about racial justice in America. We asked members of the DePauw community: Will you share your reflections on George Floyd's death, the aftermath or any aspect of racial justice?
Willis "Bing" Davis '59 is a visual artist and former assistant dean of art and coordinator of Black studies at DePauw.
Like that of most artists of color in America and the African diaspora, my artwork reflects a social consciousness. I create artworks that reflect my perceptions, thoughts and feelings about what I experience and see around me.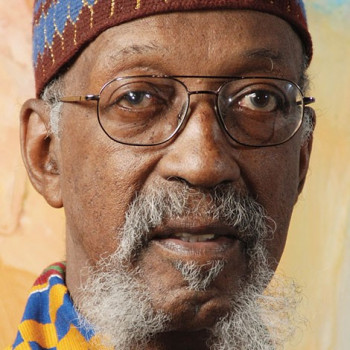 As I began my artistic journey after graduating from DePauw, I had to decide if I wanted to paint visually pleasing landscapes, tasty fruits in still lifes or smiling portraits of neighbors and friends or visually speak about the vision, goals, aspirations and struggles of the Black experience and peoples of color in America and around the globe.
Most of the great teachers that I had at DePauw encouraged students to "find your own voice." The liberal arts education and arts education at DePauw gave me a solid foundation on which to build an art and teaching career that filled my life with purpose. I learned early from my academic adviser, mentor and friend, professor Richard Peeler, that the arts have the energy and power to touch, move and inspire others. I chose to teach the arts as agents of change.
 It is not by accident that the Anti-Police Brutality Dance Masks that appear in my current virtual exhibit at the Haan Museum of Indiana Art were created in 1999, 2002 and 2012, before the death of George Floyd. Like many other artists, poets, singers, dancers and dramatists, I have been speaking for years of the need for police reform, end of racism and social reform.
The series may appear to be an unusual association at first but not when you think about human history. Dance or specialized movement has always been a part of most human events or activities, such as weddings, coming-of-age events, even funerals and war, war dances, parades with drummer boy and flute player.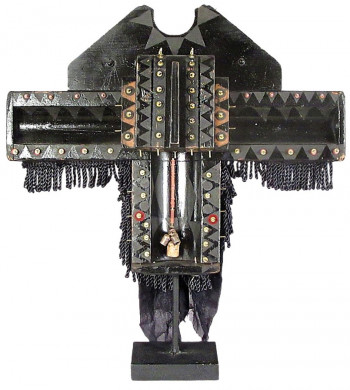 Some recent protesters were criticized for singing and dancing as they moved down the streets. That is a part of the human experience. I want my Anti-Police Brutality Dance Mask images to encourage the viewer to walk, run or dance to whatever meeting, gathering or event to get involved with police reform, anti-racism activities and social reform.
My masks give visual and tangible form to a real social concern that has been going on from slavery to the present. The viewer can see and touch the masks. Their African-like appearance gives a visual association to a people and a culture. The viewer sees common objects and byproducts of our industrial society used to create these contemporary masks and hopefully make a positive connection to an African heritage. 
My primary audience is the African-American community. I want my art to remind them that we are not alone in the struggle and that the struggle has been going on for a long time. I want my artwork to remind us that the ancestors are with us, for it is they on whose shoulders we stand.
Whether we are writing about the intellectual challenge of our classrooms, a campus life that builds leadership, incredible faculty achievements or the seemingly endless stories of alumni success, we think DePauw has some fun stories to tell.

101 E. Seminary St.
Greencastle, IN, 46135-0037
(765) 658-4416

News and Media