Hallie Patterson '07 is creative. She has to be, really.
Her "clients" are kids, and getting them interested in books can be daunting, especially given the technological distractions in today's world, not to mention the challenges the pandemic poses for authors trying to meet their young readers.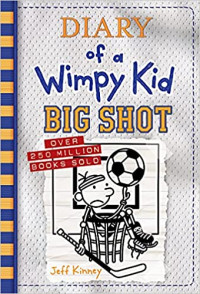 Patterson is the children's publicity director at Abrams Books, a midsize publishing company. "I'm responsible for media and events, which are essentially how you break down publicity," she said. "There are other pieces to it, but basically I secure media coverage and arrange author events for all of our kids' book titles." 
She recently returned from a book tour with Jeff Kinney, author of the "Diary of a Wimpy Kid" series, whose books have sold more than 250 million copies.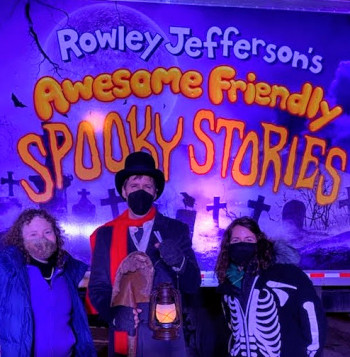 With COVID-19 affecting personal contacts, Patterson and her team devised a drive-through tour to mimic traversing a movie set designed around the book's sports theme. (Photo: Patterson, right, poses with Cori Cusker '02 and author Kinney at the event in the Arizona bookstore where Cusker works. Rowley Jefferson is a character in Kinney's books.)

"We had an oversized soccer goal and giant blowup balls. Parents tried to 'kick' the balls with their car into a goal. The tours always culminate with Jeff handing the kids their signed copies of his book on a themed-device, which this time was a lacrosse stick, to embrace social distancing.
"It's a lot of fun," Patterson said.
She works with a marketing agency to arrange the sets. For the most part, independent booksellers across the country host them, set up their venues and sell the books. 
On the media side of the business, her goal is to make consumers aware of a book. "I work in tandem with our marketing department, which handles advertising and billboards, etc. I put together a list of media contacts to pitch. I might say, 'This book would be particularly good for The New York Times to review,' or 'this author would make a great segment on 'CBS This Morning.'"
She identifies producers and editors to pitch. "Once I've secured something and an editor or journalist has said, 'I'm interested; I want to cover it,' I set up an interview with the author or send copies to the reviewers and coordinate those details with the author."
Patterson works with a wide range of children's book authors, many of whom "you wouldn't necessarily recognize, but are wonderful to work with." A few of her recognizable favorites in addition to Kinney are Nobel laureate Malala Yousafzai; Bill Nye, The Science Guy; and Savannah Guthrie, former co-host of the "Today" show.
DePauw Magazine
Spring 2022
A GATHERING PLACE FOR STORYTELLING ABOUT DEPAUW UNIVERSITY
Whether we are writing about the intellectual challenge of our classrooms, a campus life that builds leadership, incredible faculty achievements or the seemingly endless stories of alumni success, we think DePauw has some fun stories to tell.

News media: For help with a story, contact:

Bob Weaver, Senior Director of Communications.
bobweaver@depauw.edu.