Over the past 30 years, Mary Jane "Jayme" Scully Robinson '74 has written thousands of words, and gotten public credit for almost none of them.
One man insisted that, because he could barely read, no one would believe he could write an autobiography. She got a byline for that one. But Robinson, who has written about 120 memoirs in other people's voices, is a ghostwriter, and "you do not receive credit. You have to know that going in, and love the task of doing it so much that it doesn't matter."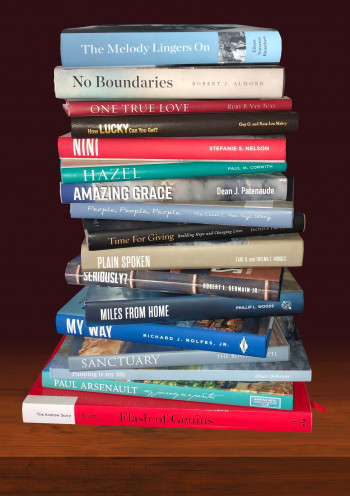 Her "acute interest in people and human behavior" caused Robinson, as a DePauw student, to plan a career in clinical psychology. But it was the 1970s, and the wife deferred her own graduate schooling so her husband could attend law school. She edited his briefs and "his friends caught on to me," and she "discovered that I had an ability to work with the words of others and make them sound just like they wrote it, but better."
Several years later, she was asked to edit the life story of a 102-year-old woman – and learned the project was much more involved than spotting typos. Her ghostwriting career began. 
To be a ghostwriter, she said, one must write well, conduct productive interviews, "have a deep interest in people," be curious and nonjudgmental and engender trust.
Robinson, who may have four projects going on at once, interviews a client for 22 to 28 hours for a full-blown memoir, less time for those who want to spend less and cover only highlights of their life. She listens carefully and coaxes clients to connect the dots in their lives, then pores over transcripts to ensure she adopts the client's voice. When the client mentions public events, she checks facts and provides context; for example, if a client says his father fought at Iwo Jima, she'll summarize the World War II battle.
Twelve to 18 months after the interviews are completed, Robinson delivers the first draft, then works with the client on revisions. The whole process takes at least two years, but clients are generally OK with that, she said, because "nobody wants to hire a ghostwriter who doesn't have any jobs." 
She does not advertise; she gets her work through referrals. Most clients want to preserve their story for their offspring, but she also has been hired by companies to write founders' memoirs. Printing orders for her books range from 25 to 12,000 copies.
A compliment from a client or a reader "means so much more than seeing my name on something. That's not important at all, because the process of what I do is the joy of it."
DePauw Magazine
Spring 2022
A GATHERING PLACE FOR STORYTELLING ABOUT DEPAUW UNIVERSITY
Whether we are writing about the intellectual challenge of our classrooms, a campus life that builds leadership, incredible faculty achievements or the seemingly endless stories of alumni success, we think DePauw has some fun stories to tell.

News media: For help with a story, contact:

Bob Weaver, Senior Director of Communications.
bobweaver@depauw.edu.