He crossed the roughest water in the world on a Russian expedition ship, strode through frigid water to a landscape dotted with penguins, doffed waders, donned trainers and took off running, determined to cover 26.2 miles in 25-degree weather and a 40-mile-an-hour wind.
In Antarctica.
And when he crossed the finish line and unfurled his DePauw Tiger flag, Luis Davila '81 became one of the few people in the world who can say that they have run a marathon on each of the seven continents.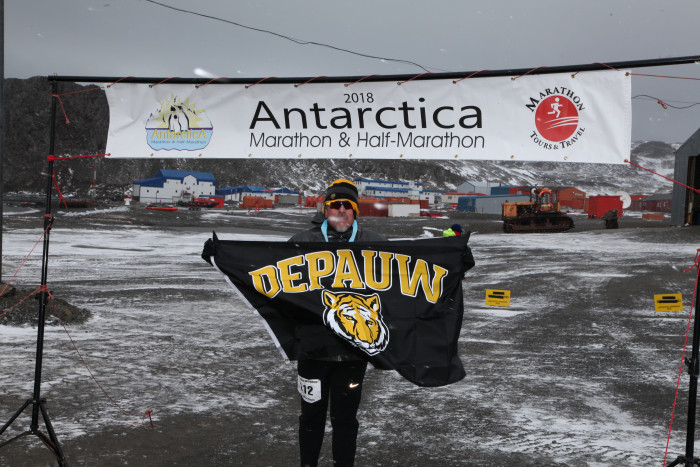 Years ago, Davila had been regularly running a couple miles at a time to stay in shape when he decided that he should run a marathon before he turned 40. He trained and in April 1999 "ran the Madrid marathon when I was, like, 39 and a half," he said. "And then I just thought it was an amazing event and I just kept running them."
He was stationed in Spain at the time, working in international business for Reynolds American. He joined the company's marketing team in his native Puerto Rico in 1985; was assigned, in addition to Spain, to Hong Kong, South Korea, Hungary, the Canary Islands and China over the course of his career; and retired, as vice president of international business, in 2017.
"When you are done, you feel like you've really accomplished something."
"I really believe a political science degree helped me deal with the international environments I had to deal with a lot," he said. "It just opens your mind to a lot of things and to understand the way things work in other countries."
Davila had completed marathons on three continents when he was struck with the idea of running on all seven. And so he has, completing several marathons in North American and Europe, as well as races in China in 2010 and Tokyo last year; Oceania in 2011; South America in 2014; Africa in 2015; and Antarctica in 2018. He has worn or carried DePauw gear on all but one race, when he championed the NFL's Dallas Cowboys on a game day.
He spent three years on a waiting list for the Antarctica run, since only 100 runners go a year, and it was "a real test. … When you are done, you feel like you've really accomplished something." According to Marathon Tours, 527 men and 263 women have matched the feat.
Davila had hip surgery on his 60th birthday, Nov. 7, to treat osteoarthritis. In mid-February, his doctor gave him the go-ahead to resume running, and Davila marked the moment with a three-mile run and a ski trip.
"I'm just very competitive and running is something you don't have to be world-class to compete because you can compete against yourself," he said. "That motivates me to try to do better than the last time."
DePauw Magazine
Spring 2020
A GATHERING PLACE FOR STORYTELLING ABOUT DEPAUW UNIVERSITY
Whether we are writing about the intellectual challenge of our classrooms, a campus life that builds leadership, incredible faculty achievements or the seemingly endless stories of alumni success, we think DePauw has some fun stories to tell.

101 E. Seminary St.
Greencastle, IN, 46135-0037
(765) 658-4416

News and Media