Gold Within
is a regular feature of DePauw Magazine, which is published three times a year.
Even 18 years after Nick Mourouzis retired, his death last Sept. 16 was a blow to DePauw University and many of its alumni.
The late football coach, who presided over DePauw football for 23 seasons, left an extraordinary legacy of football success: A record of 138-87-4, which made him DePauw's winningest football coach, and – perhaps more important – an indelible imprint on the game and the individuals who played it at DePauw.
Mourouzis's influence has reached the National Football League, with DePauw alums working as an assistant general manager, an assistant coach and collegiate scouts, and higher education, with alums working as head coaches and assistants. He called this his Tiger den; others in football call a coach's expansive influence in the game a coaching tree.
"The number of people coaching and scouting in college and the NFL?" said Pat Roberts '95, assistant director of college scouting for the Minnesota Vikings. "It's not a mistake. That was because of Coach Mourouzis."
Other than John Carroll University, which boasts a long list of alumni working in the NFL, "I can't think of anyone else in our division who talks about the Tiger den from the depth and breadth of the way Nick used to talk about," said Stevie Baker-Watson, associate vice president for campus wellness and the Theodore Katula director of athletics and recreational sports. "In every class that played for him, he inspired individuals to pursue sport as a career."
Eric Evans '04 said that, by developing his players and his coaches and by fostering relationships across the coaching profession, Mourouzis "was able to bring opportunities to his coaching tree," which, for a smaller school, "has got to be one of the best in the country."
For all of his success in football, Mourouzis's energetic, upbeat approach to life and his respect for and genuine care about others off the field may have influenced his players just as enduringly, several of them said. They tell funny stories and have fond memories; many employ his methods in their own jobs and have allowed his lessons to permeate their personal behavior too.
DePauw Magazine talked to 14 former players and one aspirant whose injury caused him to take another role about their relationship with Mourouzis and his effect on their lives. The list of men who played for Mourouzis is long and filled with stars, such as Greg Werner '89, an All-American tight end and DePauw Hall of Fame member who briefly played for the NFL before becoming an orthodontist, so we narrowed the list to 15 with careers in sports.
Five of them told a similar story to illustrate the coach's enormous pride in DePauw, his unwavering belief that little things matter and his relentless pursuit of perfection. If Mourouzis spotted litter on campus – a paper straw wrapper or a cigarette butt – he'd stoop to pick it up, or even chase it down as it swirled in the wind, and deposit it in a trash receptacle.
"He won all these games (but) all he was worried about was making sure the Lilly Center and DePauw University were as good as they could possibly be in that moment," Matt MacPherson '99 said. "It wasn't somebody else's job. It was his job to pick up that trash because that meant that DePauw and the football program were going to get better that day. … I learned a lot of stuff from Coach Nick, but that's probably the one that sticks with me maybe more than any."
To this day, Tim Cooper '97 "can't walk by something on the ground, out in the hallway, without picking it up and putting it in and thinking about Coach Nick talking about 'hey, that's school pride right there.'"
Said Jeff Voris '90: "All the little detail things that no one thinks matter, he not only thought they matter, he thought they made all the difference. And he's right. It's the details in life that make the difference."
Another thread that ran through these interviews? Most of those interviewed used present-tense verbs when they talked about Mourouzis, perhaps unable to grapple with his death and their inability, thanks to COVID-19, to gather en masse to mourn him. And at least four of these former football players, would-be tough guys all, choked up when they talked about their late coach.
Nick Mourouzis: A primer
Born April 16, 1937; died Sept. 16, 2020, of complications from COVID-19
Accomplishments: 138-87-4 record over 23 seasons (1981-2003) at DePauw. Professor of kinesiology. Previously assistant coach at Northwestern, Indiana, Ball State and Ohio universities. Founded Chi Alpha Sigma, the nation's first collegiate scholar-athlete honor society, which has 289 chapters in 42 states. Quarterback at Miami University; graduated, 1959; master's degree, Ohio University, 1961; director's degree, Indiana University, 1971.
Accolades: Southern Collegiate Athletic Coach of the Year, 2000; Indiana Collegiate Athletic Coach of the Year, 1990 and 1996; Distinguished American Award, Indiana chapter of National Football Foundation, 2001; Miami University Cradle of Coaches, 2002; Sagamore of the Wabash, 2003; Indiana Football Hall of Fame, 2004; DePauw Athletics Hall of Fame, 2006; DePauw commencement speaker, 2004; Nick Mourouzis Field dedicated, 2013; featured in NPR's "Songs of Remembrance," 2021.
JEFF VORIS '90: Teachable moments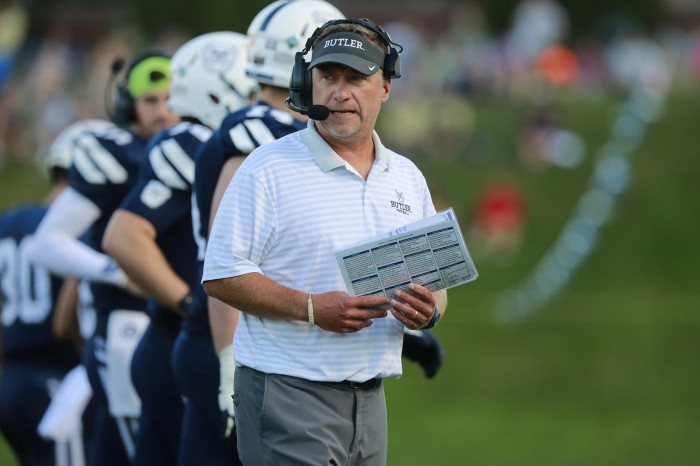 Mourouzis "was all about enthusiasm and positive mental attitude," said Jeff Voris, head football coach at Butler University since December 2005. "It wasn't just practice or the games; it was life for him.
"The energy he had for everything he did – it didn't matter if he was shoveling his walk; it was going to be the best job done on that walk. … There wasn't a day in the four years I played for him or in the six years I coached for him that he didn't show up with energy and have great pride in being a DePauw Tiger and great pride in his program and his players."
Voris, whose teammate Rob Boras '92 said was "probably the most successful football player that Coach Nick had," was a four-year starting quarterback at DePauw, a two-time honorable mention All-American and a three-time team most valuable player. He was inducted into the university's Athletic Hall of Fame in 2009. After graduating from DePauw, he was a graduate assistant coach at the University of Illinois and an assistant coach at the University of Texas; Mourouzis helped him get both jobs.
Voris returned to DePauw in 1994 to work under Mourouzis. He later spent a season as offensive coordinator and quarterback coach at Edinboro University and then five seasons as head coach at Carroll College before moving to Butler. 
Mourouzis "always took the game and spun it to life lessons and believed that football was life marked off in 100 yards. He never passed up a teachable moment," he said. A coach may adapt Mourouzis's approach "within your personality, within your program, and try to make guys better," as Voris said he has, "but there'll never be another Coach Nick."
(Photo: Butler University)
ROB BORAS '92: Influence
Rob Boras was a Rector scholar and a political science major, and he planned to attend law school after his graduation from DePauw. But Mourouzis influenced Boras to go into coaching, a profession he has practiced for nearly 29 years, these days as tight ends coach for the NFL's Buffalo Bills.
Boras, a four-year starting center, said he changed his mind after experiencing Mourouzis's coaching style. "He made you better because of his zest for life," said Boras, whom Mourouzis hired to be the graduate assistant coach of the offensive line for two years. Boras later coached at three other universities, including Benedictine, where he spent a year as head coach.
He moved to the NFL in 2004 when he joined the Chicago Bears. Two years later, when the Bears were in the Super Bowl, Boras got 15 tickets to give to family and friends and Mourouzis was one of only two non-family members whom he invited. (Mourouzis also is the only non-family member whose picture sits on the credenza behind Boras's desk.) Boras later coached the Jacksonville Jaguars and the St. Louis/Los Angeles Rams before heading in 2017 to Buffalo.
As a young coach, Boras said, "everything I did, I tried to emulate him. I didn't even have my own personality." But he came to realize that "you can't do (that) in this profession. You have to be yourself." Still, he finds himself thinking about Mourouzis and recognizing, "when you look in the mirror at yourself late at night before you go to bed and you know your own faults, you want to be better so you can be like Coach.
(Photo below: Left to right, Boras, Mourouzis, Schoen)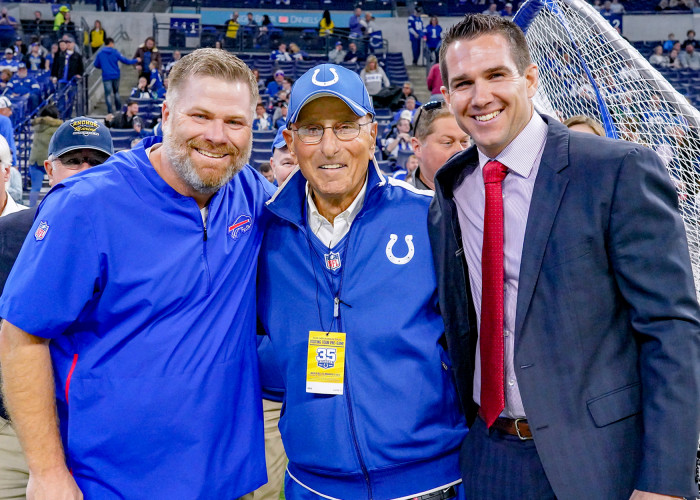 JOE SCHOEN '01: Something you love
He had majored in communication, figuring one's ability to communicate well would be a useful skill in, say, sales. So the offer that Joe Schoen for a sales job with Stryker Corp., a medical technologies company, would seem to be a dream come true.
A couple of his buddies were already working there, making good money and traveling. "That was all very attractive to me as I was about to end college," Schoen said, "but I knew something was tugging at me and something just didn't feel right."
Schoen, who as a wide receiver set a DePauw record in 2000 for 80 catches in his senior season, pushed up against the deadline to accept the offer, even though Stryker had given a two-month window to consider it. He signed the offer, sealed it in an envelope. But he couldn't bring himself to drop it off at the FedEx office. Instead, he drove to the football combine in Indianapolis to meet with Brandon Beane, his supervisor the previous summer when Schoen interned in the ticket office of the NFL's Carolina Panthers.
"I talked to him and I said, 'I just want to do something. I don't care what it is. I just want to get my foot in the door with Carolina.' And you know, a month later I had an interview and it ended up working out."  
Well, yeah. Yes, he eschewed a sure thing to take a $10-an-hour scouting assistant job. But he went on to become a regional scout for the Panthers before moving to the Miami Dolphins as a national scout, then assistant director of college scouting and later director of player personnel. In 2017, when Beane became general manager of the Buffalo Bills, his first hire was Schoen, whom he named assistant general manager. He's among those mentioned when sports writers speculate on the next general manager for various teams.
Mourouzis and other mentors told him, Schoen said, that "if you find something that you love, you'll never work a day in your life. And that kind of stuck with me and they're right. We work a lot of long hours and it's hard and we travel, but there's not a day I wake up and think, 'Oh, shoot, I gotta get up and go to work today.'" 
TUCKER WAUGH '93: Overcoming adversity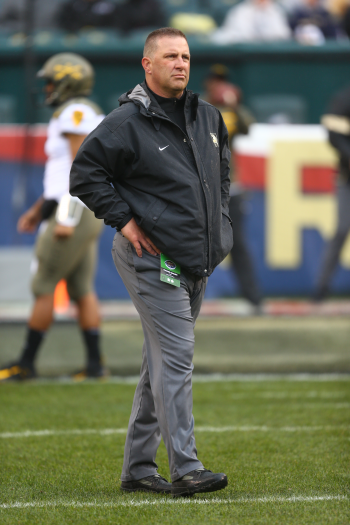 Tucker Waugh transferred to DePauw for the second semester of his freshman year and had "an awesome experience" as a backup quarterback for three years.
His father coached football for 58 years, but their relationship was centered on home life, not the football field, Waugh said, so "I learned probably more from Coach Nick than I did from anyone else."
As a second-string player, he spent a lot of time with the coaching staff, especially Mourouzis, who taught him "how to treat people, how to coach in every situation, how to handle all the different adversity that may come his way."
The lessons paid off. After coaching quarterbacks at Otterbein University for his first season after graduation, Waugh returned to DePauw for a season, coaching wide receivers, then moved on to assistant coaching positions at Illinois State University, the U.S. Military Academy and Stanford University before returning to West Point in 2007. These days, he coaches slotbacks.
Lessons about adversity likewise paid off for Waugh personally, especially after he was diagnosed in December 2015 with Parkinson's disease.
"I like to think that Parkinson's has affected me in a good way. A blessing, so to speak," he said. "I feel like I'm a much better coach. And I care more about people whom I'm coaching than I ever used to before Parkinson's. Sometimes you're worried about the next job or winning the game and what's this going to do for me. And now I really focus on the guys whom I work with every day and just love them and help them as much as I possibly can. I think I'm a better dad, a better husband, just a better person overall because, when you're diagnosed with an affliction like that, you just keep your eye on the ball and on what's important and lose sight of what's not."
(Photo: West Point Academy)
PAT ROBERTS '95: Father figure
When he started at DePauw, Pat Roberts majored in French, thinking he'd like to get a high school job teaching the language and coaching football.
A couple of higher-level French classes upset the first half of that plan (and fate eventually would disrupt the other half), but Roberts, a four-year letterwinner as an offensive guard at DePauw, still wanted to coach. Mourouzis – a father figure for Roberts, who was 12 when he lost his dad to cancer – hired him as a graduate assistant to coach running backs.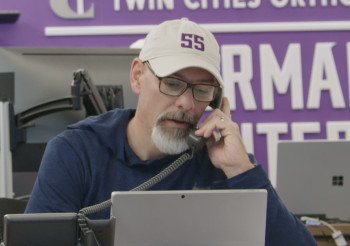 After two years, Roberts became a full-time coach; he also taught a physical education class and, when the women's tennis coach resigned, took on that sport too. He had become interested in strength and conditioning, and he worked with the basketball and soccer teams as well.
So it was a natural fit when Roberts, recognizing that it was time to move on, went to work as an offensive line coach and the head strength coach for all 18 sports at Millsaps College. Mourouzis helped him get the job.
"About two months later, my stuff was still in boxes, and I get a call," Roberts said. It was the college scouting director for the Chicago Bears, asking Roberts if he'd be interested in a job. Having just arrived at Millsaps, Roberts worried about leaving so quickly. And he knew nothing about scouting, a far cry from coaching, but "how many times do you get the opportunity to go work for the Chicago Bears?" He asked the Bears rep to smooth things over with the Millsaps athletic director, who asked only that the process move quickly.
"So I went in on Wednesday; they offered me a job Thursday; I was moving my stuff to Chicago on Friday," Roberts said.
It turns out that Mourouzis had recommended him for the Bears job, which Roberts held seven years before moving to the Cleveland Browns for eight years and then, in June 2013, to the Vikings – all in scouting.
"There was nobody like him," Roberts said, "and he was always giving to me. It always made me want to work harder for him. ... If I ever had a major question or I needed some advice, whether it was football or whether it was kids or whatever, I would call him and I always knew I was going to get the honest truth and probably get a good laugh along the way."
(Photo: Minnesota Vikings)
JOHNATHON STIGALL '98: The right fit
He had come to DePauw in a roundabout way, so it was only fitting that Johnathon Stigall likewise took a roundabout way to become an award-winning NFL college scout.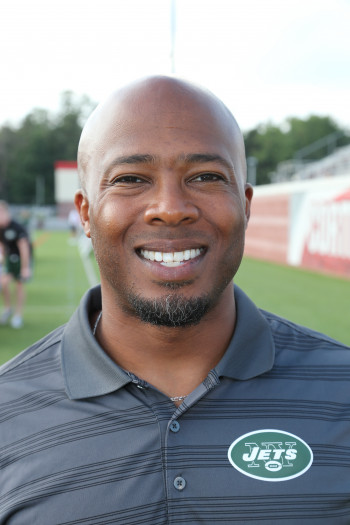 Stigall and his teammate Austin Johnson at Talawanda High School in Oxford, Ohio, signed to play football at Columbia University in New York City. "We both went to summer school at Columbia and figured out that country boys didn't belong in the big city," Stigall said. Johnson, a 1998 DePauw graduate and an elementary school principal in the Chicago suburbs, transferred to DePauw, where another Talawanda teammate, Tim Cooper '97, was playing football. 
"My thought process was I was just going to walk on at Miami (University) and stay home," Stigall said. But he visited his friends at DePauw and met Mourouzis, a Miami alumnus, who told him DePauw "'is the fit for you.' He sold it to me and that's why I ended up coming to DePauw."
Mourouzis was "kind of like the dad away from home" and "a true energy-giver," Stigall said. "He was understanding but he was demanding at the same time. And also caring. I mean, the passion for DePauw for a man who didn't go to DePauw? It was unbelievable. The man bled black and gold."
Mourouzis was right; it was a good fit. Stigall was a standout running back who was voted all-conference and second team Division III All-American after his senior season. He lettered for four years and, more than 20 years after the fact, he still holds DePauw's record (tied by Jeremiah Marks '08 in 2005) for the most points scored in a season, 102.
Fast forward to spring semester 1999; having graduated from DePauw the previous December, Stigall was at Baylor University, a graduate assistant in strength and conditioning and pursuing his master's degree. About four months in, history repeated itself. Or Pat Roberts '95 was paying it forward. Whatever. Roberts, Stigall's running back coach at DePauw who was then a scout for the Chicago Bears, called to ask: Would Stigall be interested in an NFL scouting job?
"I talked to my adviser at Baylor," he said, "and she said, 'School will always be here. I would take this because it sounds like it's your path.'"
Indeed. He stayed a year as a scouting assistant with the Bears before becoming a scout for the Miami Dolphins for six years, the Philadelphia Eagles for four, the Cleveland Browns for four and, since June 2014, the New York Jets. The Fritz Pollard Alliance Foundation named him the American Football League's Scout of the Year in 2018.
(Photo: New York Jets)
TIM COOPER '97: Belief in yourself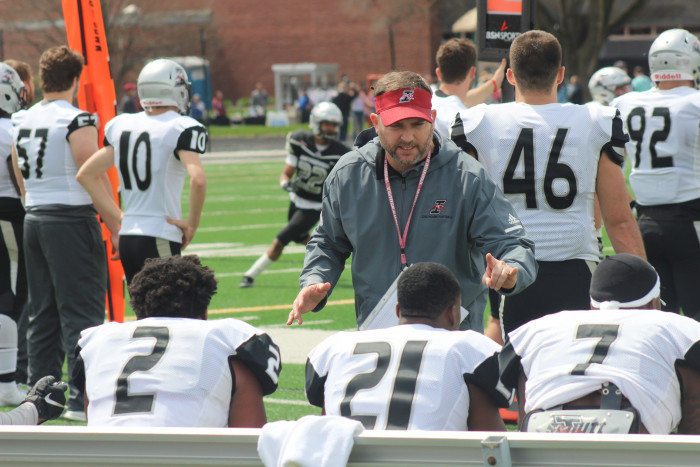 He was about to complete a graduate assistantship at Division III DePauw, and Tim Cooper was up for a job at a Division I school. But he was doubting himself.
"Do you think I can do this?" he asked Mourouzis.
"Without hesitation, he just looked at me and he goes, 'chief, you'd be great at this. You'd be the hardest worker there.'" That, Cooper said, is an example of "the belief he helped you instill in yourself."
That, plus Mourouzis's connection at the University of Rhode Island and his offer to have his wife Marilyn look over Cooper's cover letter, cinched the deal.
It was Mourouzis who first interested Cooper, a linebacker and captain his senior season, in college-level coaching. "I was all set on getting a high school job and coaching high school football," Cooper said, when one of Mourouzis's graduate assistants resigned and the coach offered the spot to Cooper.
"I caught the bug," he said, "and I absolutely fell in love with college coaching."
Two year later, Cooper got the Division I job at Rhode Island and subsequently moved to several other schools, twice working under Jeff Voris '90: at Carroll College for two years and at Butler University for almost seven. In 2019, Cooper joined the University of Indianapolis as defensive coordinator and defensive backs coach.
"There are not many days that go by that you don't use some type of Coach Nickism, as I like to say, whether it's about recruiting, whether it's about dealing with players, whether it's about being organized," he said. Control the controllables. Work hard. Treat people well. Cross at the crosswalk. Keep your elbow in when you swing the golf club. And don't skip class; if you do, you might as well tear up a $100 bill. Tiger pride.
Said Cooper: "He always had a coachable moment in everything."
(Photo: University of Indianapolis)
ERIC STISSER '94: Perseverance
It was a tough adjustment for Eric Stisser '94 to be the third-string quarterback at DePauw. He had been a star in high school.
"In hindsight," he said, "that did a lot for my perseverance." What's more, Mourouzis "made a big impression upon me just as an individual," teaching him the way to treat people, "the way to attack life" and, after Stisser suffered an injury his junior year, the way to overcome it.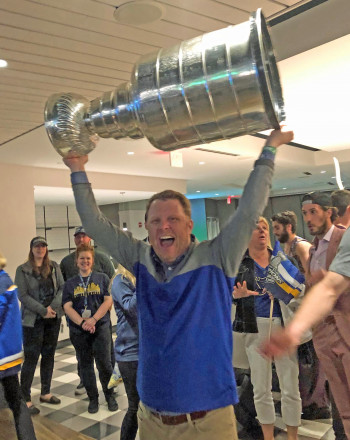 As a communications major, Stisser wanted a career in broadcast journalism but ended up teaching and coaching for a year at his high school alma mater. Then he met an executive with the Continental Basketball Association and, for six months, doggedly called and wrote, asking for a job.
His perseverance worked. He was hired as the association's assistant director of business development, then moved after two years to the St. Louis Rams, where he was director of corporate sales and marketing for eight seasons. In 2006, he joined the St. Louis Blues as vice president of corporate partnerships for the professional hockey team and its stadium, the Enterprise Center. Stisser has had the good fortunate to be with the Rams when they won the Super Bowl in 2000 and the Blues when they won the Stanley Cup in 2019.
He recalled how Mourouzis taught complex offensive plays and said that, to this day, he emulates the coach's approach when helping colleagues grasp a complicated project: First he talks about the project as a whole, then he divides it into parts and, once they've mastered the parts, he returns to discussing the whole.
Mourouzis, he said, was "almost a mad scientist, but in a good way, in the sense that he was so smart the way he taught the offense."
RYAN MCGUFFEY '01: That hand-on-the-shoulder moment
By the time she met Mourouzis at a football recruiting fair, Ryan McGuffey's mother had already decided DePauw was the right fit for her son, the oldest of three boys being raised by a single mother and the first person in their family to go to college.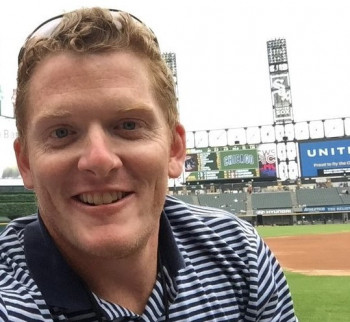 But she nevertheless was nervous, McGuffey said, as she explained to the coach how, on their visit to campus more than three hours south of their Northwest Indiana home, Ryan liked DePauw and she loved it.
"He put his hand on her shoulder and told her that 'it's all going to be OK; I'm going to make sure that he's going to be OK,'" McGuffey said. "My mom still talks about that hand-on-the-shoulder moment, where it's OK, you felt that connection, that you're going to drop your son off for the next four years and it's going to be OK."
For years afterward, whenever McGuffey saw Mourouzis, "there wasn't a year that would go by, including 2019, … when he didn't ask about how my mom is doing."
McGuffey was fast enough for DePauw track coach Kori Stoffregen to recruit him (McGuffey won his first event – the 55-meter dash – but never again won an individual event). In football, he was a three-year starter at wide receiver and an all-conference honorable mention his senior season.
But his goal "since the time I was 4" was to go into sports broadcasting, and the Pulliam Center for Contemporary Media was "a huge magnet for me." He announced games on WGRE, did some TV production senior year and, with a name and number provided by then-Pulliam director Dave Bohmer, landed a winter-term internship at Fox Sports Chicago. Without a job upon graduation, he did manual labor on the south side of Chicago until he summoned the gumption to call the same person who previously gave him an internship.
"I called him every single day at the same time for 17 days," McGuffey said. "I left a message – a voicemail – 16 of them. … On the 17th day, he picked up."
McGuffey worked day-to-day for 22 days and was hired full-time shortly thereafter. He had wanted to be an on-air personality, but realized that he had more control of the content if he worked behind the scenes. And that is where he has remained, moving up the ranks to senior producer of original content for NBC Sports Chicago. He makes documentaries, for which he has won six regional Emmys and the Jerome Holtzman Award.
MATT MACPHERSON '99: PMA, baby
Matt MacPherson was a defensive star – a two-time first-team all-conference linebacker and a four-year letterwinner for DePauw who was named a third-team Football Gazette All-American and DePauw's Defensive Player of the Year in 1998.
And so, when MacPherson was a graduate assistant at his alma mater, Coach Mourouzis assigned him to coach running backs.
What?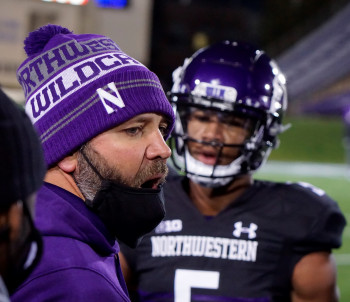 "The more I'm around football," said MacPherson, associate head coach in charge of defensive backs at Northwestern University, "the more I realize that a lot of coaches – and Coach Mourouzis was one of these guys, and I've worked for other guys like this – don't really care how much you know about a certain position. They're more interested in the way you're going to coach as opposed to what you know. They figure, if you can learn, they can teach you what you need to know at a certain position. …
"Coach Nick was a lot more interested in who you were as a person: Could you be a teacher? And could you learn what you needed to know?"
Mourouzis "talked about positive mental attitude – 'PMA, baby; you've got to have PMA!' – and 'mental is to physical as four is to one,'" MacPherson said. "Otis Elevator: 'You can't be Otis Elevator, baby – up and down and up and down.'"
When he came to DePauw, MacPherson, having played high school ball for his dad, wanted to be anything but a football coach. "But then I got into microeconomics and I thought, 'well, I'd better be a coach,'" he said.
So MacPherson stayed at DePauw for that first post-graduation year, then turned to coaching defense: two years as a graduate assistant at Northwestern; a year at Kenyon College; two years at Eastern Michigan University; and then back in 2006 to Northwestern, where he remains.
"I'm probably a little rougher around the edges than Coach Nick," he said. "Probably yell a little bit more than Coach Nick did … I think – at least I hope – I take after Coach Nick as far as caring for people, being prepared, not being afraid to try new things. …
"When I think about Coach Nick and his influence on me, obviously I'm in coaching. He's part of that; my dad's part of that. But to me, it's just more about the influence he had on you as a person, who you should be as a person away from the football field."
(Photo: Northwestern Athletics)
DAVID BLACKBURN '04: A presence 
David Blackburn's dreams of a career in professional football turned to determination when the DePauw cornerback read that his former teammate Joe Schoen '01 had parlayed an internship with the NFL's Carolina Panthers into a full-time job.
"That's when I really started actively pursuing that line of work," said Blackburn, who at DePauw was a four-time all-conference selection as a defensive back and captain his senior year.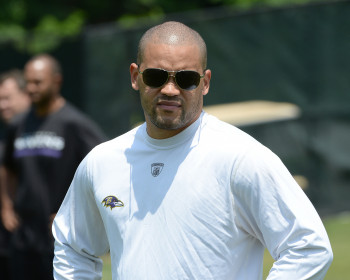 But when graduation arrived with no football job in sight, Blackburn went to work as a financial adviser. During that year, Mourouzis "went out of his way to try to help me," helping Blackburn land two interviews with the Cleveland Browns. When neither resulted in a job offer, Blackburn contemplated the problem. "You need to go work in football," he told himself. "You need to go get your experience up and become a little more of a viable candidate. 
A different DePauw connection helped him this time. Neil Kazmierczak, who had coached at DePauw throughout Blackburn's four years, was an assistant coach at Butler University, and he helped Blackburn land a graduate assistant's job there. A year later, Blackburn was hired by the Baltimore Ravens, spent five years in a pay-your-dues job and was made a collegiate scout for the western United States in 2012. He was promoted to national scout in June 2020 and had the good fortune to work for the Ravens when they won the Super Bowl in 2013.
"I always had the idea I wanted to work on the personnel side of football," he said. "I knew I wasn't going to be an NFL player, but the idea of building a team and scouting players and drafting and free agency and all those different types of things, negotiating contracts, were exciting to me."
Like others who played for Mourouzis, Blackburn was touched by the coach's frequent inquiry – even years after graduation – about Blackburn's parents and younger sister. "I don't really think too much about Coach Nick as an actual Xs and Os football coach," he said. "You think about your time being away from home and you're learning how to become a man and you're going through new experiences and he was just somebody who would have your back and would help you along your journey. He continued to be that presence for me long after I graduated. … I wouldn't be where I'm at without him."
(Photo: Baltimore Ravens)
JOE ROGOWSKI '00: The sports world
Not a lot of people can say they saved two people's lives.
Joe Rogowski can. As chief medical officer at the National Basketball Players Association, he created a cardiac screening program for retired professional basketball players that identified two retirees with such significant heart problems that they needed transplants.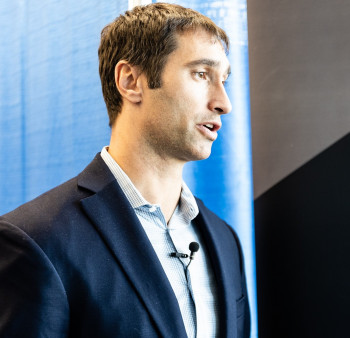 Rogowski, a four-year letterwinner, admired Mourouzis, who "stressed character as a No. 1 priority" and was "a very influential person in my career."
But Rogowski, who played receiver in his first year and was switched to safety, ultimately followed in the footsteps of someone else he admired – Rex Call, the head athletic trainer who retired from DePauw in 2016.
Rogowski majored in physical performance/sports medicine at DePauw. He worked several internships, before and after graduation, in several sports. While working at a basketball combine, he told someone with the Orlando Magic that he knew one of the team's players from high school. That was enough for the guy to listen to his plea: "I'm cheap. I'll come down. I just want to learn for a year."
He was brought on as an intern and afterward stuck around Florida, substitute teaching to complete his master's degree in exercise physiology, with an emphasis in cardiac physiology. In 2006 the Magic hired him as a strength and conditioning coach, a position he held six years. He moved to the Houston Rockets for two years before the players' association recruited him in 2014 for the new position.
"My main priority is to oversee the overall health of our players, to be a sounding board for our players and their agents and to help communicate from the team side to the player and the agent," he said. "I'm sort of the middleman."
He proposed the cardiac screening program, which holds six events a year around the country for retired players to get extensive testing for free. He also created a network of orthopaedic physicians from outside the NBA to ensure that injured players get second medical opinions. And he was among the creators of the bubble – a locked-down environment at Walt Disney World Resort where players, coaches and staffers from 22 NBA teams completed the COVID-interrupted season last summer.
Rogowski, who lived two months in the bubble, noted the long list of DePauw graduates who populate the sports world. "We may not be the athletes playing in it," he said, "but behind the scenes, DePauw is very well represented."
(Photo: National Basketball Players Association)
ERIC EVANS '04: The best thing that ever happened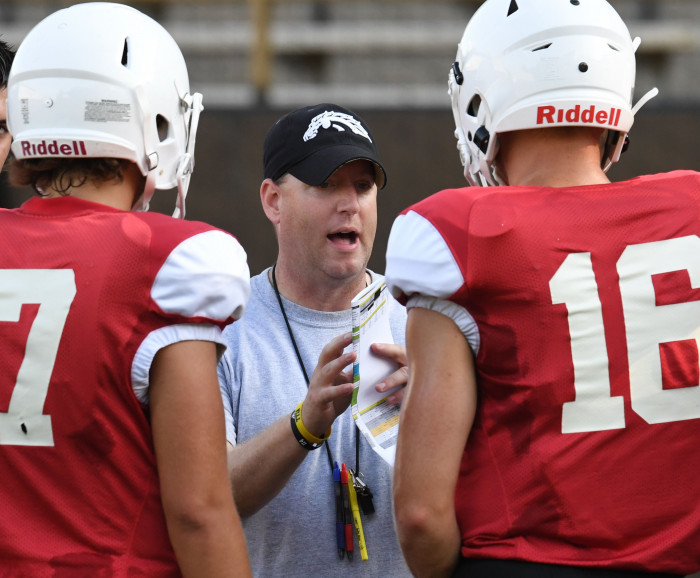 It's hard to imagine that a career-ending concussion could be a good thing. But that's how it turned out for Eric Evans, largely because of Mourouzis.
"It was some of the worst days of my life," Evans said," but looking back 20 years, it was probably the best thing that ever happened."
During a pre-season scrimmage in his first year at DePauw, Evans sustained a concussion – his sixth, after five in high school – and doctors told him his playing days were over.
"I got knocked out. I was in the hospital for it," said Evans, an assistant coach and pass game coordinator/quarterbacks for Western Michigan University. "And I wanted to be a high school coach and teacher, and Coach Nick knew that. After I got hurt, he said, 'hey, you're done playing; you've had too many concussions. But we'd like you to join the staff. And I did."
In addition to Mourouzis, Evans credited Matt Walker '99, then the wide receivers' coach, with persuading him that "we need you; you have value." He started out as "the low man on the totem pole, breaking down film, cutting up tape, organizing, creating stats, all those things helping out as much as I could," he said. By his junior year, Evans was coaching the tight ends.
By the time he graduated, Evans "had four more years of coaching under my belt than most people do" at his age, possibly making him a more attractive candidate to future employers. Mourouzis helped him get graduate assistantships at the University of Dayton and Northwestern University. From there, Evans went to the University at Albany for five years; the University of Alabama at Birmingham for a year; back to Dayton for three seasons; and then, in 2017, to Western Michigan.
"There's not a day that goes by that I don't think about Coach Nick," Evans said. "The foundation that I have as a coach comes from the foundation that Nick built and instilled in me. It really starts with the way that Nick treated people. Nick loved his coaching staff. He loved his players. He loved their families. And he knew how to not only motivate people but how to instill values, how to instill character, work ethic, all those things that are the basis of my coaching. I try to carry that over to my players every single day."
(Photo: Western Michigan University)
JOE CHESHIRE '99: Preparation for life
Joe Cheshire was good. A four-year letterwinner as a wide receiver. All-conference recognition and DePauw's most valuable player in 1997. Team captain in 1998.
But he didn't see a future in football, and he chose DePauw for its superior academics, expansive alumni network and unusual opportunities – attributes outside of the game. Among the coaches recruiting him, Mourouzis "was the first one who really pushed the school: 'This is what the school can do for you. This is the academic side of it. This is the networking portion of it. And use football as a tool just to prepare yourself for life.' That was a huge, a huge selling point to me," Cheshire said. "I just instantly found a connection to him."
What's more, Cheshire chose DePauw over Butler University, where his father Jim played football. Mourouzis, he said, "made a huge impression on me. I mean, he's really the reason I went there."
Late in Cheshire's senior year, a company recruiter was on campus, and Mourouzis summoned the senior from a workout. "Nick knew I was still searching out what I wanted to do," Cheshire said. "I went and interviewed with this guy just in shorts and a T-shirt."
He got the job at the Texas landscaping firm, managing the work at a large corporate client's locations, and for four years it seemed he had correctly predicted his future wasn't in football.
"I loved the job. It was great," he said. "But there's just always something missing." So he called Mourouzis, who encouraged him to return to Greencastle and try out coaching as a graduate assistant. "I just fell in love with it instantly; just being out there with him and making a difference and seeing kids improve was huge," Cheshire said. "I was hooked. And I've been doing it ever since."
During his two years at DePauw, Cheshire was especially impressed with Mourouzis's work ethic, professionalism, preparation and treatment of players. He took those lessons when he went to Butler, first as a graduate assistant for a year, then as a full-time assistant coach who got fired after a year, along with the entire coaching staff, after the team went 0-11. He stuck around, working month-to-month, and got rehired.
These days, as assistant head coach, defensive coordinator and defensive backs coach under head coach Jeff Voris '90, "there are a lot of things that either I say verbally – coaching cues – or that I do on a daily basis that are a direct result of being around" Mourouzis.
"I don't think you can emulate him," he said. "I mean, he's a one-in-a-billion type person."
(Photo: Butler University)
MATT WALKER '99: Motivation
Matt Walker was, by his own account, a "very mediocre football player," much better, he said, at baseball. And yet he may have spent more time with Mourouzis in a variety of roles than virtually anyone outside of family.
As a kid growing up in Crawfordsville, the son of Dick Walker '68, who played football and baseball at DePauw, Matt Walker was an early fan of Mourouzis and attended Mourouzis's summer football camp. Living in Wabash College's backyard, he was well aware of the annual Monon Bell game and the college's legendary rivalry with DePauw.
Years later, Mourouzis teamed with then-baseball coach Ed Meyer to persuade Walker to come to DePauw to play quarterback and pitch. Coming off a successful summer in baseball – and harboring dreams of a major league career – Walker didn't play football his first year at DePauw. "The one year out of football was devastating," he said. "I just missed it so much." So he returned to Mourouzis's team for three years and, as a backup quarterback, was under the direct tutelage of Mourouzis, a former quarterback at Miami University. Walker also took a class the coach taught.
(Walker's light did shine brighter in baseball; he broke DePauw's strikeout record and post-graduation he played semi-pro ball in Crawfordsville and amateur baseball in Wisconsin.)
For a year after graduation, Walker was a graduate assistant in baseball and, when Meyer fell ill a year later, Walker stepped into Meyer's roles as head baseball coach and assistant football coach. He continued in those roles after Mourouzis retired in 2003 and, in 2006, after Mourouzis's successor resigned, Walker was asked to be the head football coach too, "something I couldn't turn down."
Mourouzis regularly visited Walker's football practices, an "incredible" turn of events that "helped me in motivating. He was always the father figure … He's the way I learned how you're supposed to conduct your life on campus, whether you're the head football coach or a general student."
Walker held both head coaching jobs through 2008, then took a year away from coaching before working a year at Butler coaching the tight ends. He became head football coach at the University of Wisconsin-River Falls in 2011.
"In every role, no matter what, he was always the same guy," Walker said of Mourouzis. "He was always the same person who made everybody in the room always feel cared about. He was the guy who lit up every room. His passion was motivating to you, regardless of the role you were in."
(Photo: University of Wisconsin-River Falls)
The namesake: Passion and a memory for names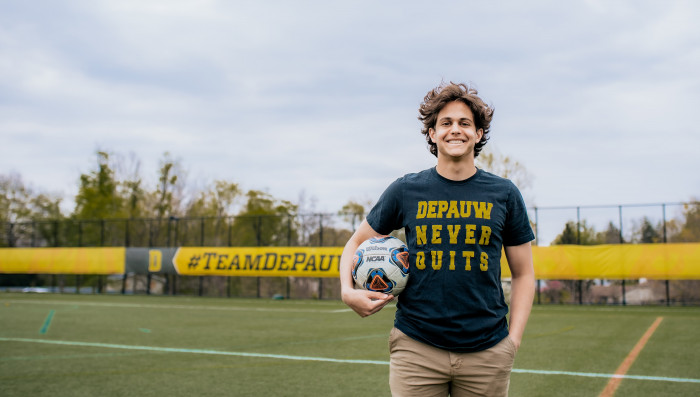 Every once in a while, "there's the occasional football player who glances up the scoreboard, then sees my name and is like, aren't you? Is that you?"
But that, said Nick Harrison Mourouzis '23, is the extent of any name recognition among his young peers at DePauw. Faculty members, he said, are much more likely to know that the name emblazoned on the scoreboard at Blackstock Stadium, identifying the turf as Nick Mourouzis Field, belongs to his grandfather and namesake, the late football coach Nick Mourouzis. 
His history professor told him that his grandfather, whom the younger Mourouzis affectionately called "Babou," was an institution at DePauw. "It's always great to hear that," he said.
He is too young to remember his grandfather as DePauw's football coach; the younger Nick wasn't even three when the elder Mourouzis retired after the 2003 season. But the DePauw rising junior and management fellow remembers "going to a lot of basketball games with him later on. Every single time he walked in the gym, he'd just get mobbed."
He said his grandfather was his coach too, offering advice when Nick played youth football through seventh grade, then focused on soccer and basketball. The elder Mourouzis was pleased that his grandson plays college-level soccer at DePauw and "was happy to come to every game last year." Last summer, "my dad and would come up here pretty much every weekend, and we would golf with him," he said. "I'm not a very good golfer. So I got the last bit of coaching out of him, I like to think."
Younger Nick said he has some things in common with his grandfather. "I'm pretty passionate about things," he said. "And I know he was, obviously." In addition, "we really do not forget names and faces. I know he was pretty impressive because I bet he has met a million people."
DePauw Magazine
Summer 2021
A GATHERING PLACE FOR STORYTELLING ABOUT DEPAUW UNIVERSITY
Whether we are writing about the intellectual challenge of our classrooms, a campus life that builds leadership, incredible faculty achievements or the seemingly endless stories of alumni success, we think DePauw has some fun stories to tell.

News media: For help with a story, contact:

Bob Weaver, Senior Director of Communications.
bobweaver@depauw.edu.