Brittain Phillips '03 knew he wanted a career in publishing, "but I didn't want to be in New York. …
"Pretty bad decision-making, right?" he said. "If you want to work in book publishing, New York is the place."
Not necessarily. Phillips and his now-wife, Sarah Glass Phillips '03, opted instead to move to Charleston, South Carolina – something that may strike some as "an ill-advised move," as he put it, but led him to a career in niche publishing. In 2005, he joined History Press as its first sales and marketing person. He and four other employees each "did a little bit of everything, pitching in wherever help was needed," at the fledgling company, which published 20 local history books in its first year. 
He had become managing director by 2014, when Arcadia Publishing, which likewise published local history books, acquired History Press. Phillips continued to work on the business side, rising to director of business development when, early last year, Arcadia tapped Phillips to be its CEO.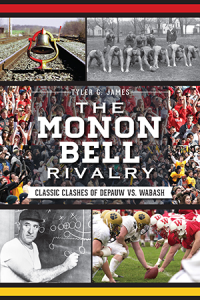 Arcadia has five imprints, publishes nearly 500 books a year, has a catalogue of 17,000 titles and employs more than 100 people. Books focus on localities, their culture, folklore, events and claims to fame. In 2019, the company merited a glowing feature in The Washington Post, which credited Arcadia for "quietly rescuing remnants of history from the flames of oblivion," with each title "conceived with a fanatically specific market in mind."
It's so specific that visitors to arcadiapublishing.com may search by ZIP code to find books of interest. Plug in 46135, and you'll see, among other available books, "The Monon Bell Rivalry."
"The sort of publishing I'm involved in is pretty different from most of the rest of the book publishing world," Phillips said. "Local and regional publishing is definitely a niche within the publishing industry, and one that is certainly growing and being fueled by this long-term rising tide and the interest in all things local …
"Even though it can be unassuming, each place has a compelling story behind it. That certainly means more to the people who are there or the people who pass through there than it does to anyone else. But even in places that don't necessarily seem exceptional, there are exceptional things going on and exceptional stories to be told."  
DePauw Magazine
Spring 2022
A GATHERING PLACE FOR STORYTELLING ABOUT DEPAUW UNIVERSITY
Whether we are writing about the intellectual challenge of our classrooms, a campus life that builds leadership, incredible faculty achievements or the seemingly endless stories of alumni success, we think DePauw has some fun stories to tell.

News media: For help with a story, contact:

Bob Weaver, Senior Director of Communications.
bobweaver@depauw.edu.