"A good nonfiction book," said James B. Stewart '73, "is a tremendous amount of work. And it is hard. …
"If it were so easy, nobody would need me to do it. So there's a silver lining."
Stewart would know. He is completing his 11th nonfiction book and, like most of his others, it is an expanded exploration of a topic he covered as a Pulitzer Prize-winning newspaper reporter and columnist or as a contributor to The New Yorker.
The stories are timely, but because of the multi-year process spanning idea to publication, "you want themes to emerge in the book that, at least in my view, are fairly timeless" and provide "a window into human nature," he said. He has written about lawyers and prosecutors, a murderous physician and a 9-11 hero, business and politics.
When he began work on his latest book, which details the Redstone family's battle to control ViacomCBS Inc., he continued writing his column for The New York Times but soon took a leave of absence – a luxury that Stewart, like most new writers, could not afford early in his book-writing career. While writing his bestselling 1991 book, "Den of Thieves," he worked days as the front page editor of The Wall Street Journal and wrote six or seven hours at night.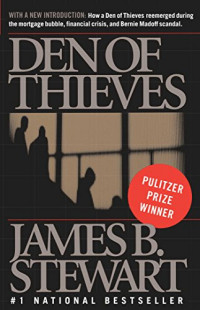 "When I finally got to the end of that, I said 'never again,'" he said. Even with a leave from his day job, Stewart said, the constant work makes weekdays and weekends blur. 
After he submits a manuscript to his editor and his agent for their feedback, he'll make revisions and continue reporting, verifying facts with original sources and maybe showing them what he has written "to make sure that I haven't misinterpreted something," he said. If a mistake is found, "I correct that. Then somebody will give me an anecdote where there are three people involved and I have no reason to doubt them but, in the fact-checking process, if not before, I have to go to the other participants and say, 'I heard this; did the following happen? And, if not, what did happen?'
"I'm sure readers don't have any idea that a one-paragraph description of the meeting can take weeks of time before you get everybody."
Yet he is not put off by the work, which he finds "deeply satisfying. … I think every writer has moments of anxiety and doubt along the way like, 'oh, my God, is this going to work out? Is this comprehensible? Is this really a book? Does it make sense?'
"You know, you can be wracked with doubt and you finally get over the line and realize that you are proud of it, which in the end is more important, I think, than what anyone else says. It's a really wonderful feeling."
DePauw Magazine
Spring 2022
A GATHERING PLACE FOR STORYTELLING ABOUT DEPAUW UNIVERSITY
Whether we are writing about the intellectual challenge of our classrooms, a campus life that builds leadership, incredible faculty achievements or the seemingly endless stories of alumni success, we think DePauw has some fun stories to tell.

101 E. Seminary St.
Greencastle, IN, 46135-0037
(765) 658-4416

News and Media