Leaders the World Needs
is a regular feature of DePauw Magazine, which is published three times a year.
The Flint, Michigan, judge for whom Brittany Bulleit '05 had been working for just six months, right out of law school, died suddenly. She was out of work.
She had wanted to return home to Houghton County in Michigan's Upper Peninsula, almost 500 miles north, to be near her family and significant other. Then a position opened up.
"At first I didn't apply for it because it was chief assistant prosecutor, and I thought that meant you had to have a level of experience that I just didn't have yet," she said. But in a county with fewer than 36,000 residents, "chief assistant" also meant "only assistant," and Bulleit landed a job that gave her the satisfaction of coupling her psychology education at DePauw and her Michigan State University law degree.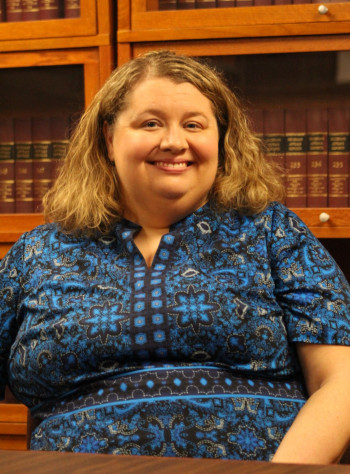 "I'm interviewing victims; I'm listening to their stories and helping them work through them and then I figure out how best to handle the case," she said. "I read psychological reports; I handle mentally ill individuals' cases. The more I started doing it, the more I realized I was using my background and it was rewarded in a lot of ways. I mean, there are horrible days, but there are days when someone thanks me for helping them, thanks me for listening to them.
"So those days balance out, and I'm giving back to the community I was raised in. I found that I was good at the balance of mediation, social work, practicing the law, trying to find a good rhythm."
When the prosecutor, Bulleit's boss, retired, 12th Circuit Court Judge Charles R. Goodman appointed her to the top job, effective April 2019. She recently ran unopposed for a full, four-year term.
Her ascension means longer hours, deeper piles of case files on her desk, responsibility for prosecuting the more serious crimes and supervision of the entire caseload – felonies; misdemeanors ranging from domestic violence to building code violations; juvenile court and juvenile criminal cases; and involuntary hospitalization of mentally incapacitated people. She handles violations of Department of Natural Resources laws and animal abuse. She acts as the county's civil attorney too. And either she or her assistant is always on call.  
Bulleit said that she was not intentionally pursuing public service when she became a prosecutor, but soon realized that's exactly what she was doing. "I was helping people move forward through some horrible things in their lives," she said.
"The more I did it and the more I felt like I fit here, the more I felt like it was an appropriate avenue for me to continue down … I felt like I fit well in public service and that I could give something to it, and I found the right direction for me."
DePauw Magazine
Fall 2020
A GATHERING PLACE FOR STORYTELLING ABOUT DEPAUW UNIVERSITY
Whether we are writing about the intellectual challenge of our classrooms, a campus life that builds leadership, incredible faculty achievements or the seemingly endless stories of alumni success, we think DePauw has some fun stories to tell.

101 E. Seminary St.
Greencastle, IN, 46135-0037
(765) 658-4416

News and Media