Leaders the World Needs
is a regular feature of DePauw Magazine, which is published three times a year.
As he progressed through DePauw University, C. Shea Nickell '81 struggled with an internal debate: Should he become a lawyer or a minister?
His parents, educators and lay leaders in their church, "encouraged and guided me and my curiosity in history, politics and religion," he said.
As an Eagle Scout, he was already involved in service. At DePauw, he was student body president and editor of the student newspaper. He won the Walker Cup, the award given annually to the DePauw senior who had contributed the most to the university.
Ultimately, "my DePauw education and experiences on campus helped me make that decision," and Nickell, who double majored in communications and political science, headed to study at the University of Kentucky College of Law, where he was president of the Student Bar Association.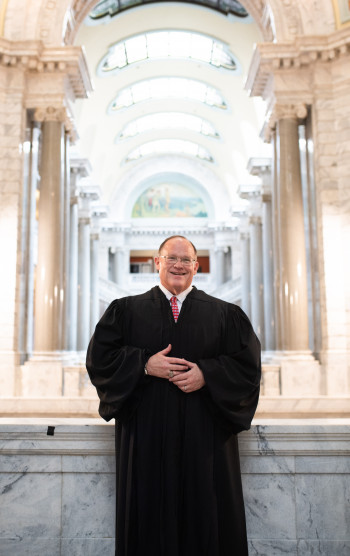 Since graduating, he worked briefly in North Carolina as a lawyer and college instructor but has spent nearly all of his career in his native Kentucky. He practiced for 22 years, maintaining a private practice while also working – as was allowed in Kentucky – as an assistant commonwealth attorney, an assistant county attorney and a public advocate. In November 2006, he was elected to the Kentucky Court of Appeals, where he served 13 years until he climbed to the top rung of the legal ladder: He was elected last November to the Kentucky Supreme Court. 
"I see my practice of law and my role as a judge as being part of living out the ministry of public service that I think DePauw encourages," he said. "Both attorneys and ministers often come into contact with people and organizations who may feel hopeless or helpless or are in need, perhaps in despair and so, in addition to being students of the law and technicians of the law, we're also called upon to be counselors, encouragers and teachers. …
"I've always tried to remember that the people come into our courthouses, standing in front of the court, fearful; it's certainly not their comfort zone," he said. "And yet it is their house, so they should be treated with respect and courtesy so they feel at the end of the day they've received a fair hearing, even if the judgment is against them."
As a justice, he said, he has "a much broader impact" than a lawyer representing a single client or a local judge ruling on a specific case. "And that weighs heavily on me when I make opinions, that the decision that I ultimately reach, along with my colleagues, will have an impact not only on the parties standing before us but also on society itself," he said.
"You have to realize from whence you came and that there will be the day when you will return. We have these positions and we have this perceived power, if you will, for a certain time. There will come the day when we pass that on to someone else, hopefully in a better condition than we received it."
DePauw Magazine
Fall 2020
A GATHERING PLACE FOR STORYTELLING ABOUT DEPAUW UNIVERSITY
Whether we are writing about the intellectual challenge of our classrooms, a campus life that builds leadership, incredible faculty achievements or the seemingly endless stories of alumni success, we think DePauw has some fun stories to tell.

News media: For help with a story, contact:

Bob Weaver, Senior Director of Communications.
bobweaver@depauw.edu.