Leaders the World Needs
is a regular feature of DePauw Magazine, which is published three times a year.
It was a meteoric rise for Dan Quayle '69 – from an 11-year-old kid who handed out Goldwater literature to a giant slayer who knocked off the estimable U.S. Sen. Birch Bayh to U.S. vice president.
Predestined? Maybe. Planned? Not exactly.
"When you grow up with it, you don't really plot your life ahead of you, particularly in a political situation," he said. "I was raised in a newspaper family and we were very engaged in politics." His father James owned The Herald-Press in Huntington, Indiana, and his mother Corinne was the daughter of Eugene C. Pulliam, the 1910 DePauw graduate who founded Central Newspapers Inc., which published several newspapers, including the Indianapolis Star and the Arizona Republic.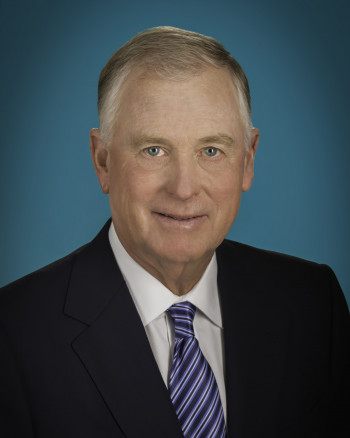 "You know the Bible verse, to whom much is given, much is expected? We always followed that," Quayle said. "I was blessed to be born into a good family. I had a lot of good opportunities to give back. I think public service is a great calling and I encourage young men and women to get involved. We need good people on both sides of the aisle, Republicans as well as Democrats."
Quayle considered a newspaper career, and worked briefly as associate publisher of The Herald-Press. But during law school in Indianapolis, he worked for the Indiana governor and attorney general, and decided electoral politics were for him. Upon graduation, he and his wife moved to Huntington to position him for a run for the Indiana General Assembly in 1976. He ultimately ran instead for Congress, and won.
"Politics and public service are very fulfilling," he said. "Yes, there's a lot of criticism; there's a lot of garbage you've got to put up with. But you're serving the people, and serving the people and being able to make decisions that impact people in their everyday life is very, very rewarding."
He spent two terms in the House and was elected to the U.S. Senate in 1980 and 1986 before Republican presidential nominee George H.W. Bush selected him in 1988 as his running mate. They won that year, but were defeated for re-election in 1992.
"I got elected young," he said. "I was 29 when I was elected to the House, 33 to the Senate and 41 as vice president. So I started quickly, went up quickly and went out too young. But anyway, that's the way it is. … You can't ever pick your timing."
Indeed, Quayle, suffering from a serious bout of phlebitis, declined to run for president in 1996, figuring "I've got plenty of time." He briefly entered the 2000 race "and this is where timing wasn't good because I ran against President Bush's son.
"And so that was bad luck. Bad timing," Quayle said. He acknowledged that, in the runup to the 2016 election, "I did think about it … But I'd been out for so long and I know how hard it is, and to go back and reconnect with all the contacts about what you want to do, I said, you know what? Life's pretty good for me; I think I'm just going to stay right where I am."
(Top photo: Dan Quayle '69 is sworn in as vice president Jan. 20, 1989.)
DePauw Magazine
Fall 2020
A GATHERING PLACE FOR STORYTELLING ABOUT DEPAUW UNIVERSITY
Whether we are writing about the intellectual challenge of our classrooms, a campus life that builds leadership, incredible faculty achievements or the seemingly endless stories of alumni success, we think DePauw has some fun stories to tell.

News media: For help with a story, contact:

Bob Weaver, Senior Director of Communications.
bobweaver@depauw.edu.