Leaders the World Needs
is a regular feature of DePauw Magazine, which is published three times a year.
When ambitious young people ask Dave Jones '84 about running for public office, he always tells them this:
"Find something that you love to do; do that thing. You'll do it well as a result. You'll be able to develop your leadership skills, develop relationships, in the course of doing whatever work it is in either the private or the public sector that you enjoy doing. And if there's an opportunity that presents itself, then you could run for office. But I counsel folks not to make that their central focus because it's really hard to control."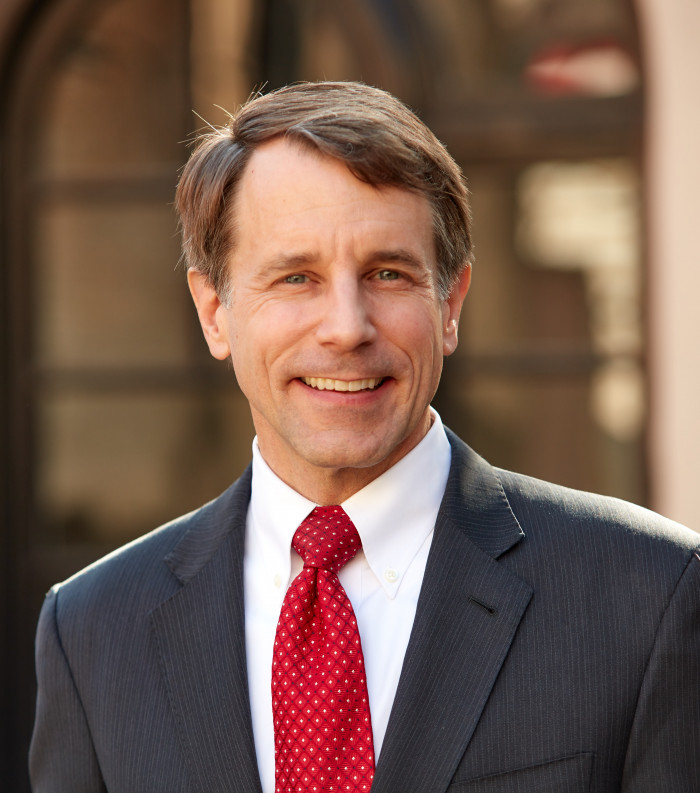 Jones speaks from experience. Public service "was an ethos within my family. My dad and my grandfather were both active in civic affairs in their respective communities and encouraged us as kids to be aware of and think about and get involved in the life of our community."
He volunteered for political campaigns throughout his school years and went to Harvard Law School and earned a Master of Public Policy at the Kennedy School of Government with the notion to become a public interest lawyer. He got a job with Legal Services of Northern California, where he had moved with his new wife, and worked six years on affordable housing and other issues. Then he landed a yearlong White House fellowship, which placed him in the office of then-Attorney General Janet Reno. She ended up keeping him on two more years as counsel.
Seeking political office beyond the presidency of the Carl Sandburg High School student body "wasn't a driving goal of mine." But "as luck would have it," when he and his wife returned to Sacramento, their city councilman – seeking election to the California State Assembly – urged Jones to run to fill out his term.
"I ran and was elected," he said. "That then created other opportunities for me to continue in public service going forward."
Opportunities did indeed follow: After five years as a councilman, Jones was elected to the state assembly for three two-year terms, then the limit. In 2010 he ran for and was elected state insurance commissioner, who leads the agency that regulates all facets of the insurance industry.
"In California, we have the largest market for insurance in the United States and probably the fourth largest in the world," he said. "It's a big part of everybody's life. People have insurance for their auto, their home, their life, their health; just about every aspect of your life, insurance touches upon. And so it's really a consumer protection job."
In addition, President Obama was elected two year earlier, "and it was becoming readily apparent that health care, health care reform, was going to be a big priority of the Obama administration. … I anticipated that I could play a significant role in implementing health care reform in California."
As his second term was coming to a close, Jones ran unsuccessfully for attorney general. He now is a senior director at the Nature Conservancy, working on a range of issues, including partnering with the insurance industry to address climate change. He also directs the Climate Risk Initiative at the University of California, Berkley's Center for Law, Energy and the Environment. 
"I love public service," Jones said, "because it's a way to make a difference in people's lives and in the lives of communities. And that's what motivates me."
Whether we are writing about the intellectual challenge of our classrooms, a campus life that builds leadership, incredible faculty achievements or the seemingly endless stories of alumni success, we think DePauw has some fun stories to tell.

101 E. Seminary St.
Greencastle, IN, 46135-0037
(765) 658-4416

News and Media